by Bob Benenson, FamilyFarmed
About a decade ago, Tera Johnson — a veteran of Wisconsin's cheese industry — discerned a market for organic whey powder as a nutritional supplement. She raised millions of dollars to build a state of the art "green" factory, and even though it opened in 2009 at the depths of the Great Recession, that latent market for her delicious and sustainably produced Tera's Whey turned out to be huge. By early 2013, less than four years after opening, Johnson sold Tera's Whey to Omega Protein for more than $26 million.
This kind of meteoric entrepreneur experience may be the exception, but it happens. Which is why the owners of eight early-stage food businesses hung on every word on April 23 when Johnson delivered an engaging talk at the graduation ceremony for the latest cohort in FamilyFarmed's Good Food Accelerator program.
It is a role to which Johnson has become accustomed in the five years since she sold her company. She is founder and director of the Food Finance Institute, a project of University of Wisconsin Extension's Division of Business and Entrepreneurship based in Madison. "I started the Food Finance Institute to increase the likelihood of success for growing food, beverage and value-added farm businesses," Johnson says in her profile on the institute's website. She also hosts the institute's Edible Alpha podcast that features food entrepreneurs' success stories.
Johnson led the Accelerator grads through the story of Tera's Whey. She had persuaded the company for which she had worked to add cheese from organic milk to its lineup, to meet the rising consumer demand for that product. But like most such companies, her employer had a hard time repurposing its vast amounts of whey, the liquid runoff from the cheese-making process, and was selling it for cattle feed.
There was, though, already a rising market, mostly among body-builders at the time, for nutritional whey protein powder… and there was no factory in the nation at that time equipped to separate non-organic from organic whey. So Johnson created Wisconsin Specialty Protein and raised $14 million to build a plant — only to see it completed just as the U.S. economy was cratering.
"I did what you do when you're terrified, which is the impossible," Johnson continued. She found a market for her organic whey protein among baby formula producers, which enabled the company to get off the ground and create Tera's Whey, a vanilla-flavored whey protein supplement (plain and chocolate flavors were later added to the lineup).
Her initial approach to the body-builder community was rebuffed ("I went into my value proposition, which is clean and organic and no added hormones, and somebody looked at me and said, 'Why would I pay more for something that didn't have hormones in it, I take hormones'. And I'm like, 'This is not my target market.'"). So Johnson steered sharply in another direction, making women her target market. "At the time, whey protein was things like BioChem and Muscle Max, and I come in with Tera's Whey and it's white and it's evocative of a whole bunch of other things," Johnson said. "The health and wellness consumer is a woman, usually the buyer, purchaser, and then men come along."
She added, "A lot of men use Tera's Whey now. The irony is now, the body builder, athletic community has taken all of those chemicals out, and now they're all Tera's Whey."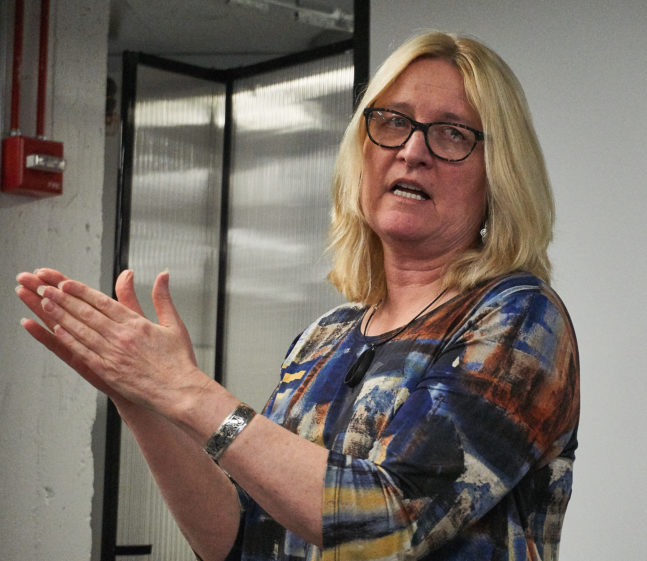 By 2012, a blink of an eye in the world of food entrepreneurs, Johnson was negotiating to sell the company to Omega Protein. "It was an extraordinarily successful deal for my investors and for me," she said. "Then people in Wisconsin, when I say this, I get these looks like, 'Is that really a good thing, selling your company?' I can tell you that it is definitely a good thing for a bunch of reasons."
She continued, "Number one, you don't get to do a business at that scale if you don't bring in money from the outside. You don't get to do a national brand without bringing in money from the outside. So getting your head around the fact that you may not own this forever is something that you want to do. Number two, the brand itself stood for a lot by the time we sold it… Part of what the company was buying was what the brand stood for… The buyer knows they can't screw around with it because they paid a lot of money for this thing. So they went on and doubled the size of the plant."
And she joked that since the product continues to bear her name, "I get to be more and more famous without doing anything."
While the speed of Johnson's journey, from start-up to sale, was unusually rapid, the lessons she shared with the Accelerator class about getting big have universal appeal.
• Make Sure You're All In. "That whole story about bringing money in and how you feel about that is something you guys have to deal with. And when I do my trainings these days, I encourage people to think about this as early as possible, get your head around what you want your life to be like… You've got to be on airplanes, you've got to be doing a lot of things. People will say I want to be a national brand but I don't want to raise money and I don't like airplanes because I have young children at home. Sometimes there are things that are not compatible in life, so I encourage people to think a lot about that before you launch halfway into it."
• The Right Branding Is Key. "Part of the reason Tera's Whey was so valuable is that it was really defensibly unique, in that it was organic, but it was also defensible because you needed a plant like mine, and you can't just pop one of those up. You actually have to have cheese plants around that can supply it. That element of defensible uniqueness really drove the value of the company… If my name was Sally, it would not have been Sally's Whey. I had the right name. Earth is my name. My mother gave me this amazing gift when she named me. It was personal and it was distinguishing… What I encourage you all to do is go back to what makes you defensibly unique. You may not have it yet. People don't show up to me perfectly differentiated yet. What is hard to copy and what is your secret weapon?"
• Doing Well By Doing Good. "The bigger the idea, the better, honestly. Sky's the limit… I'll be sitting on an airplane and someone will be sitting next to me, and I'll say I had this whey company, and they invariably will know the brand, but they'll say things like, 'My mom was dying of cancer and she couldn't eat and her doctor at Mayo said, 'You need to do whey protein and this brand Tera's Whey is a really good one and I think you'll like it, and my mom swears that it kept her alive.' People tell me stuff like that… People copied our green plant, which is wonderful. That's why when people say, 'Ooh, you sold your business,' yeah, I sold the business and it's bigger and I'm having even more impact now because it was sold. So I don't feel bad about that at all."
You can learn more about FamilyFarmed's Good Food Accelerator by attending our annual Good Food Financing & Innovation Conference on Tuesday, June 19 at the Morgan Manufacturing events space in Chicago's West Loop. For more information and to buy tickets, visit the event website.