You know that the Good Food movement has taken another step into the mainstream when the protagonist of a new children's book is a butcher producing "Good Meat."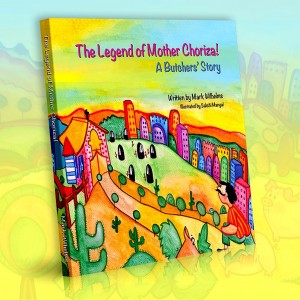 The book, titled The Legend of Mother Choriza: A Butcher's Story, is authored by Mark Wilhelms, who is close to the subject. He is the founder of Red Meat Market, a Chicago-based online retailer that also stages butcher classes and other meat-related events.
Wilhelms launched the company in 2012, not long after his digital marketing firm developed a working relationship with a ranch raising grass-fed cattle. "This was the first time I ever heard about grass-fed beef or understood its values: sustainability, humane treatment of animals and health benefits," Wilhelms said. "Me? I was hooked on the taste."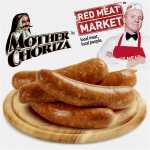 Wilhelms said writing a children's book was long on his "bucket list" of things to do. Last year, he came up with an idea to combine his passion, making a central figure in his story out of Mother Choriza — an odd character with a nun's habit and a handlebar mustache — who he created to brand a Mexican-style bratwurst that is part of Red Meat Market's "Designer Craft Bratwurst" line.
The plot, in a nutshell, is about an affable small-town butcher who is bullied and forced to flee into the desert. He receives shelter and inspiration from Mother Choriza, who tells him, "Always follow your dreams, master your talents and share that gift with the world! Do not give up no matter what happens to you, how you look, where you live, or even if someone doesn't like you — trust your talent and be yourself."
Wilhelms said he has three purposes for the book. One is to "teach children about the value of Good Meat along with some life lessons" that resonate with children, which Wilhelms said include how to deal with bullying, finding one's talent, and sharing your gift and who you are with others.
A second is to "provide an opportunity for parents to engage children directly in the Good Food movement through a story that will keep them interested." He noted that there is a page at the end of the story that gives a definition of what "Good Meat" means.
The other is to draw positive attention to the heavy-lifting work done by butchers, a key and often overlooked segment of the food supply chain in a nation where most residents are omnivores. "The butcher is such an important job in the 'New Food System,' and one that has been taken for granted or lost until recently," Wilhelms said.
He continued, "That final three feet across the meat counter is the most important step in the entire Farm to Table movement. I call it the longest yard. It's also a very demanding job. Think about it: You are standing all the time, in 40-degree rooms, lifting heavy primal cuts or 50-pound boxes, breaking them down, cutting into steaks, roasts and ground, and managing yields and cases so they are always fresh and move consistently, every single day. It is a very hard job and one that needs to be acknowledged more by adults and children alike."
The Legend of Mother Choriza: A Butcher's Story may be purchased on Amazon. It is also available through Artizone.com, a Chicago company that does home delivery and mail order for artisan food products — including Red Meat Market's Mother Choriza sausage.