FamilyFarmed's Good Food Festival — its big public celebration of the Good Food movement — is coming up on Saturday, March 26 at Chicago's UIC Forum. One of its many features is an authors' table featuring great books about food, and we are pleased that Read It & Eat, Chicago's culinary bookstore and event space, is going to be our bookseller.
Located in the Lincoln Park neighborhood at 2142 N. Halsted St., Read It & Eat will celebrate its first anniversary on May 11. In addition to carrying more than 3,700 unique titles and 4,000 books in various food and drink topics, they have a beautiful kitchen where they host author events, cooking classes and demonstrations, pop-up dinners and four different cookbook clubs.
To whet your appetite for the Good Food Festival, Esther Dairiam, the owner of Read It & Eat, has produced this informative and entertaining analysis of the 16 best cookbooks of 2015, as selected by the Food52 website for its "Piglet Award" contest. Esther not only describes the books' content and did her own judging, but made recipes from each book as she chose her favorites.
To learn more about FamilyFarmed's Good Food Festival & Conference, please click here. To purchase tickets online, click here.
By Esther Dairiam, Read It & Eat bookstore, guest contributor
In 2012, I walked into a culinary bookstore in Paris and was inspired to open something similar in Chicago. It took me approximately 2-1/2 years to research and write the business plan, and finally on May 11, 2015, we opened our doors of Read It & Eat (RI&E).
With a tagline like "Chicago's Culinary Bookstore," we are often asked what our favorite book is, which we all struggle to answer because how can we just pick one. But every year there are several listings and awards naming the best cookbooks, and one such resource is Food52, an online food community that runs the Piglet tournament, an annual cookbook competition.
Starting with 16 titles, the books are paired off against one another in a March Madness-style competition. Each round is judged by an esteemed panel of food writers, editors, authors and chefs until one book is dubbed the Piglet champion.
RI&E decided to follow the tournament with its own in-store competition that mirrors the Piglet, and three people who pick the winning book will each win a free copy.  There have been some expected and unexpected results and some shockers that no one can (or maybe just I can't) understand.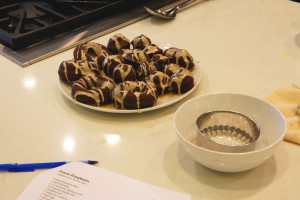 And when Good Food on Every Table asked me to contribute content to promote RI&E's role as the bookseller at FamilyFarmed's Good Food Festival in Chicago, I concluded that the best approach would be to write about these leading cookbooks and the contest.
The books this year are incredibly different in cuisine, style, and target
audience and represent various cultures. They are The Violet Bakery Cookbook by Claire Ptak; A Girl and Her Greens by April Bloomfield; Made in India by Meera Sodha; Gjelina by Travis Lett; Zahav by Michael Solomonov; The Food Lab by J. Kenji Lopez-Alt; A Bird in the Hand by Diana Henry; Mamushka by Olia Hercules; The Food of Oman by Felicia Campbell; My Kitchen Year by Ruth Reichl; Senegal by Pierre Thiam and Jennifer Sit; Modern Jewish Cooking by Leah Koenig; Seven Spoons by Tara O'Brady; The Hot Bread Kitchen Cookbook by Jessamyn Waldman Rodriguez and Julia Turshen; Near & Far by Heidi Swanson; and Eat Mexico by Lesley Tellez.
I followed the same rules as the judges of the Piglet tournament, by testing recipes and paying attention to all aspects of the book: aesthetics, recipe writing, voice, feel and composition. Nineteen recipes, many dirty dishes, and more pounds and inches around my waistline than I care to admit later, I am ready to share my thoughts on Round 1 of the Piglet contenders, with both the winner selected by the Piglet team and RI&E's own choice.
Match-Up #1: A Girl and Her Greens vs. The Violet Bakery Cookbook
Piglet: The Violet Bakery Cookbook
RI&E: The Violet Bakery Cookbook
Before making the recipes from either book, I was leaning toward A Girl and Her Greens.  I enjoy eating meat and was looking for way to incorporate more vegetables into my diet. This book was perfect because it is about cooking with vegetables while still eating meat. I made the Potato Soup with Garlic and Parsley, Pot-Roasted Artichokes with White Wine and Capers and Stewed Zucchini with Basil. While several of the dishes in this book have meat in them, the three recipes that I selected didn't except for the chicken stock that was in the soup. I didn't miss the meat.
In the Introduction of The Violet Bakery Cookbook, the author encourages you to "let go of how scientific or difficult it is to bake and approach it with the same tools with which you might approach cooking" Wait – what??  This is what gives me comfort about baking and now you're asking me to forget about it???? Nonetheless, I stayed the course and selected the Chocolate Sunken Soufflé Cake. The recipe was incredibly easy to follow, and there was a joy and calm that I felt when I was baking the cake that I hadn't felt in a long time. This cake reminded me that I am a baker at heart.
In the end, I picked The Violet Bakery Cookbook because of how I felt when I was baking from this book.
Match-Up #2: Zahav vs. The Food Lab
Piglet: The Food Lab
RI&E: The Food Lab
This match-up brought a tear to my eye.  I love both these books for very different reasons.
Michael Solomonov's Zahav is a personal journey and his life is on every page of the book. Amy, who works with us at the store, and I made the Zahav Lamb and the Persian Rice for one of our cookbook clubs, which was one of the more elaborate recipes in the book. It is a recipe that took three days to make and, somehow, even though we both read the recipe, we both missed that fact and started it two days before the cookbook club meeting. This is the only time I improvised and it was because of user oversight and not because it was a badly written recipe. What we omitted was the overnight refrigeration after braising. We had to finish the lamb over the stove because the liquid was taking too long to cook down in the oven.
If you heard me on the Burnt Toast podcast by Food52, you would have heard me say that of all the books in the Piglet tournament, The Food Lab made me want to play. I love how this book explains the science behind cooking and provides you with in-depth, well-tested recipes.  I made the Shrimp Scampi or Shrimp Shrimp (if you've read this book you'll understand my joke), and it was the best Shrimp Scampi/Shrimp Shrimp/Scampi Scampi I've ever made and had. Thanks to author J. Kenji Lopez-Alt!
For me, The Food Lab is the winning book as it inspires me to cook AND play!
Match-Up #3: Mamushka vs. Modern Jewish Cooking
Piglet: Modern Jewish Cooking
RI&E: Modern Jewish Cooking
Both books are rich in tradition and culture and both have well-written recipes.  From Modern Jewish Cooking I made the Tilapia in Spicy Tomato Sauce, and from Mamushka I made the Aromatic Roast Pork Loin.  More technique was involved in making the Pork Loin dish and it was more fun to cook, as I was learning something new. Unfortunately, the dish turned out to be quite bland. The Tilapia in contrast was flavorful, and I ate one pound of fish in one sitting.
Aesthetically, Mamushka is a more appealing book and there are more interesting techniques in the book; however, for me, the choice was Modern Jewish Cooking because the recipe was more appealing. That being said though, we've sold more copies of Mamushka in the store than Modern Jewish Cooking, so perhaps I am not their target audience.
Match-Up #4: The Seven Spoons vs. My Kitchen Year
Piglet: My Kitchen Year
RI&E: My Kitchen Year
My Kitchen Year is about the aftermath of Ruth Reichl's closing of Gourmet magazine.  It is full of stories of her life in that one year as she tried to find herself again through cooking and baking. The book is organized in seasons which I appreciate. But I was originally apprehensive about this book as she believes in leaving room for adjustment, and I prefer specific instruction.
I made the Pork and Tomatillo Stew and it was delicious and easy-to-follow. Unfortunately, there was an editing error in the book. It talks about adding grapeseed or canola oil but the ingredient section lists vegetable oil. This was not the only editing error in the book. Maddie, another RI&E staffer, made the Longchamps Rice Pudding with Raisins and there was a snafu with the oven temperatures.
From Seven Spoons I made the Mind Changing Okra. I love okra and thought this was very tasty, but… The author boasts that this dish has changed the minds of people who don't like okra, and so I served it to Amy, who doesn't like okra. Amy still doesn't like okra.
For me the choice was My Kitchen Year. It's both a biography and a cookbook and despite editing errors, the recipes are great. I do like Seven Spoons, as it's a well-written, aesthetically pleasing book; however, if you're going to make a bold statement about changing someone's mind, you need to deliver!
Match-Up #5: Senegal vs. A Bird in the Hand
Piglet: A Bird in the Hand
RI&E: Senegal
Like several other books in the Piglet tournament, Senegal is rich in history and culture. I made the Ginger Butternut Squash Soup and it was amazing how flavorful such a simple recipe could be. If you don't love chicken, A Bird in the Hand will make you fall in love with it, and if you already love chicken, you will love it more. I made the Chicken with Leeks, Apples and Cider.
These books are on par on many levels. For me, the choice is Senegal as I was inspired by how much flavor I got out of so few ingredients.
Match-Up #6: The Food of Oman vs. Near & Far
Piglet: Near & Far
RI&E: Near & Far
From The Food of Oman, I made Dango, a chile-lime soupy chickpea dish. It was a relatively simple recipe that took two days to prepare since the chickpeas needed to soak overnight. The flavors weren't that interesting, and for me,  it had far too much lime in the dish. I appreciate the stories and the culture/history the book offers as well the informational aspects of the ingredients (e.g., where to buy them and substitutes should you need to).  Aesthetically, however, this book is not very appealing.
Near & Far is a vegetarian book organized by the author's home and international travels. Each section is based on a country to which she traveled, and includes key ingredients for her pantry in that country. It is a beautifully written book. From this book I made the Brown Sugar Tofu and it was delicious. Lauren was in the kitchen with me that day, and figuratively speaking, we both inhaled this dish. In my mind, anyone who can make tofu taste this good deserves to win!
Match-Up #7: The Hot Bread Kitchen Cookbook vs. Eat Mexico
Piglet: The Hot Bread Kitchen Cookbook
RI&E: The Hot Bread Kitchen Cookbook
These books are two different stories. Eat Mexico is about the author's journey and the food she fell for in Mexico, while the Hot Bread Kitchen Cookbook is about a group of bakers from around the world working together.
From The Hot Bread Kitchen, I made the Braised Cabbage and Carrots. Someone said that my selection was an odd choice since it was a baking book. I wanted to try something that wasn't the main feature of the book, and I am glad that I did. This delicious dish was the winner for me.
From Eat Mexico, I made the Garlicky Pan-Fried Fish, and, yes, it was garlicky. Too garlicky for me. The recipe called for cooking the fish five minutes on each side and that was three minutes too long per side. I had to adjust as I didn't want to overcook the fish. In the end, I scraped off the garlicky sauce and ate the fish by itself as the sauce was too strong.
Match-Up #8: Gjelina vs. Made in India
Piglet: Made in India
RI&E: Gjelina
These two books couldn't be more different in focus and style. Gjelina is more of a restauranty/cheffy book. Made in India is focused on making Indian food more accessible to home cooks.
I made the Roasted Cauliflower with Garlic, Parsley & Vinegar from Gjelina. While I didn't get the char that the author talks about, the cauliflower was delicious. The book is beautifully laid out. But if you're looking for something quick, this is not the book for you.
When I read the lamb recipe from Made in India, I saw what I felt could be a problem but in the spirit of being true to the recipe, I didn't change it. In the end, the author asks you to put baby spinach in the recipe and cook the sauce down to the desired consistency with the lid off.  Unfortunately, the spinach will start to give off liquid, and the more you cook it the more liquid it will give off. In the end, I "killed" my spinach in an attempt to get the sauce down to my desired consistency.  I would have preferred more "heat" to the dish but that is about my preference. I do appreciate the personal stories, and insight into the culture.
For me, Gjelina is my preferred choice as it's a cookbook that I will buy, and I learned something new from this book while testing the recipe.
The semifinals of the contest are currently under way. Stay tuned for Part 2 of this article in which I also give you my perspective on what makes a cookbook good.
Photographs by Bob Benenson/FamilyFarmed.
.