by Chelsea Callahan, FamilyFarmed
Urban agriculture is on the rise. So is the interest of many homeowners in growing their own food. Now a startup company with national intentions wants to accelerate both trends — and it involves bicycles.
On August 2, the Millennial Trains Project rolled into Chicago and Justin Vandenbroeck stepped off, ready to engage the local community on Fleet Farming, the innovative urban farming project that he co-founded and serves as branch manager at its branch in Oakland, California.
The idea is simple and can best be summed up by the motto printed boldly on Vandenbroeck's t-shirt: "Grow Food, Not Lawns." Fleet Farming transforms residential lawns into "farmlettes," utilizes employees and community volunteers on bikes to maintain them, and takes a share of the produce grown on these mini-farms to sell locally. By doing so, Fleet Farming efficiently makes use of previously unproductive land to grow food, and essentially eliminates all fossil fuel consumption during production and transportation.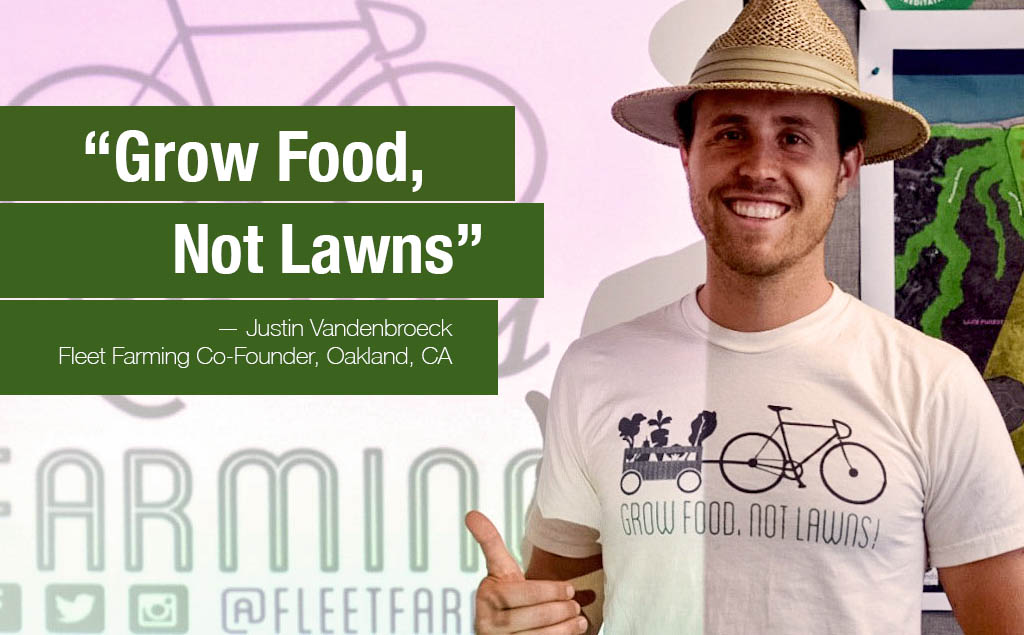 To date, this clever idea is active only in Oakland; Orlando, Florida; and Kampala, Uganda. But the folks behind Fleet Farming believe the concept is highly replicable, and each of the two legs of its Millenial Trains Project is hitting five cities across the nation to build awareness, problem solve and ultimately expand the concept to more cities.
At each stop along his way, Vandenbroeck engaged with local leaders and facilitated workshops to introduce Fleet Farming and brainstorm the issues and opportunities to be had in adapting this concept to each city's needs and resources.
For Chicago, this meeting of minds took place at Openlands — a nonprofit that, according to its website, "has helped secure, protect, and provide public access to more than 55,000 acres of land for parks, forest preserves, land and water greenway corridors, and urban gardens." The participants, key players in the city's urban agriculture movement, included Leah Lawson from FamilyFarmed, Billy Burdett from Advocates for Urban Agriculture, and Brad Roback from the City of Chicago Department of Planning & Development.
The Back Story
It all began in 2013 at Hive Orlando, an IDEAS for US "think and do tank" in the Florida city. John Rife, owner of East End Market there, pitched the concept of Fleet Farming as a solution to some of the inefficiencies in our food system.
Over the next year Rife worked with other members of IDEAS for US to put his concept into action, and in February 2014 Chris Castro and Heather Grove launched Fleet Farming with the goal of "transforming unproductive, wasteful lawns into community-driven urban farm plots."
Their aim was to combat two major food and environmental issues: Over-dependence on fossil fuels for food production and transportation, and the chemical pollution of lawns in the U.S. They focused on raising awareness of eye-opening statistics, among them that the 40 million acres of lawn under cultivation in the U.S. absorb 3 million tons of chemical fertilizer and 30,000 tons of pesticides each year, while 800 million gallons of gasoline are expended for mowing. Armed with those numbers, Fleet Farming set out to make a simple change and a world of difference.
The company started very small. After persuading five homeowners in Orlando to donate their lawns at no cost to the organization in 2014, Fleet Farming transformed them into highly productive farmlettes producing enough food to cover the needs of the homeowner and add to the community's local food supply.
Over just two years since, they have converted 24 lawns in three cities, harvested 4,074 pounds of produce, pedaled 3,612 miles, and saved 8,142 pounds of CO2. Most recently, they expanded their model to include fruit gleaning from residential trees and private garden installations.
And they are only just beginning.
How it Works
After a resident donates his or her lawn, Fleet Farming staff and volunteers get to work transforming it into a farmlette utilizing all the space available. Their intense organic farming practices allow them to grow a huge variety of quick turnover crops in a small space, and they will sometimes even grow custom varieties for chefs in the area.
Each week the company coordinates a "Swarm Ride," in which a fleet of volunteer bikers from the community cycle around to the farmlettes to harvest the produce for markets and restaurants in the area. While the typical American meal travels an average of 1,500 miles from farm to table, everything that Fleet Farming grows is sold at local markets and restaurants within a 5-mile radius.
Every ride includes a gardening demo by a Fleet Farming staff member so that anyone can participate regardless of experience. At the end of it all, volunteers walk away with new skills, meaningful community connections, and a share of the farmlette bounty.
Good Food Grows Jobs
Besides the major energy-saving, health and community benefits that Fleet Farming promises, the organization is also driving economic development at a local level through their hyper-localized food system.
As the organization grows, it is creating more and more urban ag jobs for community members within their franchises. By paying employees a living wage and emphasizing job development, they empower their workers and the community around local food. Additionally, all employees and volunteers receive free food from the farmlettes, which incentivizes participation and good health.
Fleet Farming in Chicago
The purpose of the Fleet Farming session was partly to introduce Fleet Farming to a roundtable of Good Food advocates, and partly to pick their brains about the viability of the concept, potential obstacles that need to be addressed, and other food-growing options the company might consider.
After Vandenbroeck presented the concept and story of Fleet Farming at Openlands, he opened the floor to the group to discuss the potential issues in Chicago and necessary adaptations to make it work. Burdett brought up the issue of soil contamination and weather limitations, something he knows as a barrier for Chicago urban farmers through his work with Advocates for Urban Agriculture. Robeck — who highlighted policies instituted in recent years that stimulated an expansion of urban agriculture in Chicago — discussed potentially problematic zoning rules and the need to think more about how food fits into industrial planning. Lawson stressed the importance of including Chicago's current and aspiring urban farmers in the Fleet Farming movement to advance this already growing sector.
With these ideas in mind, participants broke out in groups to trade ideas on how to reduce barriers to entry in order to successfully bring Fleet Farming to Chicago. The meeting ended in a very positive light with leaders throwing out ideas, from creating suburban farmlettes to pushing for regulatory change to support urban fleet farming.
While there may be some obstacles, there's little reason to doubt that the home farming concept being developed by Fleet Farming is a viable option for Chicago and many other cities around the country.