Pesticides and herbicides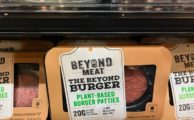 Seed 2 Growth Ventures — known more familiarly as S2G — is breaking new ground as a Chicago-based venture capital firm providing capital to cutting-edge food, restaurant and agriculture businesses in the Good Food sector. This innovative "Soil to Shelf" investment model is the reason why FamilyFarmed will present S2G Ventures with its 2017 Good Food Business of the Year Award on Thursday, at its annual Good Food Financing & Innovation Conference at Chicago's UIC Forum.
Posted in

Awards, Biodiversity, Farm businesses, Financing, Food Entrepreneurs, Good Food and economic development, Good Food business development, Good Food Festivals, Good Food Success Stories, Indoor growing, Organic farming, Pesticides and herbicides, Sustainable food business investment
| Tagged

Beyond Meat, Big Food and Good Food, Biological fertilizers, Chuck Templeton, FamilyFarmed, Good Food Business Investment, Good Food Financing &Innovation Conference, Good Food venture capital, GrubHub, Impact Engine, indoor food production, Midwestern BioAg, non-chemical pesticides, Open Table, plant-based burgers, S2G, Sanjeev Krishnan, Seed 2 Growth Ventures, Shenandoah Growers, Soil health, Sweetgreen, Terramera, Tyson Foods, Tyson New Ventures, Victor E. Friedberg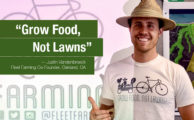 Urban agriculture is on the rise. So is the interest of many homeowners in growing their own food. Now Fleet Farming, a startup company with national intentions, wants to accelerate both trends — and it involves bicycles.
Posted in

Direct Farm Marketing, Family Farms, Food and community, Food Entrepreneurs, Local Food, Pesticides and herbicides, Urban farming, Young farmers
| Tagged

Advocates for Urban Agriculture, FamilyFarmed, farmlettes, Fleet Farming, home farming, IDEAS for US, Millennial Train Project, Openlands, Urban agriculture, Urban farming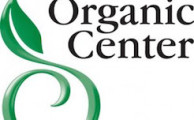 The Organic Center (TOC) has released the 10 most important organic findings of 2015, revealing scientific breakthroughs on the environmental and human health benefits of organic food and farming — from improving soil health and supporting water quality, to reducing our exposure to pesticides and mitigating climate change. Sustainable Food News reports in this republished article.
Posted in

Child nutrition and health, Conventional agriculture, Food and health, Organic farming, Pesticides and herbicides
| Tagged

Benefits of organic farming, Conventional farming, Negative effects of pesticides, organic farming, Organic Trade Association, Pesticides, sustainable farming, Sustainable Food News, The Organic Center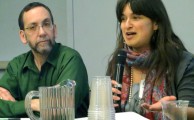 The damaging impact of "chemical drift" is one of the most critical issues for farmers who practice organic or other sustainable growing methods, some of whom shared their stories of dealing with this problem at the recent Good Food Festival & Conference.
Posted in

Chemical drift, Conventional agriculture, Food and health, Good Food Festivals, Good Food movement, Good Food Policymaking, Organic farming, Pesticides and herbicides, Small Farmers
| Tagged

Chemical drift, FamilyFarmed, Good Food Festival, Good Food Festival & Conference, Growing Home, Illinois Stewardship Alliance, organic farming, Pesticide drift, Pesticide drift impact on organic farms