by Bob Benenson, FamilyFarmed
Chef Abe Conlon has Portuguese blood lines, grew up in a working-class city (Lowell, Massachusetts) with a large Asian population, apprenticed under skilled chefs and attended the Culinary Institute of America.
So there might be some destiny in the fact that he and partner Adrienne Lo have built a thriving success at Fat Rice, the restaurant in Chicago's largely working-class Logan Square neighborhood that introduced Macanese cuisine to Chicago and — through their cookbook The Adventures of Fat Rice — to most of the rest of America.
The food of Macau, an island off China, is actually a perfect marriage of Abe's Portuguese background and Adrienne's Chinese-American family. A colony of Portugal for hundreds of years before reverting to China in 1999, Macau features a unique fusion of the tastes of Iberia and of East Asia.
Their decision to go out on a limb with a restaurant featuring the cooking of a place many diners had never heard of was crystallized by a visit to Macau, and vindicated by Fat Rice's critical success and long lines of customers. The restaurant has now expanded to included The Bakery at Fat Rice and The Ladies' Room, the latter of which is meant to evoke the piquant nightlife of Macau in the 1920s.
Conlon already had a well-traveled career before the advent of Fat Rice in 2012. He started working in restaurants at age 15, and after graduating from the Culinary Institute, he cooked in the Dominican Republic, Washington, D.C., and Fredericksburg, Virginia before scratching a longtime itch to move to Chicago. He was hired to do cooking classes and dinners at a Whole Foods Market store in the city's Lakeview neighborhood, and it was there that he met Adrienne, who headed the catering operation.
They moved on and build their culinary reputation with X-Marx, an "underground restaurant" concept  in which they prepared meals with a variety of themes and cuisines at multiple locations — including an antiques storefront that functioned as sort of a restaurant version of a speakeasy.
Finally, they made the determination that they would open a restaurant, but according to Abe, they did not settle on the Macanese focus until they were already building out. And it wasn't until they made that decision that they came up with the name Fat Rice, a.k.a. Arroz Gordo, a trademark dish often described as Macau's version of paella.
Though their artisanship in bringing a little-known ethnic cuisine to life would bring Fat Rice under the Good Food umbrella, Abe and Adrienne are also dedicated to sourcing as many of their ingredients as possible from local and sustainable producers. In the excerpted q-and-a below, you will read about how those efforts have extended beyond the plate to the glass.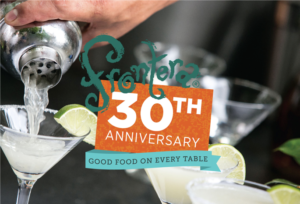 The quality of their food and their dedication to build the market for local farmers brought them to the attention of Chef Rick Bayless, who personally asked them to participate in the Frontera 30th Anniversary Celebration, a joint fundraiser for Chef Rick Bayless' Frontera Farmer Foundation and FamilyFarmed, which will be held at The Art Institute of Chicago on Sunday, April 30.
To learn more about the Celebration (which marks the 30th anniversary of Rick Bayless' landmark Frontera Grill) and to buy tickets, please click here.
FamilyFarmed: The first restaurant that I wrote about for Good Food on Every Table was Honey Butter Fried Chicken, and of course learned about Sunday Dinner Club and how their career evolved out of the underground restaurant scene.
Abe: I walked into my apartment in Wrigleyville, right behind the stadium, Wilton and Waveland, classic Chicago apartment with that sunroom in the front, and I looked at my living room and thought, I'm going to do this right here… [Adrienne and I] became romantically involved… We're going to get a place where we can host these dinners. We got a place down on Printer's Row… Again, I wanted to do it right. I not only wanted to be able to explore the ethnic neighborhoods of Chicago, but I also wanted to go to the farmers market, I wanted to showcase these local farms… We started doing these dinners, once a month, twice a month, we needed a bigger and better place.. We moved and built basically a completely illegal kitchen in the back of what we disguised as an antiques store on California…
FamilyFarmed: So you were really underground. You were basically running a restaurant speakeasy.
Abe: Big time. We still need other events at galleries, but we had that as our home base…
FamilyFarmed: So even though you have this Portuguese background and Adrienne is Chinese-American, Macanese food was not exactly a natural evolution.
Abe: No, it wasn't. But throughout our time together, that kind of thing came up, and I was always, There is this place that IS us. If we combined together, it would be us…. Then got to go to Macau… Adrienne and I stayed the night exploring with a little Lonely Planet guide… I need to know all the things that I can't get anywhere else. I need to get the Portuguese egg tarts, I need to get a pork chop sandwich, I know I need to get the African chicken, I need to get Portuguese chicken, get a curried oxtail of some sort…. We read for authentic Macanese cuisine, this is the place, it's a little subterranean cantina, they have things like feijoada… and linguiça sausage which I grew up eating in Massachusetts. I sat down and I see this little old lady. She kind of looks like my grandmother, but she's kind of Chinese… We sit down and we eat very simple humble brown and yellow and not very attractive things that are absolutely delicious…
FamilyFarmed: So when you tasted authentic Macanese cooking, was it a revelation?
Abe: Within a few spoonfuls, I tasted Lowell, Massachusetts, I tasted Brazil, I tasted Hong Kong, I tasted the Indian spices…
We [decided we] have to build a real restaurant. We're totally screwed because what is it going to be, what are we going to do? We've been doing all of these different types of dinners, we've been to China, we love cooking Szechuan food, we love cooking Iberian food, Spanish and Portuguese, we love cooking Indian food, we love cooking Vietnamese and Southeast Asian. OK, we're just going to cook food and forget the elevator pitch. So we just started building…. People were asking us, What is it? What is it? What is it?… I was desperate and just ripping through every book that I had, and the Macanese books, and I kept seeing "fat rice." It was a signature dish so it was in multiple cookbooks. It's big, it's over the top, it's got sausage, it's got chicken, it's got rice, it's got this and that, and maybe we can do the food of Macau, because nobody knows where Macau is, it's a combination of my culture, Adrienne's culture…
FamilyFarmed: Is there something unique about Chicago, because you have a food-conscious culture, you've got a multi-ethnic community that's more of a mixing bowl than it is a melting pot.
Abe: Chicago is very open… We said, Okay, we can do this…. We bit the bullet and we did it….
The things about it is that food does not necessarily incorporate vegetables. Cabbage, potato, tomato, onion. Much like Portuguese food. So there would be side dishes, like stir-fried Cantonese side dishes, bok choy, green beans, etc. That was our outlet to showcase terroir and showcase the local growing region. Still to this day I want to be true to the recipes we're doing. But I also want to support the farmers….
Now we're going to look at the Eurasian communities of Malacca in Malaysia… We see it in Singapore, we see it in Malaysia, Goa India, or Mozambique or Capo Verde, I just got back from Portugal, or even Brazil. It's global cuisine through a Portuguese perspective that has been developed over the past 500 years…
FamilyFarmed: What kind of relationship do you have with Rick Bayless?
Abe: He caught wind of what we were doing through whomever or through the world of food we live in in Chicago, and there was this article where he said, "We have so many great restaurants in Chicago, there's this place called Fat Rice that's doing these really cool kind of cuisine."… Eventually one day they did they annual company party and asked if they could do a buyout of the restaurant, and they came and we gave them the full experience, and it was totally an honor for us to have him and the whole Frontera crew here…
We're really just honored that he has included us to cook with us for his anniversary. We obviously believe in supporting his mission, supporting local farmers… We had Pete  [Klein] from Seedling Fruit growing piri peri peppers when he had the frost [in 2012] that killed all of his fruit trees. He said, "I can grow other things for you," and I said, "I need authentic piri piri chilies that I can't get."…
FamilyFarmed: We're seeing a lot more of those one on one growing relationships.
Abe: I can commit to 500 pounds of piri piri peppers, whatever you produce beyond that can go to somebody else. Or to Mick Klug Farm, we can commit over the growing season to 750 to 1,000 pounds of asparagus, we know we're going to rip through that…
One way we do a lot of support for local farms, because we're not able to put these things into the dishes all the time, is through our beverage program. One year with Pete I said, What's up with this anise hyssop, how do we have this expression of Midwestern terroir and the growing region? I said, let's infuse it in alcohol. He said, It's all going to go into the compost pile. I said, Cut all that down, sell it to me cheap, I'll put it in some booze, we'll make this beautiful tincture and we can add it to our cocktails… Then it was, Pete, give me 100 pounds of black currants, we'll make our own creme de cassis. Pete, cut down all that lemon verbena, give me angelica root, we're going to make our own chartreuse… Or Klug Farms, you guys have amazing peaches, let's do our own peach liqueur. It got kind of crazy…
Mick Klug Farm asparagus is a huge one. We do that like a dry-fried green bean with a little ground pork and preserved lemon, really pretty simple but people crush it and they love it. We go through so much asparagus and the wok station gets killed…. It's here and then it's gone. Because they grow the best asparagus, Klug Farm, we've made that commitment to them to say we're only exclusively using your asparagus, we want to support you…