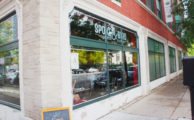 In this latest installment of Good Food on Every Table's "Farm to Table: Keeping It Real" series, Chef Jesse Badger explains how Chicago's Spoke and Bird addresses the challenges faced by small restaurants in developing relationships with their farmers for meat and produce purchases.
Posted in

Butchering, Direct Farm Marketing, Family Farms, Farm to table dining, Farm to Table: Keeping It Real, Food waste, Good Food Dining, Good Food restaurant trends, Livestock farming, Meat, Restaurants and Good Food, Sustainable dining
| Tagged

Chicago farm to table, Chicago restaurants, Chicago South Loop, Dusek's, Farm to Table, Jesse Badger, Little Goat Diner, Local food sourcing, Local Foods Chicago, Ombra, reducing food waste, Spoke and Bird, Stephanie Izard, Sustainable food sourcing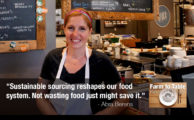 "Minimizing food waste is the next round of work that we have to do, both in the farm to table movement and in our food culture generally," says Abra Berens, chef of Stock Cafe at the innovative Local Foods market in Chicago. Read about her devotion to locally and sustainably sourced food, and to not letting any of it go to waste, in the latest installment of our "Farm to Table: Keeping It Real" series.
Posted in

Chef activism, Chef advocacy, Family Farms, Farm to table dining, Farm to Table: Keeping It Real, Fast/casual restaurants, Food activism, Food education, Food Entrepreneurs, Food Hubs, Food waste, Good Food Dining, Good Food restaurant trends, Local Food, Sustainable dining, Sustainable food retailing
| Tagged

Abra Berens, Ballymaloe Cookery School, FamilyFarmed, food waste, local food, Local Foods Chicago, reducing food waste, root to leaf cooking, Stock Cafe at Local Foods, sustainable dining, sustainable food, Vie restaurant, Zingerman's Deli