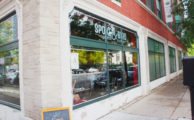 In this latest installment of Good Food on Every Table's "Farm to Table: Keeping It Real" series, Chef Jesse Badger explains how Chicago's Spoke and Bird addresses the challenges faced by small restaurants in developing relationships with their farmers for meat and produce purchases.
Posted in

Butchering, Direct Farm Marketing, Family Farms, Farm to table dining, Farm to Table: Keeping It Real, Food waste, Good Food Dining, Good Food restaurant trends, Livestock farming, Meat, Restaurants and Good Food, Sustainable dining
| Tagged

Chicago farm to table, Chicago restaurants, Chicago South Loop, Dusek's, Farm to Table, Jesse Badger, Little Goat Diner, Local food sourcing, Local Foods Chicago, Ombra, reducing food waste, Spoke and Bird, Stephanie Izard, Sustainable food sourcing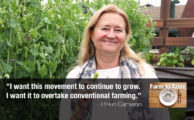 There are few people in the restaurant business who have kept farm to table real better — or longer — than Chicago's Helen and Mike Cameron. They opened Uncommon Ground in 1991 and ever since have been blazing trails in providing diners with locally and sustainable produced food. Read about their ahead-of-the-curve experiences and their 25th anniversary events in the latest installment of our "Farm to Table: Keeping It Real" series.
Posted in

Chef activism, Chef advocacy, Child nutrition and health, Family Farms, Farm to table dining, Farm to Table: Keeping It Real, Farmers markets, Food activism, Food and community, Food and health, Food education, Food Entrepreneurs, Good Food Dining, Good Food restaurant trends, Good Food Success Stories, Healthy eating, Healthy eating for children, Local Food, Regional food systems, Restaurants and Good Food, Sustainable dining, Urban farming, Young farmers
| Tagged

Chicago farm to table, Chicago restaurants, FamilyFarmed, farmers markets, food and community, Green City Market, Greenstar Brewing, Healthy Fare for Kids, local food, Local Foods Chicago, MightyVine tomatoes, Organic brewing, rooftop growing, sustainable food, Testa Produce, Uncommon Ground Chicago