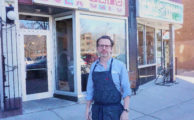 Jason Hammel of the critically acclaimed Lula Café is a rarity among Chicago's top chefs, in that he did not learn the craft in the kitchens of culinary legends. Jason is essentially self-taught. But he counts Chicago legends such as Rick Bayless, Paul Kahan and Matthias Merges as his role models and mentors. Like them, he has played a major role in sourcing from local and regional farmers. We are honored to have Jason as a participating chef at the Frontera 30th Anniversary Celebration, a joint fundraiser for Chef Rick Bayless' Frontera Farmer Foundation and FamilyFarmed, which will be held at The Art Institute of Chicago on Sunday, April 30.
Posted in

Chef activism, Chef advocacy, Child nutrition and health, Direct Farm Marketing, Farm businesses, Farm to school movement, Farm to table dining, Farm to Table: Keeping It Real, Farmers markets, Food activism, Food and community, Food and health, Food education, Food Entrepreneurs, Frontera 30th Anniversary Celebration, Frontera Farmer Foundation, Good Food and economic development, Good Food business development, Good Food Dining, Good Food restaurant trends, Good Food Success Stories, Healthy eating for children, Indoor growing, Local Food, Regional food systems, Restaurants and Good Food, Sustainable dining
| Tagged

Amanda Tshilds, Chef Jason Hammel Chicago, Chef Matthias Merges, Chef Paul Kahan, Chef Rick Bayless, Chicago Museum of Contemporary Art, Eataly Chicago, Edible Schoolyard Project, FamilyFarmed, Fat Rice, Frontera 30th Anniversary Celebration, Frontera Farmer Foundation, Frontera Grill, Gotham Greens, Green City Market, Lula Cafe, MightyVine tomatoes, Pilot Light Chefs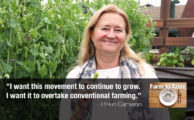 There are few people in the restaurant business who have kept farm to table real better — or longer — than Chicago's Helen and Mike Cameron. They opened Uncommon Ground in 1991 and ever since have been blazing trails in providing diners with locally and sustainable produced food. Read about their ahead-of-the-curve experiences and their 25th anniversary events in the latest installment of our "Farm to Table: Keeping It Real" series.
Posted in

Chef activism, Chef advocacy, Child nutrition and health, Family Farms, Farm to table dining, Farm to Table: Keeping It Real, Farmers markets, Food activism, Food and community, Food and health, Food education, Food Entrepreneurs, Good Food Dining, Good Food restaurant trends, Good Food Success Stories, Healthy eating, Healthy eating for children, Local Food, Regional food systems, Restaurants and Good Food, Sustainable dining, Urban farming, Young farmers
| Tagged

Chicago farm to table, Chicago restaurants, FamilyFarmed, farmers markets, food and community, Green City Market, Greenstar Brewing, Healthy Fare for Kids, local food, Local Foods Chicago, MightyVine tomatoes, Organic brewing, rooftop growing, sustainable food, Testa Produce, Uncommon Ground Chicago