by Bob Benenson, FamilyFarmed
Jason Hammel of the critically acclaimed Lula Café is a rarity among Chicago's top chefs, in that he did not learn the craft in the kitchens of culinary legends such as Charlie Trotter. In fact, Jason — who opened Lula with his wife Amanda Tshilds in 1999 — is essentially self-taught.
But Jason counts Chicago legends such as Rick Bayless, Paul Kahan and Matthias Merges as his role models and mentors. Like them, he has played a major role in sourcing from local and regional farmers and helping them build their markets in the Chicago area. [To read more about Matthias Merges and his culinary career, please click here and here.]
He also shares a heightened sense of social mission with these peers: He, Kahan and Merges are among the co-founders and leaders of Pilot Light, a chef-driven nonprofit that works with Chicago Public Schools to integrate food education into students' curriculum. On Tuesday (April 11), Jason did a rare spin at making pizza — in the style of his hometown of New Haven, Connecticut — at Chicago's Eataly to raise money for Pilot Light.
Now Jason is working to add another jewel to his career, upgrading the food offerings at Chicago's Museum of Contemporary Art with a restaurant and coffee house that is targeted to open this summer. The restaurant will be named Marisol after a figure on the New York City art scene of the 1960s who was a contemporary of Andy Warhol.
Lula Café's name is a tribute to late actress Talullah Bankhead. Jason has an artistic bent, with an undergraduate degree in English from Brown University and a graduate degree from Illinois State University in writing.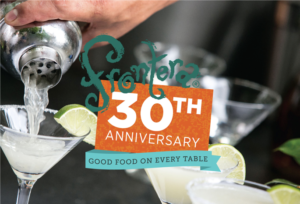 We are honored to have Jason as a participating chef at the Frontera 30th Anniversary Celebration, a joint fundraiser for Chef Rick Bayless' Frontera Farmer Foundation and FamilyFarmed, which will be held at The Art Institute of Chicago on Sunday, April 30.
To learn more about the Celebration (which marks the 30th anniversary of Rick Bayless' landmark Frontera Grill) and to buy tickets, please click here.
Enjoy the following excerpted q-and-a between Jason and FamilyFarmed, in which he discusses the challenges for restaurants in serving local and sustainably produced food at affordable prices, and his views on the key question of whether Good Food needs to be local. 
FamilyFarmed: I was talked to Abe Conlon at Fat Rice about all of the things they do seasonally working with local farmers, and he said, "I don't know how Hammel does it, changing the menu every day."
Jason: We do three new dishes every Monday and those dishes go on the menu… We work sort of two weeks out, so we want to be two weeks away from a change in the menu. We think several Mondays in advance. We work off experience, thinking about where we were last year and the year before, and availability, of course, we're talking to farmers all the time. And then just dreaming up things…
FamilyFarmed: When you were starting Lula, that was just about the time that Green City Market was starting too. So you had that interaction, and the farmers learned. Still today, we're finding that connecting farmers to buyers is still a bit of issue, but nearly what it was 18 years ago.
Jason: The reason why is that it's expensive. It's not like they don't want to buy the stuff, they don't have the budget to buy it. It's expensive in the sense that the price is higher… But there's a hidden cost that people don't think about, which is the labor of getting product in a natural state and getting it in different sizes and shapes that maybe don't fit your menu… It takes more dynamic thought and operations from the staff, and that costs money and labor hours…
FamilyFarmed: You've managed to keep this restaurant thriving for almost 20 years, and you do it at a price point that is reasonable. Why is it so hard for restaurants to do?
Jason: We're really busy, we were first in, we're popular, we're in a great location, and we're busy. Just the sheer volume of business helps us manage that… Prices are going to go up, and people are going to pay more money for food, and people are going to have to decide how often they go out to eat versus making food at home, and what the value of that is… The challenge is to identify our qualities and to make it worthwhile for people to pay a little extra money.
FamilyFarmed: You came from a family that was in the restaurant business, but you didn't immediately go into it, you were pursuing a writing career.
Jason: It's more about fate and happenstance than any kind of intent… Before I went to graduate school, I lived in Italy for a year… I found an apartment that happened to be on the piazza outside the Central Market in Florence, literally at the market. So I was woken up by the market every morning that year that I lived there. That is possibly the center of me liking to go to the market.
FamilyFarmed: For this industry and this era, you are very rare as a self-starter.
Jason: I wish I had some of those experiences. I think I could have benefited from them… There are some books that are really important to me… and there are the relationships that I've had with people like Matthias, Paul, who I look at as these avuncular mentors that I really do call and ask questions of and look for guidance because I didn't have the training…
FamilyFarmed: Logan Square is a different neighborhood than it was 20 years ago, and I would say that the rise of food culture was the biggest economic driver.
Jason: We have a great identity as a chef-driven creative neighborhood. When I moved here in 1995, this neighborhood had the same spirit. It was a different economic scene, it was different culturally, it was different in many ways. But the sort of independence and the creative entrepreneurship was alive back in the 90s too. That's why I moved here. I was a writer, I wanted to be around people who were making things and creating their own worlds…
FamilyFarmed: And Matt Merges has been a big influence on the community.
Jason: He has been a big influence on me personally. He's my Yoda.
FamilyFarmed: Let talk a bit about Pilot Light and other socially mission oriented programs.
Jason: There are a lot of them. Paul showed me a map that the Edible Schoolyard [Project] has created of the entire country and how many food-based, culinary and education and school lunch programs are happening that are driven by chefs and restaurateurs nationwide… They're going to come to critical mass in the next generation. We have high hopes for future generations to eat more healthfully and more sustainably…
It's what we try to do at Pilot Light. We work with a lot of kids who have no access to healthy food and they're not going to get it any time soon. Rather than just give them a passing opportunity to know what's out there that at this time, for them, is inaccessible, it's not what we're about. We ask them to think about what they're eating, what the food is in front of them, and then think about it, and hopefully make some small adjustments in a direction that will be healthier for them…
FamilyFarmed: We've been having sort of this arm's length conversation about farm to table restaurants.
Jason: I have a dream for the future where the United States starts to develop a similar understanding of terroir and what grows best where, as many other countries around the world do. Our farmers markets… they're growing a wide range of fruits and vegetables and see what sticks. And they're not all good, and that's one of the problems. Just because it was grown in an organic environment by your local farmer does not mean it actually tastes good. We have to start thinking about flavor…
I'm hoping that in the next generation or next iteration of the farm to table movement that we see some specialization, and I also hope we find some sustainable and energy-efficient ways of transporting those products to people who want them… Let's focus on what we do best and charge the right amount of money for them so those farmers can make decent livings and find ways of extending our season in the right way…
FamilyFarmed: How do you see season extension working? It's everything from hoop houses growing winter spinach and kale in Wisconsin to Gotham Greens and MightyVine tomatoes.
Jason: I'm very happy about the MightyVine tomatoes. It is the kind of product that we need to have at Lula, because we serve tomatoes and we're not going to stop. They are a great alternative and we go through many cases a week. I would like to see more innovation like that…
FamilyFarmed: What is your favorite thing that's grown here?
Jason: It's actually winter greens, kale, collard greens, spinach that are grown post-frost are among our best products. That's only going to happen here or another cold environment. The depth of the color, the iron-rich quality, the flavor is really special and very sweet…
FamilyFarmed: Let's talk real quick about the Museum project. That kind of brings you back around full circle.
Jason: It's a natural move and extension for me to work with the Museum. It's a very collaborative project… It's an immersive art environment inside something that will speak to you with creativity and depth and beauty and arresting images and a captivating experience. The food there will be inspired by that collaboration in the sense that it will be of the moment, because I actually see in that movement a similarity to the emerging artist, the contemporary moment, the now that is in the mission of that museum…
FamilyFarmed: Participating in this Rick Bayless event, what does this mean to you?
Jason: Along with Matthias and Paul, Rick is absolutely a mentor and a friend. He's been a big help at various times in the past and a huge inspiration… Frontera is what I want Lula to be. Not only in its legacy as a great restaurant and a social innovator, it's made the world a better place, but it's also a family restaurant, they raised their daughter there, they're a husband and wife team… I'm always amazed when I'm there, there's no better-run restaurant. The sourcing is impeccable, these are all values that are impeccably articulated and thoroughly maintained every time… It's about the community that Rick and Deann have created. The energy that's in that space, to me, that's completely remarkable. I have no other goal but to emulate that success…