by Bob Benenson, FamilyFarmed.org
The article How to Stretch Your Farmers Market Dollars, published by Good Food on Every Table last week, drew a lot of interest. Even better, it drew several comments  — including some from vendors — loaded with even more great ideas on how to save money at your local farmers market.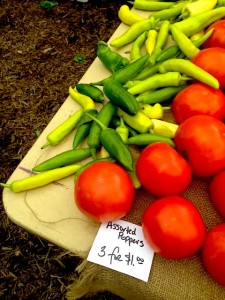 Those tips are shared here. If you've got some to add, please post them in the comments below, and we'll keep the conversation going. Whatever we can do to encourage consumers to shop at farmers markets helps move local food systems and the Good Food movement forward.
Vicki is a journalist in Washington, D.C., who works with Chesley Vegetable Farms at the Reston Farmers Market in suburban Virginia.
"One big positive of farmers markets is that (at least here) there's no sales tax. That can save 5 to 6 percent on your purchases based on location. It's 6 percent here.
"Another point this year is that the California drought has pushed up grocery-store prices. We do all of our fruit for $2.50 a pound, even our donut peaches, which are sold for higher prices in stores. Customers get giddy when they realize the price. No one is complaining about prices this year because they've been in the stores. We also haven't raised our prices in several years.
"Many farmers also will sell 'seconds' for half price or less. We sell buckets of tomatoes for $12 — comes out to about $1 a pound. People love to use them for canning, sauces and freezing."
Erin Cummisford is director of marketing, communications & special programs at Liberty Prairie Foundation, which promotes local and sustainable farming in the Chicago suburb of Grayslake, Illinois.
"There are also bargains to be had by using ALL of the vegetable, which is often not an option for those purchased at a grocery store. When purchased directly from a farmer, the vegetables are really fresh — which sometimes means that 'bonus' plant parts can be eaten. Beet stems/greens, radish greens, and broccoli stems are just a few examples."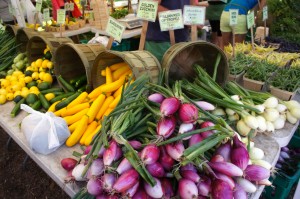 Stefanie Samara Hamblen publishes Hogtown Homegrown, a newsletter promoting local food in Gainesville, Florida, and owns The Illegal Jam Company.
"In addition to the free monthly food newsletter I produce, I also have a cottage food jam business, so I enhance my market experience two special ways. First, when a farmer's product is in an issue of my newsletter, I point it out and give them some copies so they can offer recipes to their customers. Second, when I buy something from a farmer that I turn into a preserved product, I make sure to give the farmer a jar of whatever I made with their fruit! Yes, I get lovely bonus and quantity discounts as a result, but the farmers make up in volume from the customers I send their way!"
And Lois in NYC is a savvy shopper who knows many ways to save, and says you shouldn't be afraid to respectfully negotiate your own bargains. She recommends the Union Square and Bowling Green farmers markets in Manhattan and says she has gotten free greens at each.
"There are end-of-day bargains.  Some markets have $2 or $3 or $5 bags of produce at the end of the day, often two-thirds or half-price, or even cheaper.
"Also, they often put produce — particularly bruised or damaged fruit — in boxes under or behind the table, which they take home for compost.  Sometimes they will give these away, or sell them at a very low price.  I have gotten whole crates of peaches for free this way.
"Also, people often ask for the greens — the most nutritious part of the vegetable — to be taken off.  Most greens are wonderfully edible, and kohlrabi greens are spectacular.  Rather than have to load them on the truck again, farmers often give them away.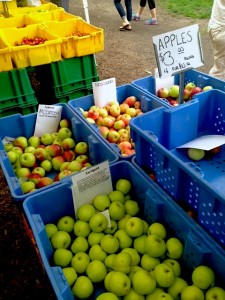 "Also, you can ask farmers if they are able to work out some kind of arrangement with you — barter, trade, or reduced price.  It doesn't hurt to ask, but you have to be careful to respect the farmers' need to make money and have a viable farm business.  This request must happen with the utmost respect for the farmer and gracious acceptance of whatever answer the farmer gives you.  Farmers work hard to making a living, and we should all respect that.  They also usually want to help people, and it may be painful for them to say no if their finances do not permit it.
"I appreciate your point about getting to know your farmer and expressing your appreciation to them about the delicious food they give you.  During the end-of-year holidays, I often bake cookies for my farmers, the people who feed me and keep me healthy throughout the year."
[Editor's note: The following comment has prompted feedback from some farmers' market participants who say Mindy from Pennsylvania's experience is not typical, and that many vendors and farmers market operators discourage late-day discounting because it could prompt customers to wait until closing time to shop. Please feel free to share your own opinions in the comments below.]
Mindy from Pennsylvania says it's important to get to know your farmers… and to shop strategically.
"I go one hour before the market closes when the vendors are ready to make great deals. I stick to one or two vendors so that they get to know me and we form a relationship. They love it when I ask questions about the produce, where it comes from, and how they are successful. The more I buy, the bigger the discount.
"Sometimes I offer to buy up all the leftovers and that makes them very happy! My favorite vendor will even load up the boxes of produce in my car for me. They know that I can a lot so I'll bring a can or two for them as a thank you for giving me a deal. Forming a relationship with the vendors is key to saving some dollars and getting insider information."
Photos by Bob Benenson