by Bob Benenson, FamilyFarmed
FamilyFarmed has launched a fundraising campaign to support its new Direct Market Success program — the latest expansion of the Chicago's nonprofit's extensive efforts to train farmers across the United States so they can achieve sustainable success.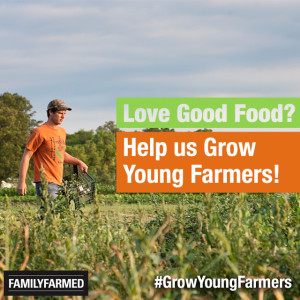 The campaign, staged on the IndieGoGo crowd-funding site, is titled "Help Us Grow Young Farmers!" Its goal is to raise $60,000 in tax-deductible contributions by Dec. 6. (To learn more, view the campaign video and make a donation, please click here.)
These resources will be used to produce Direct Market Success, the definitive manual for farms selling directly to customers through farmers markets, CSAs, farm stands and other venues. The manual then will become the core of a program to train farmers — including many of the generation of newer and younger farmers who our nation so critically needs — in workshops to be held across the nation.
There is a fun side to this very serious campaign. Supporters making tax-deductible donations may choose from an exciting list of "perks" offered by FamilyFarmed.
They include meals and other donations from award-winning chefs such as Chicago's Rick Bayless, Paul Kahan, Carrie Nahabedian, Sarah Stegner, Paul Fehribach and Paul Virant, pioneers in "farm to table" cuisine. There are donations from Chipotle Mexican Grill, Whole Foods Market and Farmhouse Chicago.
And for a $250 donation, you can make like the president of the United States and pardon a Thanksgiving turkey, which will live out its natural life on the organic pastures of Illinois' Mint Creek Farm.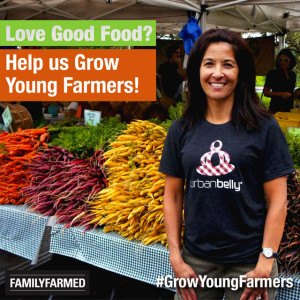 "We have received dinners at restaurants featuring some of the nation's best chefs, cookbooks, home-delivered gourmet meals, tours of farms and Good Food processing facilities, and much more," said Jim Slama, founder and president of FamilyFarmed. "The importance of the #GrowYoungFarmers campaign is reason enough to make a tax-deductible donation, but the perks add an element of gratitude to a campaign built around a very serious priority."
The Direct Market Success manual is being produced with the guidance of an Advisory Board of 19 experts from across the direct marketing spectrum. To learn more about them, please click here.
As the name "Help Us Grow Young Farmers!" implies, the program addresses a critical need: a new generation of food producers. With the U.S. Department of Agriculture (USDA) reporting that the average age of farmers is approaching 60, promoting the success of newer and younger farmers is urgent.
"If we don't grow young farmers, the nation is going to be headed down a very risky path," Slama said.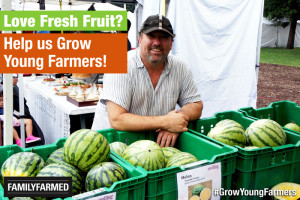 Yet the Direct Market Success program is certainly not limited to the youngest farmers. "This comprehensive publication and the training program based on it will be welcomed by any farmer, regardless of age and experience level," said Slama. "We believe Direct Market Success will be unique because it combines deep knowledge of on-farm growing and processing skills with best practices for selling across the spectrum of direct markets."
Slama noted that Direct Market Success is modeled directly after FamilyFarmed's impactful Wholesale Success manual and program. "Wholesale Success has been used in workshops in 35 states to train more than 7,000 farmers who are selling or want to sell into wholesale markets, and the program is growing," he said.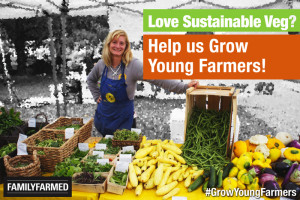 Seed funding for the project was provided by the national Farm Aid organization, famed for its annual fundraising concert, which has provided financial assistance, technical assistance and counseling to family farmers for the past 30 years. (To read about the activities surrounding Farm Aid's 30th anniversary concert held in Chicago in September, please click here.)
FamilyFarmed has nearly two decades of experience and expertise in local and sustainable food matters. Our nonprofit organization has had a major impact in advancing the Good Food movement by working with farm and food businesses, to help them grow and expand the market for local, sustainable food.
For more information about Direct Market Success and the Help Us Grow Young Farmers! campaign, or to arrange for an interview about it with President Jim Slama, please contact Leah Lawson at 708-763-9920 or email leah@familyfarmed.org.