by Bob Benenson, FamilyFarmed
Many people who have worked in Chef Rick Bayless' kitchens since he opened Frontera Grill 30 years ago have gone on to their own success as chefs and restaurateurs. For example, Paul Kahan — now Rick's fellow James Beard Foundation Award-winning chef in Chicago — cooked at his Topolobampo before opening Blackbird and kicking off the One Off Hospitality Group in 1997.
But among those who have worked for Rick, few — if any — have benefited more than Anselmo Ramirez.
Today, Anselmo is chef-owner of the popular Ixcateco Grill (3402 W. Montrose Ave., Chicago), which serves authentic regional Mexican food in off-the-beaten-path North Side neighborhood.
But 20 years ago, Anselmo was a 17-year-old whose immigrant family arrived from Mexico just five years earlier. He had taken a part-time job as a dishwasher in a suburban restaurant two years earlier to help out with family expenses, then he saw this famous chef — Rick Bayless — on TV preparing regional food the way Anselmo had watched his grandmother in Mexico prepare it.
Anselmo says he became determined to work for Rick, started out as a dishwasher at Frontera Grill, moved up to prep cook within seven months, then line cook, then up and up over 13 years until he ended up cooking for guests at Topolobampo, the Frontera group's fine-dining Mexican.
After determining that he needed to expand his range before venturing out on his own, he segued to Prairie Grass Cafe in suburban Northbrook under the tutelage of chefs Sarah Stegner (who, like Rick Bayless, played a fundamental role in establishing a farm to table restaurant culture in Chicago) and George Bumberis. Finally, almost exactly two years ago, he signed a lease for what would, in August 2015, become Ixcateco Grill.
Anselmo has something else in common with Paul Kahan besides having worked at Topolobampo and sharing a profound devotion for local sourcing. Both will be participating in the Frontera 30th Anniversary Celebration, a joint fundraiser for Chef Rick Bayless' Frontera Farmer Foundation and FamilyFarmed, which will take place on Sunday, April 30 at the Art Institute of Chicago.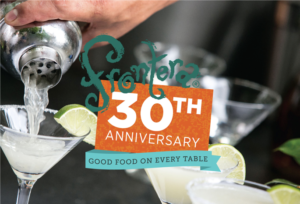 To learn more about the Celebration (which marks the 30th anniversary of Rick Bayless' landmark Frontera Grill)… to buy tickets… or to learn about host committee and sponsorship opportunities, please click here.
The following is an excerpted interview with Anselmo conducted at Ixcateco Grill on March 28.
FamilyFarmed: Immigration and the role of immigrants in the nation's food culture and food industry is such a big issue. You came to the United States when you were 12?
Anselmo: Yes. My parents from Mexico too. I grew up in Pilsen, the neighborhood. I went to Benito Juarez High School, at that time it was really, really dangerous high school. When I started working at restaurants, my first job was as a dishwasher in Forest Park. It was a part-time job, because I was in high school. At the same time, I wanted to start making money. It's where I discovered I really want to be a chef, because I really like it. Besides seeing my grandma cooking in Mexico and making moles [moles, pronounced moh-LAYZ, are rich Mexican sauces]…
FamilyFarmed: Having that attachment to food when you're small… it really led you almost directly on a path to a career.
Anselmo: Two years after, one night I was watching television when I saw this famous chef, the best chef of the U.S. cooking Mexican food. It was Rick Bayless. I thought I'd like to work for him. It was hard to get in. If I have start as a dishwasher, this is how I'm going to do it….
FamilyFarmed: And you're working for this world-renowned chef and after a few months washing dishes, he has you fixing food!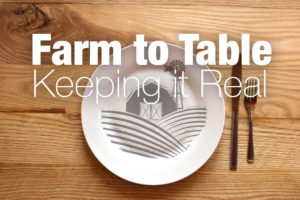 Anselmo: Yeah, it was a great time. So I learned, it was my culinary school. I learned a lot of great things there. We were one of the first restaurants that started to work with farm to table. When we started working with the fresh vegetables, and you can smell, like, earth, you can taste freshness. The food was completely different when we started using on the farm vegetables… When I saw that, honestly, I felt like I was in Mexico. All of the farmers came to bring in the vegetables to Frontera to the door, I feel like wow, this is like in Mexico, this is like in my hometown…
FamilyFarmed: When I talked to Chef Rick about the Oaxacan corn that he imports for his tortillas, he says when he first brought that masa into the restaurants, the Latino staff said, "What is that smell, I haven't smelled that for years?"
Anselmo: Yeah (laughs), it's true, it's true. Exactly the same thing that happened in the beginning when we start using those products from farm to table. Everybody said, Do you see these beets, do you see these tomatoes, how amazing they look, how very fresh, and you can smell it. So when we were cooking, when we were doing the salsa, to be ready for the dinner, you could smell in the alley, the smell came out from the restaurant, from the kitchen. It was a great, great, great, great experience.
FamilyFarmed: After working for Rick Bayless for a number of years, you went in a very different direction. Prairie Grass Café is a very different kind of restaurant. What made you decide to do that?
Anselmo: So I really wanted to see other chefs and their systems. Sarah Stegner, one of the best chefs, I respect her, I love her, she's great, and George [Bumberis], they're great. They work everything farm to table, the same thing… They were amazing teachers.
After two years, I think, I really want do try to do my own. I want to do something simple, casual, but flavorful, and at the same time, similar to my grandma's technique. I was thinking, but I wasn't sure, so it was a year, six months, working at Prairie Grass Café, and then after two years I thought, it's time…
And since the first day we opened, this place was packed, right up to today, thank God.
FamilyFarmed: And the reviews about the restaurant, it was immediately successful. Was that a problem? All of a sudden, there's so many people.
Anselmo: Really, I didn't expect that on our first day. I didn't expect that many people. It was crazy. We were short on staff, in the kitchen I had only two line cooks, me and my mom, she was making tortillas. We didn't have a dishwasher, we didn't have a food runner. We thought we were going to go slow and build up. The next day, the busser didn't show up, two servers didn't show up, it was more crazy. The night before it was really crazy. The next day we had to do again. On the third day, I had to take tables out because I didn't have enough personnel. Our guests were complaining about no tables and complaining about bad service. I'd prefer that, you know.
FamilyFarmed: When you were started to plot the idea of doing your own restaurant, was there any question that it would be Mexican?
Anselmo: Honestly, between you and me, when I was working my menu, at one moment I thought I really want to do Mexican contemporary, like French-Mexican. But at the same time, I thought, this is not the neighborhood to do that. It was my first crack, so I can't play with that. I'm still thinking that way about doing in the future. Maybe a second project, French-Mexican. We have Japanese too. In the beginning, I thought to do different.
FamilyFarmed: Even with the greater understanding of authentic Mexican food and Rick Bayless certainly contributed a lot to that, it's not like you can walk into every place and have seven different mole sauces.
Anselmo: So many restaurants do moles, salsas. But every single ingredients in it, if you toast the ingredient one second more or roast the tomato one second more, the flavor is going to change. Everything. It's the same with the meats, every single cook has different systems, ways to cook. Sometimes I'd follow the recipe exactly the same, but in the end, the product didn't come out the same taste, the same flavor. Why? Because something is wrong between the long list, prepping, putting everything together, toasting the ingredients, chilis or tomatoes or whatever. It was one second, five seconds more in the heat, that makes a difference.
FamilyFarmed: And the quality of the ingredients itself. It could be a little more ripe and little less ripe. Because you started cooking at such a young age, does that kind of improvisation come naturally to you?
Anselmo: I love cooking naturally everything. Everything fresh. Fresh, fresh. Everything fresh. For example, on Saturdays, I go to the market to get the vegetables for the dinner. I like this vegetable, it's fresh, fresh, fresh. So this is what I'm going to do for the special tonight.
FamilyFarmed: Have you been able to develop upon the relationships that you developed in terms of the farmers and the sources, from Frontera from Topolobampo, to Prairie Grass Café?
Anselmo: I have Three Sisters Garden. I love Tracey. Corn with huitlacoche. With that quality! Fresh, organic… I get hungry (laughs)… A great chef, if he doesn't use the fresh ingredients, everything quality ingredients, his food is not going to taste like it has to be.
[Note: Tracey Vowell, the executive chef at Frontera Grill and Topolobampo when Anselmo started his career, now owns Three Sisters Garden in Kankakee, Illinois. Along with producing some of the region's best sweet corn, Three Sisters sells huitlacoche, a corn fungus popular in Mexico that in recent years has become a delicacy in the U.S. as well.
FamilyFarmed: It's foolish to even try to do that anymore because you have a more educated consumer, they know what good food tastes like. Is there any particular dish that seems to be the most popular with your customers?
Anselmo: The chicken in black mole and the carne asada, that recipe is from my grandma, and I put my twists. The octopus salad. I love using dried chilies. My favorite to use is Oaxacan pasilla. Oh my gosh. For the smoking flavor, I really love to work with this…
FamilyFarmed: Do you know what you're going to cook for the Frontera 30 event?
Anselmo: I'm going to use the Oaxacan pasilla. I'm going to use scallop ceviche with spring vegetables and a Oaxacan pasilla kind of marinade, dressing. But my favorite ingredient is going to be the Oaxacan pasilla.