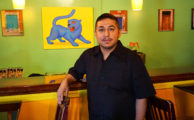 Many people who have worked in Chef Rick Bayless' kitchen since he opened Frontera Grill 30 years ago have gone on to their own success as chefs and restaurateurs. But among those who have worked for Rick, few — if any — have benefited more than Anselmo Ramirez, chef-owner of Chicago's popular Ixcateco Grill, where he combines the Mexican food knowledge he gained from his grandmother with the restaurant craft he learned while working for 13 years in Rick Bayless' kitchens… starting as a 17-year-old dishwasher. Anselmo will participate in the Frontera 30th Anniversary Celebration fundraiser on April 30 at The Art Institute of Chicago.
Posted in

Direct Farm Marketing, Ethnic foods, Farm to table dining, Farm to Table: Keeping It Real, Food Artisans, Food Entrepreneurs, Frontera 30th Anniversary Celebration, Good Food and economic development, Good Food business development, Good Food Dining, Good Food restaurant trends, immigration, Local Food, Restaurants and Good Food, Sustainable dining
| Tagged

Anselmo Ramirez, Blackbird Chicago, Chef Paul Kahan, Chef Rick Bayless, Frontera 30th Anniversary Celebration, Frontera Farmer Foundation, Frontera Grill, George Bumbaris, Ixcateco Grill, James Beard Foundation, One Off Hospitality, Prairie Grass Cafe, Regional Mexican cuisine, Sarah Stegner, The Art Institute of Chicago, Three Sisters Garden Illinois, Topolobampo, Tracey Vowell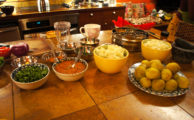 FamilyFarmed's Good Food Festival & Conference reflects the values of the Good Food movement: increasing access to food produced locally as possible using sustainable, humane and fair practices, to build a healthier, more sustainable and more economically dynamic food system. It also reflects the amazing diversity of this nation's food and farm entrepreneurs, both demographically and in the types, styles and ethnic origins of food they produce.
Posted in

Community kitchens, Ethnic foods, Fermentation, Food Artisans, Food Entrepreneurs, Good Food business development, Good Food Festivals, Good Food movement diversity, immigration, Value Added Products
| Tagged

America's diverse foods, Chutney Devis, chutneys, CocoGhee, Ethnic cuisine, FamilyFarmed, fermented food, Good Food Festival, Good Food Festival & Conference, Good Food Trade Show, Grass Fed Gourmet, grass-fed livestock, Hellshire Foods, Indian cuisine, Jamaican jerk cooking, kitchari, pierogis, Polish cuisine, Polish cuisine in Chicago, sauerkraut, South Indian cuisine, The Chow Brothers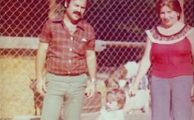 Kefir is a probiotic fermented dairy drinkthat originated in Russia in the 19th century and only recently has developed a growing consumer market in the United States. The main catalyst for the rising interest in this product is Lifeway Kefir, started in 1986 by Soviet refugee Michael Smolyansky and today run by his children. Julie Smolyansky, the company's CEO, writes here about the family's gratitude to the United States; she will participate on a panel about Big Food's Embrace of Good Food at FamilyFarmed's Financing & Innovation Conference on March 16.
Posted in

Dairy, Fermentation, Food and health, Food Artisans, Food Entrepreneurs, Good Food business development, Good Food Festivals, Good Food marketing, Healthy eating, immigration, Sustainable dairy
| Tagged

2X Consumer Products Growth Partners, A.T. Kearney, FamilyFarmed, Good Food entrepreneurs, Good Food Festival & Conference, Good Food Financing &Innovation Conference, Julie Smolyansky, kefir, Lifeway, Lifeway Kefir, probiotic foods, S2G Ventures, Soviet refugees in America