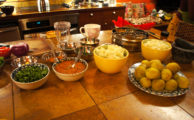 FamilyFarmed's Good Food Festival & Conference reflects the values of the Good Food movement: increasing access to food produced locally as possible using sustainable, humane and fair practices, to build a healthier, more sustainable and more economically dynamic food system. It also reflects the amazing diversity of this nation's food and farm entrepreneurs, both demographically and in the types, styles and ethnic origins of food they produce.
Posted in

Community kitchens, Ethnic foods, Fermentation, Food Artisans, Food Entrepreneurs, Good Food business development, Good Food Festivals, Good Food movement diversity, immigration, Value Added Products
| Tagged

America's diverse foods, Chutney Devis, chutneys, CocoGhee, Ethnic cuisine, FamilyFarmed, fermented food, Good Food Festival, Good Food Festival & Conference, Good Food Trade Show, Grass Fed Gourmet, grass-fed livestock, Hellshire Foods, Indian cuisine, Jamaican jerk cooking, kitchari, pierogis, Polish cuisine, Polish cuisine in Chicago, sauerkraut, South Indian cuisine, The Chow Brothers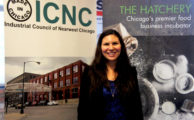 The Hatchery, a food business incubator in Chicago, started up just last year with a small space but big plans. Those plans are now taking a giant step toward fruition with $2 million in economic development funding that is being provided by the City of Chicago. The Hatchery also will participate in FamilyFarmed's Good Food Festival & Conference March 17 and 18.
Posted in

Financing, Food and community, Food and technology, Food Entrepreneurs, Good Food and economic development, Good Food Business Accelerator, Good Food business development, Good Food Festivals, Supply chain
| Tagged

1871, Accion, FamilyFarmed, food business incubators, Good Food Business Accelerator, Good Food Festival, Good Food Festival & Conference, Good Food Financing &Innovation Conference, Good Food Trade Show & Policy Conference, ICNC, Indian As Apple Pie, Industrial Council of Nearwest Chicago, Kitchfix, Let Them Eat Candles, Lorenzo's Delectables, Read It & Eat, Tea Squares, The Chow Brothers, The Hatchery, The Paleo Cookie Company, Think Jerky, Victory Dance Foods, Zen of Slow Cooking