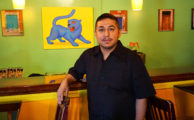 Many people who have worked in Chef Rick Bayless' kitchen since he opened Frontera Grill 30 years ago have gone on to their own success as chefs and restaurateurs. But among those who have worked for Rick, few — if any — have benefited more than Anselmo Ramirez, chef-owner of Chicago's popular Ixcateco Grill, where he combines the Mexican food knowledge he gained from his grandmother with the restaurant craft he learned while working for 13 years in Rick Bayless' kitchens… starting as a 17-year-old dishwasher. Anselmo will participate in the Frontera 30th Anniversary Celebration fundraiser on April 30 at The Art Institute of Chicago.
Posted in

Direct Farm Marketing, Ethnic foods, Farm to table dining, Farm to Table: Keeping It Real, Food Artisans, Food Entrepreneurs, Frontera 30th Anniversary Celebration, Good Food and economic development, Good Food business development, Good Food Dining, Good Food restaurant trends, immigration, Local Food, Restaurants and Good Food, Sustainable dining
| Tagged

Anselmo Ramirez, Blackbird Chicago, Chef Paul Kahan, Chef Rick Bayless, Frontera 30th Anniversary Celebration, Frontera Farmer Foundation, Frontera Grill, George Bumbaris, Ixcateco Grill, James Beard Foundation, One Off Hospitality, Prairie Grass Cafe, Regional Mexican cuisine, Sarah Stegner, The Art Institute of Chicago, Three Sisters Garden Illinois, Topolobampo, Tracey Vowell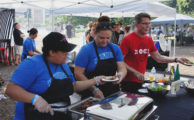 Two things are clear about the annual Chef BBQ fundraiser staged by Chicago's Green City Market, which took place Thursday evening. One is that the BBQ will be one of the best food and beverage tasting events on the calendar of food-centric Chicago. The other, it seems, is that the summer weather may always be a challenge for this event.
Posted in

Chef advocacy, Direct Farm Marketing, Family Farms, Farm businesses, Farm to table dining, Farm to Table: Keeping It Real, Farmers markets, Food Artisans, Food Entrepreneurs, Good Food Dining, Good Food restaurant trends, Good Food tasting events, Local Food, Regional food systems, Restaurants and Good Food, Sustainable dining
| Tagged

7 Lions, Abra Berens, Alpana Singh, Big Jones, Bruce Sherman, Check, Chris Pandel, FamilyFarmed, farm to table restaurants, Farm to Table: Keeping It Real, Farmhouse Chicago, Forbidden Root, Frontera restaurant group, Good Food Festival & Conference, Green City Market, Green City Market Chef BBQ, Honey Butter Fried Chicken, Ina Pinkney, James Beard Foundation, Kevin Hickey, Koval distillery, Local Foods Chicago, Michael Kornick, Monteverde, North Pond, North Shore Distillery, One Off Hospitality Group, Paul Fehribach, Paul Kahan, Please!, Prairie Grass Cafe, Rick Bayless, Sarah Grueneberg, Sarah Stegner, Smoque BBQ, Stephanie Izard, The Duck Inn, The Kitchen, The Kitchen Community, Three Sisters Garden, Uncommon Ground, Virtue Cider