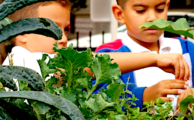 Tim Magner works to integrate food education with fun through Chicago-based programs such as Nature's Farm Camp. He reports that the longterm decline in the quality and nutrition in school food is being reversed, in sync with the rise of the Good Food movement. More school gardens, more cooking classes, more efforts by many administrators to find healthier choices for students. In his article below, Tim describes the positive impact that is having for our nation's schoolchildren and our food system in general.
Posted in

Child nutrition and health, Farm to school movement, Food and health, Food education, Good Food Festivals, Healthy eating for children, School gardens, Sustainable food education
| Tagged

early childhood Good Food education, family-friendly Good Food events, FamilyFarmed, FarmLogix, Food education, Good Food Festival, Good Food Festival & Conference, Good Food Financing &Innovation Conference, Good Food Trade Show & Policy Conference, Gorilla Gourmet, HandCut Foods, Nature's Farm Camp, Pilot Light, Purple Asparagus, The Kids' Table, The Kitchen Community, U.S. Department of Agriculture, Urban Farm Bus Tour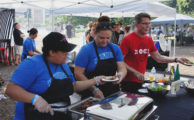 Two things are clear about the annual Chef BBQ fundraiser staged by Chicago's Green City Market, which took place Thursday evening. One is that the BBQ will be one of the best food and beverage tasting events on the calendar of food-centric Chicago. The other, it seems, is that the summer weather may always be a challenge for this event.
Posted in

Chef advocacy, Direct Farm Marketing, Family Farms, Farm businesses, Farm to table dining, Farm to Table: Keeping It Real, Farmers markets, Food Artisans, Food Entrepreneurs, Good Food Dining, Good Food restaurant trends, Good Food tasting events, Local Food, Regional food systems, Restaurants and Good Food, Sustainable dining
| Tagged

7 Lions, Abra Berens, Alpana Singh, Big Jones, Bruce Sherman, Check, Chris Pandel, FamilyFarmed, farm to table restaurants, Farm to Table: Keeping It Real, Farmhouse Chicago, Forbidden Root, Frontera restaurant group, Good Food Festival & Conference, Green City Market, Green City Market Chef BBQ, Honey Butter Fried Chicken, Ina Pinkney, James Beard Foundation, Kevin Hickey, Koval distillery, Local Foods Chicago, Michael Kornick, Monteverde, North Pond, North Shore Distillery, One Off Hospitality Group, Paul Fehribach, Paul Kahan, Please!, Prairie Grass Cafe, Rick Bayless, Sarah Grueneberg, Sarah Stegner, Smoque BBQ, Stephanie Izard, The Duck Inn, The Kitchen, The Kitchen Community, Three Sisters Garden, Uncommon Ground, Virtue Cider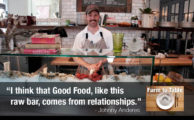 The Kitchen was founded in Boulder, Colorado in 2004 and features delicious food with a strong focus on local and sustainable sourcing at its restaurants. And The Kitchen goes beyond the core Good Food principles with its strong social mission, embodied in its school learning gardens program. Johnny Anderes, head chef of the The Kitchen location in Chicago, discussed the restaurant's Good Food practices.
Posted in

Child nutrition and health, Farm to table dining, Farm to Table: Keeping It Real, Food education, Food Entrepreneurs, Good Food Dining, Good Food restaurant trends, Healthy eating, Healthy eating for children, Restaurants and Good Food, School food, School gardens, Sustainable food education
| Tagged

Farm to Table, Farm to Table: Keeping It Real, Food education, Johnny Anderes, Kimbal Musk, local sourcing, school gardens, sustainable sourcing, The Kitchen, The Kitchen Chicago, The Kitchen Community