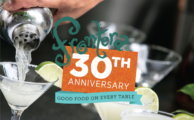 FamilyFarmed has partnered with Chef Rick Bayless' Frontera Farmer Foundation to produce the Frontera 30th Anniversary Celebration, a joint fundraiser that will be held on Sunday, April 30 at The Art Institute of Chicago. Good Food on Every Table is running a series of profiles of the participating chefs, and here we feature some of the tributes to Rick Bayless that these chefs made. Their comments focus on Rick's contributions to the rise of the Good Food movement and to elevating Chicago to the status of an international culinary capital. Each of the excerpts below is followed by a link to the full profile of the quoted chef.
Posted in

Chef activism, Chef advocacy, Direct Farm Marketing, Ethnic foods, Family Farms, Farm to table dining, Food activism, Food Entrepreneurs, Frontera 30th Anniversary Celebration, Frontera Farmer Foundation, Good Food business development, Good Food Dining, Good Food restaurant trends, James Beard Foundation Awards, Local Food, Restaurants and Good Food, Small Farmers, Sustainable dining
| Tagged

A10 Chicago, Abe Conlon, Abra Berens, Anselmo Ramirez, Avec Chicago, Billy Sunday Chicago, Bittersweet Pastry Shop and Cafe Chicago, Chef Jason Hammel, Chef Rick Bayless, FamilyFarmed, Fat Rice, Frontera 30th Anniversary Celebration, Frontera Farmer Foundation, Frontera Grill, Hoop Houses for Health, Ixcateco Grill, James Beard Foundation, Johnny Anderes, Local Foods Chicago, Lula Cafe, Matthias Merges, Mindy Gohr, Mindy Segal, Mindy's Hot Chocolate, Old Irving Brewing, Rob Levitt, Stock Cafe at Local Foods, The Butcher & Larder, The Kitchen Chicago, Yusho Chicago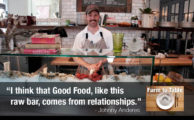 The Kitchen was founded in Boulder, Colorado in 2004 and features delicious food with a strong focus on local and sustainable sourcing at its restaurants. And The Kitchen goes beyond the core Good Food principles with its strong social mission, embodied in its school learning gardens program. Johnny Anderes, head chef of the The Kitchen location in Chicago, discussed the restaurant's Good Food practices.
Posted in

Child nutrition and health, Farm to table dining, Farm to Table: Keeping It Real, Food education, Food Entrepreneurs, Good Food Dining, Good Food restaurant trends, Healthy eating, Healthy eating for children, Restaurants and Good Food, School food, School gardens, Sustainable food education
| Tagged

Farm to Table, Farm to Table: Keeping It Real, Food education, Johnny Anderes, Kimbal Musk, local sourcing, school gardens, sustainable sourcing, The Kitchen, The Kitchen Chicago, The Kitchen Community