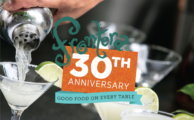 FamilyFarmed's Good Food Festival is holding a fundraising raffle for the first time. And we're pulling out the stops to persuade you to participate. The Grand Prize is two tickets to The Frontera 30th Anniversary Celebration that FamilyFarmed is co-producing with storied chef Rick Bayless on April 30. Second prize is two tickets to music star Jack Johnson's June 2 concert in Chicago.
Posted in

Chef activism, Chef advocacy, Food activism, Frontera Farmer Foundation, Good Food Festivals, Sustainable conferences
| Tagged

All At Once organization, FamilyFarmed, Frontera 30th Anniversary Celebration, Frontera restaurant group, Good Food Festival, Good Food Festival & Conference, Good Food Financing &Innovation Conference, Good Food Trade Show & Policy Conference, Jack Johnson 2017 Summer Tour, Jack Johnson music, Johnson Ohana Charitable Foundation, Rick Bayless, Urban Farm Bus Tour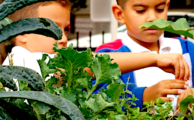 Tim Magner works to integrate food education with fun through Chicago-based programs such as Nature's Farm Camp. He reports that the longterm decline in the quality and nutrition in school food is being reversed, in sync with the rise of the Good Food movement. More school gardens, more cooking classes, more efforts by many administrators to find healthier choices for students. In his article below, Tim describes the positive impact that is having for our nation's schoolchildren and our food system in general.
Posted in

Child nutrition and health, Farm to school movement, Food and health, Food education, Good Food Festivals, Healthy eating for children, School gardens, Sustainable food education
| Tagged

early childhood Good Food education, family-friendly Good Food events, FamilyFarmed, FarmLogix, Food education, Good Food Festival, Good Food Festival & Conference, Good Food Financing &Innovation Conference, Good Food Trade Show & Policy Conference, Gorilla Gourmet, HandCut Foods, Nature's Farm Camp, Pilot Light, Purple Asparagus, The Kids' Table, The Kitchen Community, U.S. Department of Agriculture, Urban Farm Bus Tour