by Bob Benenson (Communications Manager) and Katie Daniel (Development Manager), FamilyFarmed
Visiting Growing Home's urban farm would be a great field trip for FamilyFarmed wherever it was located. The team of managers, farmers and production assistants under the leadership of Executive Director Harry Rhodes cultivate a cornucopia of certified organic produce, in hoop houses and outdoor plots on a total of about one acre of land. And last year they harvested 35,000 pounds — yes, 17 and a half tons — of delicious, nutritious food, much of it sold at Growing Home's stands at Chicago's Green City Market and Logan Square Farmers Market.
But Growing Home's location, at 5814 S. Wood Street, and the social mission that it entails is what makes this nonprofit organization truly amazing.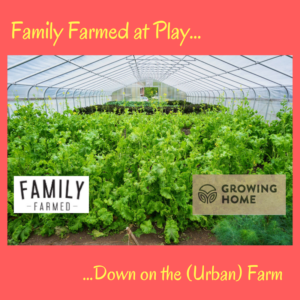 The address is in the heart of West Englewood, a neighborhood of about 35,000 residents — nearly all African American — that has suffered from decades of job and population loss, economic decline and high crime rates. It is also home to people who want to improve their lives and community and share in this nation's affluence.
Growing Home plays a bold role in this by providing training and job placement assistance, mostly in food-related companies, to ex-offenders, people recovering from substance abuse, and others who otherwise would have difficulty obtaining good, stable jobs. So while the 35,000-pound annual yield is awesome, a more significant number is 95 percent. That is the number of production assistants that the program placed with employers in 2016.
It is a role model for what we think is one of the most important aspects of the Good Food movement: the uniquely powerful role that food growing, processing and selling can have in generating economic growth and jobs for all communities, and in revitalizing communities — urban, suburban and rural — that have fallen on hard times.
We will be following Growing Home through the seasons for a series of stories, including one about the upcoming July 7 graduation of the current cohort of production assistants that is not to be missed.
In the meantime, if you are in Chicago, visit Growing Home at Green City Market in Lincoln Park on Saturdays (7 a.m.-1 p.m.), Logan Square Farmers Market on Sundays (10 a.m.-3 p.m.)…. or at the Thursday market right at the Wood Street farm (11 a.m.-3 p.m.), as we did on May 25. Growing Home also is throwing an open house block party on Wood Street on Saturday, June 24.
The following are photos (©Bob Benenson/FamilyFarmed) of our visit to Growing Home.