by Bob Benenson, Communications Director, FamilyFarmed
We at FamilyFarmed are proud of all of the written content that we have provided on Good Food on Every Table. But people have been asking us, "Why don't you do videos? People love videos!"
So in the spirit of giving the people what they want, we present "Bob Goes To The Farmers Market," the premiere of our FamilyFarmed At Play video series.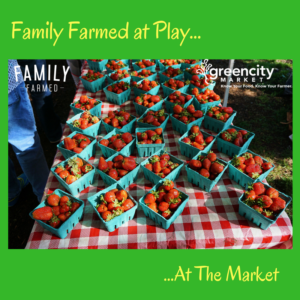 I used my previously unused set design skills to present my haul from Chicago's Green City Market today (Saturday, May 27, 2017), featuring the first truly local strawberries I've purchased this year. Asparagus, rhubarb, radishes, buttermilk, corn meal, honey, tofu and preserves make cameo appearances in this 1 minute and 13 second epic.
Minutes of planning when into the production of this video, so it's not going to be the slickest thing you have ever watched. There is a little shaky camera work (tripod next time maybe) and the totally ad-libbed audio could be smoother. But hey, it's a little clip to let you know what's at the local markets here in Chicago, it's not Lord of the Rings: Return of The Rhubarb.
Hopefully you'll enjoy it and find it informative, get hungry for more local and sustainable food — and maybe submit your own videos about your own farmers market hauls? One can only hope.
And we'd like to thank Green City Market, Mick Klug Farm, Green Acres Farm, 1871 Dairy, Three Sisters Garden, Ellis Family Farms, and Phoenix Bean Tofu (a graduate of FamilyFarmed's Good Food Accelerator), without whom this video truly could not have been made.