by Bob Benenson, FamilyFarmed
If the mezcal tasting event hosted Wednesday (June 7) by Rick and Deann Bayless proved anything, it is that their Frontera Farmer Foundation and FamilyFarmed love to party around Good Food and artisan beverages.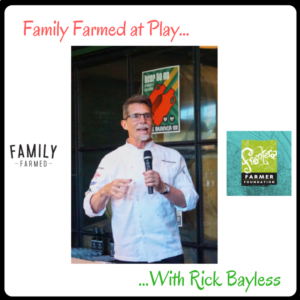 The party — at the Frontera group's Cruz Blanca on Restaurant Row in Chicago's West Loop — was a sequel to the Frontera 30th Anniversary Celebration, held April 30 at The Art Institute of Chicago. That fundraiser produced (at latest tally) more than $140,000 in proceeds to be split evenly by Family Farmed and Frontera Farmer Foundation, to advance their efforts to help farmers and businesses build a better food system.
The Celebration, which marked the 30th anniversary of the opening of the Baylesses' landmark Frontera Grill, included an informative and engaging Good Food Forum and an amazing chef-driven tasting event.
The mezcal tasting was a thank you to those who contributed greatly to making the Celebration a financial as well as aesthetic success: the host committee members, sponsors and co-chairs Jim Murphy, chairman of Local Foods, MightyVine Tomatoes, HandCut Foods and Grow Forward; Cindy Moelis, president of the Pritzker Traubert Family Foundation; and Steve Koch, Deputy Mayor for the City of Chicago.
"I'm going to first and foremost say thank you to all of you that are here who helped to make our 30th what it was," Rick said, during a brief ceremony. "What it was was so much bigger and more celebratory and more meaningful than I could have ever imagined it being."
Rick then graciously acknowledged FamilyFarmed's role in developing and executing the plan for a major celebration of his contributions — both as a leading ambassador for regional Mexican cuisine and as a pioneer of sourcing from and assisting small farmers in the Chicago region. His Frontera Farmer Foundation has provided more than $2 million in grants since 2003 to help farmers succeed.
"To tell you the truth, if we hadn't hooked up with the FamilyFarmed people to envision a 30th Anniversary party than was bigger than what the group at Clark Street would have ever thought of, we would have just been, I don't know, going out for burgers or something," Rick said to laughter from the audience. "It wouldn't have been burgers, let's just say it wouldn't have been that glorious evening."
In his turn at the microphone, FamilyFarmed CEO Jim Slama noted that the proceeds will enable our nonprofit organization to accelerate the launch of two new programs: Good Food is Good Medicine ("We're teaching people that they can heal themselves and heal our culture by eating well, through good nutrition, fruits, vegetables"), and an organic grain promotion project, "because we want to increase dramatically the amount of organic farming in Illinois."
The mezcal tasting was conducted by Lanie Bayless Sullivan, Rick and Deann's daughter, who is managing the beverage program at Frontera's Leña Brava restaurant adjacent to Cruz Blanca. And the passed food treats — which included ceviche and three different varieties of tacos — were designed to match the smokiness of the traditional Mexican agave spirit.
Please enjoy the photo from our mezcal mania.