by Bob Benenson, FamilyFarmed
[Note: Local Foods, the Chicago distributor and retailer that is the subject of this article, will be a major participant at FamilyFarmed's Good Food Festival & Conference at UIC Forum March 19-21. For details, please see the end note below or visit the event website.]
Local Foods of Chicago has, since it launched two years ago, been a wholesaler specializing — as its name suggests — in vegetables, fruits, and meats produced in and around the nation's third largest metropolis.
But from the get-go, the team running Local Foods has aimed to have a broader impact on the fast-growing Good Food movement. This will become tangible this spring when the company opens its retail store that is currently under construction in Bucktown, a neighborhood on Chicago's North Side.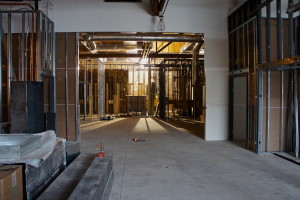 At the very least, the new Local Foods store will be the latest reinforcement in Chicago's burgeoning food revolution. This has included a growing number of Whole Foods Market stores and other natural-products groceries, a dynamic farmers market sector, a nascent surge in interest in food cooperatives, some of the nation's leading farm-to-table restaurants, and a growing number of food artisan and craft beverage enterprises.
The relationships that Local Foods has established with regional farmers — and the insights into consumer tastes and interests it derives from its 150 wholesale customers — virtually guarantee that the store at 1427 W. Willow Street will be well-stocked with the kinds of locally and sustainably produced foods that are increasingly sought by consumers.
But the vision that Local Foods' owners have for the store is much more expansive. It includes partnerships that will have top food artisans — such as Chicago's The Butcher & Larder, a popular meat shop — move their existing operations under the same roof as Local Foods' retail operation; makes consumer information and education a central part of its mission; and provides space for a range of Good Food events ranging from discussions to chef demonstrations to dinners.
This concept could make the Local Foods store something of village square for the local Good Food movement, bringing together and helping to boost the kinds of small food businesses that people used to frequent before supermarkets and superstores and pre-processed products came to dominate the U.S. food system.
"They can go to Whole Foods or Mariano's, but knowing they can come here and have one of the best butcher-cut steaks in Chicago, some of the best seasonal offerings that can really round out a meal, and we'll also have a café in here, they can do lunch and dinner and private events, and we'll have chef demonstrations," said Dave Rand, Local Foods chief operating officer and sales director, who grew up in St. Louis and previously worked in farmer relations at Green City, Chicago's premier farmers market.
Rand continued, "We're trying to make this the epicenter of local food activity in Chicago in a very physical, tangible way."
In the blue-sky scenario, if the Local Foods store is a big hit, it could serve as a template for the supermarket of the future — designed to meet the growing consumer demand for healthier, more environmentally sustainable, humane, and fairly produced food, as the Good Food movement moves beyond its relatively small (though fast-growing) niche to a larger and larger share of the grocery market.
It extends to meeting consumers' desire to know more about where their food comes from and how it is processed, by installing big glass windows so shoppers can watch the meat cutters, charcuterie makers, and others involved in food preparation.
"Our intention since Day One is to bring increased transparency to the entire system," said Andrew Lutsey, CEO and a co-founder of Local Foods whose family owns Waseda Farms, an organic livestock producer near Green Bay, Wisconsin. "So the closer we can get the producers to the consumers, the better off we feel everyone is. We feel it adds value to the operation."
He continued, "We think there's a lot of room. No one can sell those turnips better than the guy who grew them. He might not be as polished, but if you're a chef trying to buy turnips, don't you want to skip the sales pitch and want to hear from the grower?"
The Local Foods store project made its biggest splash in the Chicago food scene in January when its deal with The Butcher & Larder hit the media. And Rob Levitt, the chef and butcher who co-owns the store with his wife Allie, said in a recent interview that Local Foods' devotion to transparency is one of the things that persuaded them to uproot their current operation. (An expanded q-and-a from that interview is linked here.)
"We're going to have a giant curing room and there's going to be a big window so you can look right in," said Levitt. "We're going to have a bigger butcher shop and there's going to be a separate cutting room, but there's going to be a window into the cutting room. In the middle of production, when we're all back there and there's meat coming in on rails, we're happy for everyone to see what's going on."
Levitt also said he was attracted by Local Foods' educational intentions, which are consonant with what he is already doing in his own shops. "There are always cooks coming in who want to learn how to do this stuff, there are people coming in to buy and just watch us cut animals on Wednesdays," Levitt said. "I feel like more people are interested in the craft of what we're doing."
You can learn more about Local Foods at FamilyFarmed's Good Food Festival & Conference March 19-21 at UIC Forum, located on the University of Illinois at Chicago campus. Local Foods is a sponsor of the overall event and of the Localicious food and drink tasting event on the evening of Friday, March 20.
In addition, Jim Murphy, chairman of Local Foods, will be on the panel for the event's Opening Symposium at the Good Food Financing & Innovation Conference on Thursday, March 19. During Trade Day on Friday, March 20, CEO Andrew Lutsey will be on a panel titled "Local Foods Pricing: Making It Win-Win" and Chief Operating Officer Dave Rand will be on a panel titled "Maximizing Farm Profits Through Diversification."
Rob Levitt of The Butcher & Larder will take center stage at the Good Food Festival on Saturday, March 21, presenting a workshop on charcuterie making.
For more information about the Good Food Festival & Conference, please visit the event website.
Photographs by Bob Benenson