By Patty Cantrell, Regional Food Solutions, guest contributor
Patty Cantrell is principal of Regional Food Solutions, a Missouri-based consulting firm that provides organizations and businesses with expert project development, writing, research, and facilitation — with a focus on the community economic development power that comes from supporting family-scale, place-based farms in their work to produce food that is healthy for people and the planet.
She writes here about the Food Enterprise Center that has turned little Viroqua, Wisconsin into a busy hub for the Good Food movement, and also gives a welcome shout-out to FamilyFarmed's own Good Food Business Accelerator.
Her column was originally published on the blog of Wallace Center at Winrock International, a nonprofit organization that supports entrepreneurs and communities as they build a new, 21st century food system that is healthier for people, the environment, and the economy. To learn more about the Wallace Center, click here.
Next to Wal-Mart on the edge of rural Viroqua, Wisconsin, a 100,000-square-foot abandoned industrial building is now bustling with new businesses and jobs from an unconventional source: The local food and farming sector.
It's a turnaround for a small town that lost one of its largest employers and then bet on the growth of local food markets to enliven that vacant space and the area's economy.
The Food Enterprise Center in Viroqua is also one of an increasing number of food and farm business development centers that are ratcheting up the economic development assistance. They are moving beyond the basic level of providing startup food product makers with shared-use commercial kitchen space.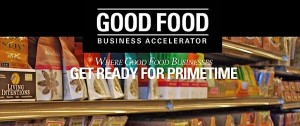 Not far from Viroqua, for example, is the Good Food Business Accelerator in Chicago, a new component of the busy high-tech business incubator 1871.
Both are examples of economic development investments focused on helping food and farm entrepreneurs scale up operations as their sales and production increase.
For Viroqua and southwest Wisconsin, the growing businesses at the Food Enterprise Center are a significant boost both for that abandoned industrial real estate and the regional economy, said Matt Johnson. He is editor of the Vernon County Broadcaster and a charter member of the Vernon Economic Development Association (VEDA).
"This was a very large facility that was going to sit empty for a really long time," Johnson said. "It was great that our local economic development association saw (redeveloping) it in a different way," he said. "One of the things we do really well here in Vernon County is food. We have the highest concentration of organic farmers in the state."
VEDA director Sue Noble said she knew from a survey of area food and farm businesses at the time, and from "what came across my desk," that businesses in the emerging sector were looking to grow but had no place to do it.
"The size of this building, with five loading docks, matched their need for mid-tier level facilities; that infrastructure was missing," she said.
Since opening in October 2012, the Food Enterprise Center in Viroqua has grown to 14 tenants employing at least 45 people. VEDA financed the project with a $2 million Economic Development Administration grant, a $1.8 million disaster area bond secured with projected tax increment financing revenue through a developer's agreement with the City of Viroqua, and $400,000 of private investment.
It's a big community commitment to a sector that is expanding rapidly in response to strong demand for quality food from, and for, people and places that consumers care about. Demand ranges from local and artisan food topping culinary charts to hospitals using their buying power — and a federal tax exemption — to help move fresh and nutritious foods, including local.
Marianne Markowitz, a regional administrator with the U.S. Small Business Administration, said she sees more communities taking local food as economic development seriously. In a national SBA competition last year, for example, 10 percent of the $2.5 million awarded to 50 "growth accelerators" went to food and farming initiatives, she said. [Editor's note: FamilyFarmed's Good Food Business Accelerator was one of these projects.]
"Entrepreneurs and startups need access to capital and counseling to be commercially viable and participate in the blossoming local food sector," SBA's Markowitz said. "Efforts like the Food Enterprise Center in Viroqua are doing that by providing a support structure and access to a broader marketplace. They are sharing in the risk and creating jobs to help advance local economies."
Access to Equipment, Peers
VEDA's Food Enterprise Center combines the shoulder-to-shoulder "co-working space" benefits of a high-tech incubator with the hard assets of a business park. It provides tenants easy access to necessities like loading docks and pallet jacks and to VEDA's on-site business counseling and technical support. It also provides tenants easy access to each other for a collaborative and creative business community.
Ben Eby explains. He's the sales and marketing manager for tenant Fifth Season Cooperative, a regional food hub that aggregates and distributes food from the region for buyers ranging from local retailers to schools and restaurants across Wisconsin and into Chicago.
"You may not know where that warehouse is, or the right sales person to talk with, but somebody in this building does," Eby said. "Somebody can answer your questions, or you theirs."
The business development support that VEDA provides helps tenants find financial and other resources and builds the regional network of local food and farm entrepreneurs both in and around the Center. A recent "Munch" open house, for example, showcased the region's many food-related businesses, some of which might grow into the Food Enterprise Center as existing tenants did.
Economic Engine
Wisco Pop is one such business tenant, a craft soda maker specializing in fresh and clean ingredients like cherries and honey from Wisconsin.
"We started out in a small commercial kitchen we rented from a friend for $50 a month," said co-founder Austin Ashley. "As we kept growing we didn't have really good access to cooling or loading docks or all those kinds of things."
The Food Enterprise Center has all that plus food processing space just for a business like Wisco Pop that would come along and occupy it. VEDA director Sue Noble also went to work writing grants that first provided working capital for Wisco Pop and then money to add bottling capacity.
"That impacted our sales pretty significantly," Ashley said of the bottling move. "It shifted sales up to the take-home retail market from "on-tap" only at restaurants and bars."
"We went from making about 80-120 gallons a week to now 500 gallons a week," he said. "We're picking up distributors and growing significantly month to month."
Local newspaper editor Matt Johnson said the Food Enterprise Center is becoming a magnet for other local food entrepreneurs because of such business support and success.
"It's an economic development engine. That's the idea," he said. "It will take time and some enterprising people, but without a doubt the groundwork is laid."
Fifth Season Cooperative's Ben Eby agrees: "If you're going to do a food-based business, this is kind of the place to be."