By Bob Benenson, FamilyFarmed
Farmhouse Chicago, located at the west end of downtown, is a genuine farm to table restaurant that sources most of its ingredients from the states that border on Lake Michigan: Illinois, Wisconsin, Michigan and Indiana. Since its opening five yeas ago, Farmhouse Chicago also has been a friend of Family Farmed.
So it is no coincidence that an event scheduled for the evening of Wednesday, Aug. 3 — at which Farmhouse will introduce its five new proprietary hard apple ciders — is also a fundraiser for our nonprofit, which will receive 100 percent of the proceeds from the tickets sold.
Attendees will be able to taste five-ounce pours of each of the ciders (described at the end of this article) along with appetizers made with cider and honey from the Brown Dog Farm in Mineral Point, Wisconsin owned by Farmhouse founder/owner T.J. Callahan.
The event also will feature speakers from Fox Valley, a winemaker in suburban Chicago that produces the ciders for Farmhouse, and The Cider Farm, neighbors of Callahan in Wisconsin, who grow many of the heirloom organic cider apples that go into the Farmhouse ciders. Deirdre Birmingham and John Biondi, the owner-growers at The Cider Farm, were Fellows in the most recent class of FamilyFarmed's Good Food Business Accelerator.
Farmhouse Chicago is now the flagship of the three-restaurant Farmheads group that includes suburban Farmhouse Evanston and Farm Bar in Chicago's Lakeview neighborhood. It is located at 228 W. Chicago Ave. (at Franklin).
The event next Wednesday runs from 6 to 8 p.m. If you are in the Chicago area and would like to attend, you can click here to purchase discounted $25 tickets, or pay $30 at the door.
The following is FamilyFarmed's excerpted interview with T.J. Callahan, in which you can learn more about the event and Farmhouse, get a primer on how their hard cider is made, get Callahan's explanation about how cider is like wine, and discover that pigs are cider apple connoisseurs.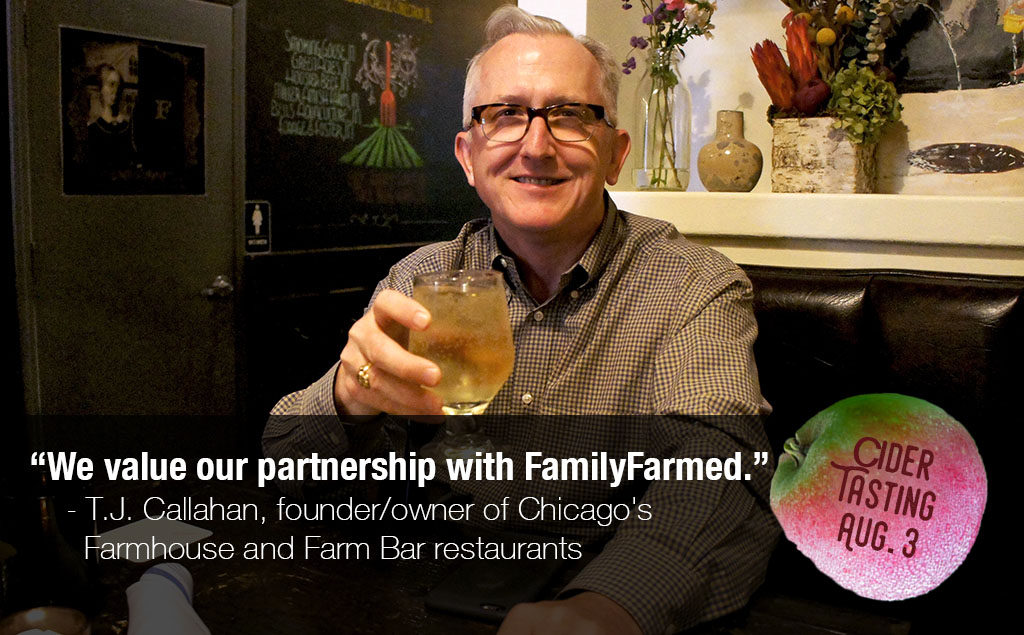 FamilyFarmed: Let's talk about the event next Wednesday first.
T.J. Callahan: First of all, we value our partnership with FamilyFarmed. We've been involved doing things with you guys pretty much since we opened the restaurant five years ago. So giving something back to the nonprofit by doing this event is one of the things that we can do for you. Number two is we are launching our new ciders, and one of the things that I think we missed the ball on the past year and a half that we've been selling cider is that what we do with our cider is special. Very, very few people are selling cider of the quality that we're selling here… The great thing about our ciders is that no one else is carrying them. If someone loves our cider… you can get them only at Farmhouse.
FF: So how do you make your ciders that makes them different from the others?
Callahan: A lot of the ciders that are out there on the mass market from the big companies are essentially made of fruit juice concentrate… A lot of them are awfully sweet. We are not doing that. Our ciders are 100 percent juice, they're all made from organic apples from Wisconsin or Minnesota.
Let's take DTW [Don't Tell William] for example…. That is 85 percent Liberty, which is an apple developed by the University of Minnesota horticultural program. It's a wonderful apple that grows really well in cold climes. And 15 percent of that blend are classic bittersharp and bittersweet varietals. These are the British varietals that have been the backbone of the British cider industry for hundreds of years. These are apples with names like Somerset Red Streak and Kingston Black. And they provide the backbone. When you taste our ciders, you'll get that mouthfeel. It's not wimpy. It's something that has some presence.
FF: You've said before that cider is similar to wine.
Callahan: Cider is wine. It's just made from a different fruit. If you ran down to the local Jewel and bought all the grapes they had, you could take it home, crush it, ferment it in a carboy and turn it into wine. The chances of that being very good wine are slim to none. Similarly if you went out to Sonoma and were walking through a cabernet sauvignon vineyard and you picked a grape off the vine and ate, you'd spit it out, it's so full of tannins it would pucker your mouth. That grape is for winemaking only, not for eating. So the apples that John and Dierdre grow at The Cider Farm are grown for cider making and many of them, if you bit into it and tried to eat it, you would spit it out, because it's not for that. It may be sweet but it's going to have the tannins in it that will make you pucker your mouth….
We're launching five ciders on next Wednesday… For the event, folks will be able to taste a 5-ounce pour of each of the five ciders… It's 5.6 percent alcohol, pretty much all the ciders, so it's less than last year. So in beer terms, it would be like half a beer in terms of the alcohol. So if you drank it all, it would be like two and a half beers. Then for the appetizers, we'll be using honey from my farm, we run 32 beehives on Brown Dog Farm, and appetizers with cider and honey. And then of course we'll offer cheese curds, because you have to have cheese curds when you come to Farmhouse. It will be fun. We're going to have the winemakers here that help us make the cider. We're going to have Dierdre here to talk about the cider.
FF: Please talk about the blending and what goes into that.
Callahan: The cider that we end up serving here at Farmhouse is the end product of dozens of decisions. They start on the farm, by Dierdre's decisions about which apple variety, which apple row, each year. Then when it becomes the time of the crush, let's say I have 100 gallons of juice from one particular apple variety, do I hold that separately or do I blend that with something else. She'll make decisions at the farm, some of it purely out of logistics, some of it with the vision of what ciders she wants to be doing down the road… Then the juice moves from her farm in those big square totes to a freezer in Madison where it is held until such time when there's enough juice to send it down to Fox Valley Orchard… Once it all gets down to Fox Valley, sometime in the winter, we taste the raw juice, and we start making decisions as to what we want to combine with what for fermentation. Then the next decision is, "What yeasts are we going to use?" Every yeast delivers different qualities, does different things. You're tasting raw apple juice and trying to envision what it would do as a cider… The guys start fermenting the ciders, the juice in giant tanks. Then, six weeks later, we're going back and tasting fermented cider. Still not done fermenting, and then you start making decisions about how we're going to blend those juices… Then you come back again six weeks later and the ciders are more or less finished at that point, but they are not carbonated yet. We made a decision that we carbonate our ciders.
FF: How has the cider market been? Is it continuing to grow quickly?
Callahan: I think a lot of the early growth was driven by Angry Orchard. I think about Angry Orchard kind of like Sutter Home White Zinfandel 20 years ago. That was the first wine a lot of people drank… They tried that, and they'd drink it for a time, and then they moved on to other wines, and some of those people are buying $150 bottles of Caymus… There are wines you drink on a hot summer day while sitting on a patio and having a nice fresh fruit salad. That's a very different wine than you'd have with a porterhouse steak with creamed spinach in a steakhouse in January. Both are wonderful wines but they're made very different ways…
We made a stylistic choice, all of our ciders are dry. There is no reason for that other than our personal preference, because that's what we think we want to do in the market. A lot of the mass-market ciders are sweeter. When we pour a cider for our guests and say try this, and they taste it, they go, "Oh my God, this is good." Because they're expecting some gummy sweet something that they had one time in college and they woke up with a hangover because it had all this residual sugar in it. The other thing I love to do is I love to pour our cider for wine lovers. You get somebody who's having a sauvignon blanc and you pour them a little taste of our cider, and they say, "Oh my God, this taste like champagne. It does…"
FF: As a relatively new apple grower yourself, how challenging is it to be an organic apple grower yourself.
Callahan: It's very challenging. But a cider apple grower has a massive advantage over someone who is growing for farmers markets or the supermarkets. We don't care what they look like… We crush them all. If it's ugly, we don't care, because we're crushing it. In a way, it's a lot more sustainable practice… Dierdre's got a little bit of a virtuous cycle, she raises pigs on her farm too. And she feeds the organic apples to the pigs. It's really funny, pigs develop preferences. They like this apple and not that apple…
The following are the descriptions (provided by Farmhouse) of the five ciders that will be featured at the Farmhouse Chicago event on Wednesday, Aug. 3.
Don't Tell William, now features a brand new, 6-fruit blend of 2015 Liberty, Major Kingston Black, Somerset Red Streak, Dabinett and Chisel Jersey cider apples to reveal a very dry, lightly effervescent finish that evaporates off the tongue with a 5.9% alcohol content. The 2015 variation releases an aroma of apple blossom with a hint of tannins and a touch of honey.
Free Priscilla, a new 2015 variation derived from the Priscilla with the addition of Tremlett's Bitter cider apples. Aromatic notes of caramel apple enhance a mildly sweet flavor and the crisp acidity adds a clean finish along with a touch of tartness at a 5.7% alcohol content.
Touchwood, an oak-aged variety derived from Red Delicious and Haralson apples of 2015 blends untoasted French oak and medium toasted American oak 20 percent aged in a bourbon barrel. The blend gives off soft aromas of vanilla and hints of lightly toasted bread with added accents of honey and butterscotch at a 5.4% alcohol content.
Haflinger (BRAND NEW) is a newly introduced blend derived from 2015's Haralson, Honey Gold and Regent apples and is the driest of the cider varieties. This cider reveals a baked red apple aroma and presents flavor forward notes of almond and quince at a 5.4% alcohol content.
Fort Jackson (BRAND NEW): A variety of pressed Red Delicious and Haralson apples of 2015 with Equinox hops brings a light aroma of daisy and clover at a 5.4% alcohol content.