by Bob Benenson, FamilyFarmed
There are no guarantees for entrepreneurs launching new food ventures. Many great product ideas have flopped, because they did not catch on with consumers, the economics did not work, there were production or management issues, or any number of reasons.
But growth and success can come amazingly fast when a food startup hits the sweet spot — or the sweet and savory spot in the case of Simple Mills, the Chicago-based company that produces a variety of nutrient-dense, grain-free baking mixes and crackers.
Simple Mills — which will be exhibiting at FamilyFarmed's Good Food Trade Show on Friday, March 17 and Good Food Festival on Saturday, March 18 at Chicago's UIC Forum— has gone from one Whole Foods Market store in Atlanta to major retailer distribution in less than four years. [For more information about the Good Food Festival & Conference, please click here. Please note that admission to the Good Food Festival is free with registration on the Festival & Conference site.]
Founder-owner Katlin Smith said that her company's products have gone national in Whole Foods stores and Sprouts Farmers Market locations, and are now in 7,000 retail locations overall, including a number of Target stores and conventional chain groceries. When asked if she expected Simple Mills to take off this fast, she said, "No, not at the very beginning, no. It became a goal at some point."
These products — which have earned Smith a place on Forbes magazine's "30 Under 30" list of rising business stars — are made with nut and seed flours, eschew GMOs and high-fructose corn syrup, and use some ingredients that, until the rise of the Good Food movement, were found only in small health food shops.
While these flavorful items have broad appeal, they have a special market among consumers following diets that de-emphasize grain consumption, such as Paleo and Gluten-Free.
But Smith said Simple Mills did not emerge from an entrepreneurial strategy to stay ahead of the trend curve. Rather, it resulted from her own search for natural and non-medicinal approaches to dealing with her own health issues.
"I started the company because I had cleaned up my diet and taken out a lot of processed food and a lot of the sugars, and it made a really big difference," Smith said. "My joint pain went away, I had a lot more energy, I stopped getting sick."
She continued, "So I wanted to make it easier for people to eat simple-ingredient real food. So we started out as a baking mix brand, making mixes out of really simple whole food ingredients, things like almonds, sweetening with coconut sugar. That resulted in a product that had more protein, more vitamins and minerals, less sugar, less carbohydrates than traditional products on the shelf."
Smith said she realized that Simple Mills was on to something in what amounts to an entrepreneurial blink of the eye. "Within about three months, we became the best-selling muffin mixes on Amazon. Today, we are the number-two natural baking mix brand," she said.
Simple Mills hardly rested on its early laurels, though, adding ready-to-eat crackers made with almond flour and other nut-and-seed blends, and even indulgences such as ready-made frostings composed of all natural ingredients. The latest additions are a sprouted-seed cracker line that Smith calls "more entertaining style," and nut flour cookies made with a blend of almonds, coconut and tiger nuts (the last of these is actually a root vegetable of African origin that is loaded with prebiotic fiber).
All these new products require considerable research and development, in which Smith says she remains always personally engaged even as the company has grown fast. "I've gotten a lot faster with it," she said. The first Simple Mills baking mixes resulted from 90 different recipes, she said, but, "As we got into crackers, you start learning more and more with each product that you work on. So you start developing a sixth sense for what's going to work, what's not going to work, what's going to affect things."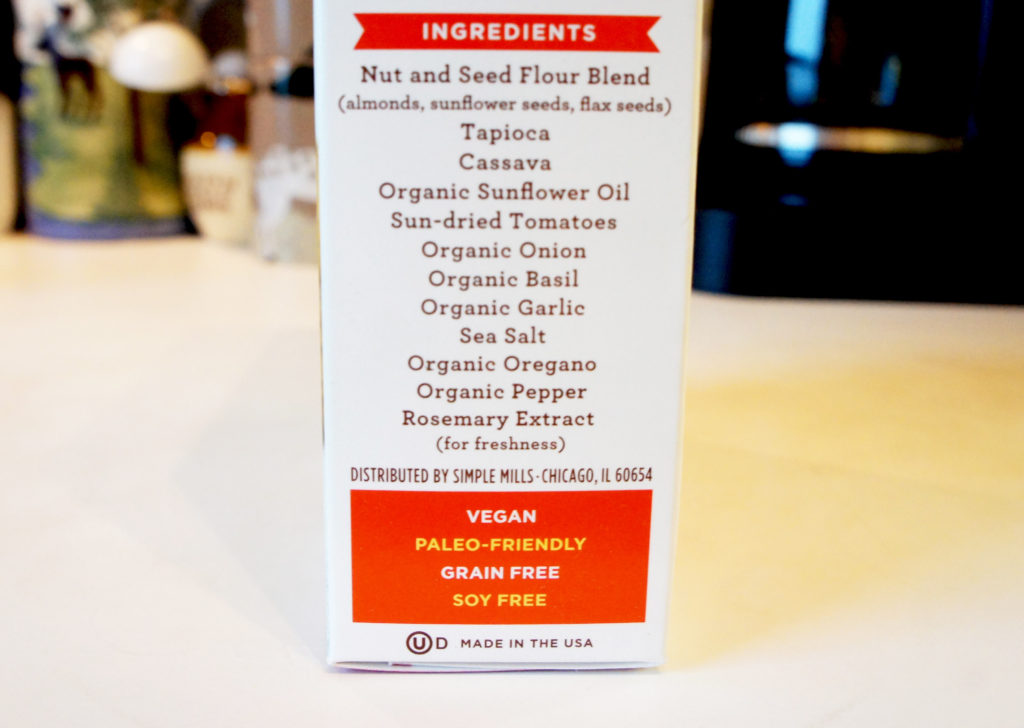 She also said that while some of her earlier product recipes were tweaked based on customer feedback, "Now when we come out with a product, we're not tweaking anymore, that needs to be the product."
Smith also noted that the company's first growth spurt took place at a time — just a few years ago — when customers in many stores had to work to find her products in "natural food" sections, which were separate from the center aisles dominated by the big-brand conventional packaged goods. She said she is encouraged by the fact that many groceries are moving away from this and placing products such as hers side by side with the conventional competition.
"The retailers are getting on board…," Smith said. "Consumers are no longer like, 'I'm over there in the natural section or I'm not,' or natural consumers are secluded to one section of the store. They want to be able to shop side by side."
Smith said she sees FamilyFarmed as sharing her dedication to a better, healthier food system that is friendly to new ideas and entrepreneurial energy. "The largest thing with the Good Food Festival for me is it's really a neat opportunity for people to collaborate over the problems we're facing as a society. The reason I got into this is that I think that when people eat better, they do different things with their lives, they have more energy, they're able to pursue their passions," Smith said.
She added, "What I find really exciting about the Good Food Festival is so often you have so many of those people who are having those conversations and searching for solutions in the same room. I find it a really inspiring atmosphere."