by Bob Benenson, FamilyFarmed
Our hometown of Chicago is one of the nation's top cities for great food and drink. Each year folks here are presented with an array of big tasting events to choose among. But there are both good food and Good Food reasons why hundreds of people choose to attend the annual Chef BBQ event at Green City Market in Lincoln Park.
This year's BBQ (for which tickets are available in advance) will be held the evening of Thursday, July 16. And as described by Melissa Flynn, the event will be something of a one-night fantasy camp for food lovers.
"What they can expect is more than 85 top chefs cooking right here, and 71 of them will be grilling," said Flynn, who is in her first year as executive director of one of the nation's highest-profile farmers markets after a nearly nine-year tenure as head of the chamber of commerce in Chicago's Lincoln Square community. Flynn noted that there will be vegan and vegetarian options provided along with the more typical BBQ fare.
And apart from the delicious food itself, the BBQ provides a rare opportunity to meet and hobnob with some of the area's best-known culinary celebrities, such as Rick Bayless (Frontera Grill/Topolobampo/Xoco), Sarah Stegner (Prairie Grass Cafe), Paul Kahan (whose One Off Hospitality Group includes Blackbird, Avec, The Publican, Nico Osteria, and more), Paul Virant (Vie/Perennial Virant), Stephanie Izard (Girl and the Goat), Paul Fehribach (of Big Jones, and FamilyFarmed's 2015 Good Food Chef of the Year), and many, many others.
"They could not be more gracious and they'll talk to you and say, 'Here's what I'm making, have you tried it?" Flynn said. "That's what's so fun. There are no barriers. You really just talk to the chefs and the sous chefs and the pastry chefs and find out what they think are the best ingredients for what they're making."
Many of those ingredients will underscore the Good Food side of the Chef BBQ — and the key role Green City Market has played in stimulating the growth of the Good Food movement in Chicago and its environs. "Many of the ingredients will be sourced right here, from the market," said Flynn, who added that also applied to specialty cocktails and beers that will be served by a number of the roughly two dozen beverage producers participating in the event.
Green City Market, in fact, set a policy in the late 1990s — one subsequently adopted by a number of area farmers markets — of allowing only vendors from a roughly 300-mile region centered on Chicago, who also produce all the food that they sell. Many of the chefs who will be cooking at the BBQ, including those named above, were among the pioneers of the now-common "farm to table" dining concept in Chicago… and also are among the most loyal customers for the ingredients sold at the farm stands at Green City Market.
Flynn emphasized that the proceeds from the Chef BBQ are used to support the Green City Market's year-round operations (outdoors in Lincoln Park and its recently launched second location in the Fulton Market area from May through October, and indoors at the nearby Peggy Notebaert Nature Museum from November through May). These include education endeavors such as the market's Club Sprouts for children, its outreach programs, and chef demos.
And very importantly, they include Green City Market's efforts (in which many other farmers markets also participate) to expand access to fresh, nutritious food for lower-income individuals and families who receive financial assistance under the federal SNAP and Illinois LINK programs.
"It certainly benefits our LINK program, and I think that program is just fantastic," Flynn said. "We do double value, so people with the LINK card, we'll match up to $15. To see people who are so grateful when they come here to have that opportunity to get more food for their family, more Good Food, to be able to fundraise for that is incredible."
"Everybody," she added, "should have access to Good Food."
The Chef BBQ will take place July 16 at Green City Market's regular outdoor location near the south end of Lincoln Park. VIP admission begins at 4:30 p.m., general admission at 5:30 p.m. Tickets are available and may be purchased at the Green City Market website or at the organization's tent on the market days (Saturday, July 11 and Wednesday, July 15) that remain before the event.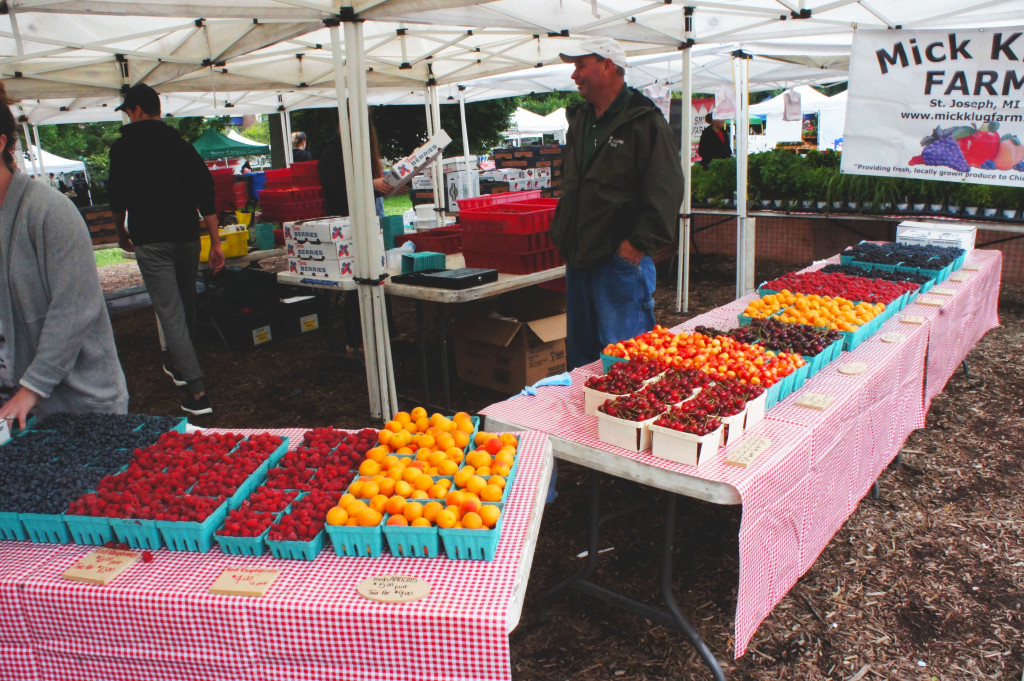 Photographs by Bob Benenson