By Bob Benenson, FamilyFarmed
Mundelein, Illinois, is an outer suburb about 35 miles northwest of downtown Chicago. This diverse, well-educated, community-minded village of just more than 30,000 people is known for St. Mary of the Lake Seminary.
And kombucha.
Okay, maybe Mundelein isn't quite yet famous for kombucha, a fermented tea with healthy probiotic properties that in recent years has drawn a growing consumer base, in part as an alternative to sugary soft drinks.
But if hard work and passion are the keys to entrepreneurial success, then Susan Fink's Karma Kombucha is going to turn Mundelein into a kombucha capital.
What began as a home-brewing hobby grew into a second career that has taken the several flavor varieties of Karma Kombucha into Chicago-area stores of major chains such as Whole Foods Market and Mariano's, and Fink into the current cohort of FamilyFarmed's Good Food Business Accelerator program.
Fink applied to participate in the Accelerator because she wants to grow Karma Kombucha, and one of her needs is modest outside financing — in the range of $150,000 — so she can hire employees.
Note, there, that it does not say "new employees." While many entrepreneurial startups are known as "mom and pop" businesses, Karma Kombucha is all mom. Fink has built the business to this point as the sole employee, with assistance from her wife, Michele Dziaba — a packaging engineer who, like Fink, worked for many years at Kraft Foods — on matters such as bottling and representing Karma at public events.
Fink's participation in the Good Food Business Accelerator already has had one major unanticipated benefit. An article on the front page of the Chicago Tribune's business section, published March 27, featured Fink and other Accelerator Fellows who pitched to investors three days earlier at the Good Food Financing & Innovation Conference, the first day of FamilyFarmed's three-day, 12th annual Good Food Festival & Conference.
Along with Fink's pitch, Karma Kombucha provided samples of its products at the Good Food Financing Fair, Trade Show and Festival; and Fink took part in a workshop on home-brewing kombucha along with Alla Shapiro and Vanessa Tortolano of NessAlla Kombucha (based in Madison, Wisconsin), and Hannah Crum and Alex LaGory, the married owners of the Kombucha Kamp website and authors of The Big Book of Kombucha.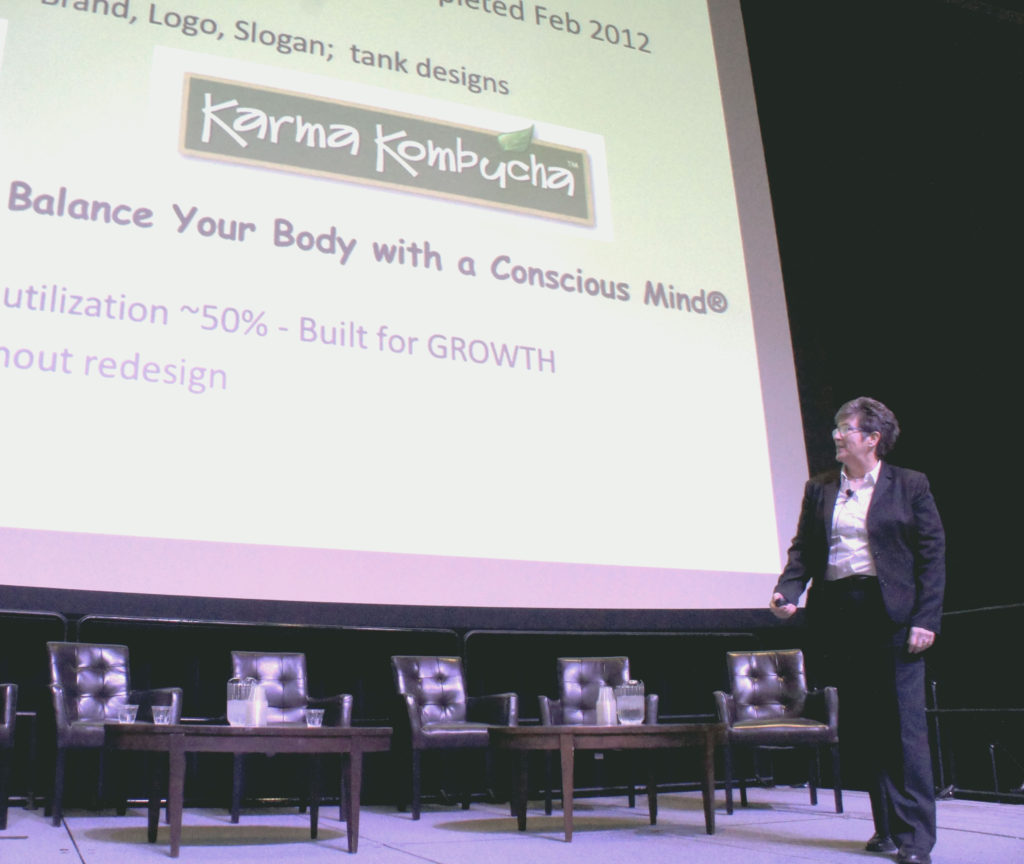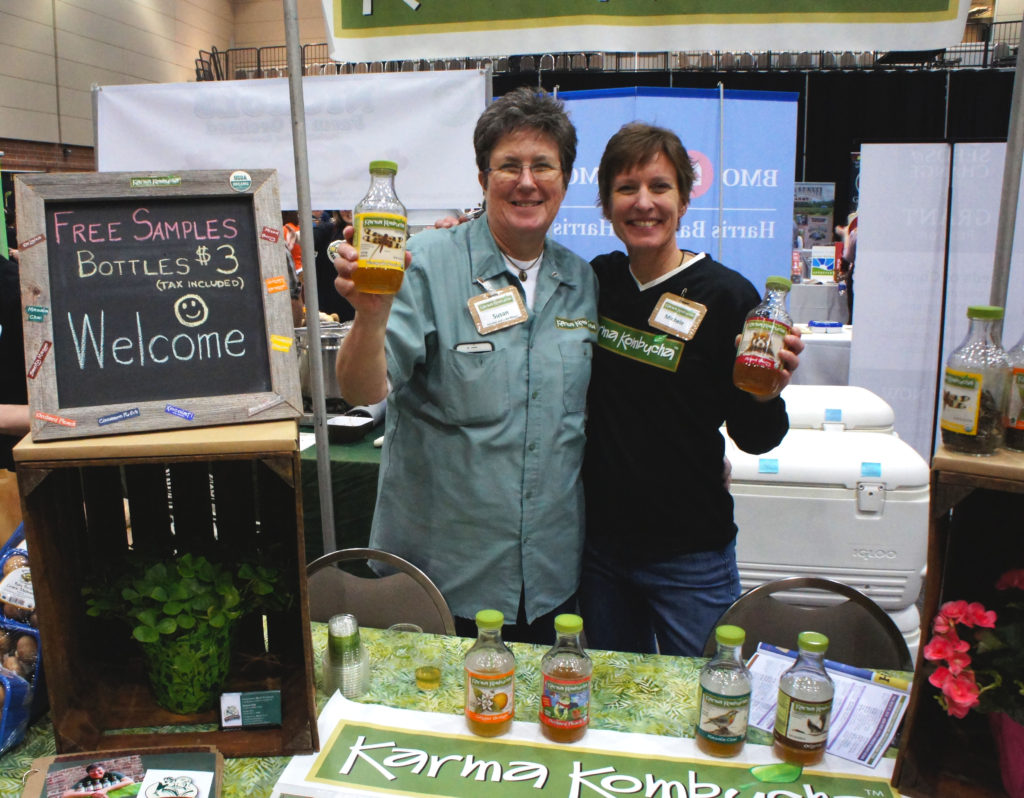 Karma Kombucha certainly fits well within FamilyFarmed's definition of Good Food. It is local, and with its USDA organic certification, is it sustainably produced.
Necessity Was The Mother
Karma Kombucha produces kombucha in five standard varieties: Origins, Mixed Berry, Masala Chai, Ginger Orange and Pineapple Passion. Other flavors are rotated in and out of the product lineup. The amount of sugar is minimal compared to that in most commercial soft drinks, and the flavors are created by adding organic fruits and botanicals to the brewed tea base rather than juices.
Fink first learned about kombucha during her 26-year career in product development with Kraft Foods. She said her product innovation group surveyed her fellow baby boomers about their food priorities. "One of the things we heard repeatedly from people is 'detox me,'" she said. She subsequently started looking into the reputed health benefits of kombucha.
She disliked some of the early commercial products she tasted — "It was a funky aroma, it was way too carbonated" — so she experimented with home brewing, and "it started coming out better and better and better." She also perceived that the live cultures in the drink were helping boost her immune system.
"I was never sick," Fink said. "Honest to gosh, I've had two colds in nine years. I just don't get sick. I'm not saying it's all the kombucha either, but I do think it does contribute to it along with a healthy diet. I just believe it in, because of all the probiotics in the stomach and digestion. I hear so many stories from people about how much it has helped them. I'm just a big proponent of it."
Karma Kombucha (and Conscious Mind Products LLC, its corporate identity) came about after Fink's job at Kraft was swept away in 2010 by the Great Recession. "I lost my job, and it came down to a decision, do I go back to corporate America or do I start this? So I threw caution to the wind, and a lot of money to the wind, and here we are," Fink said during an April 15 interview and tour of the brewery.
Convenience prompted Fink to choose a small industrial park in Mundelein for her kombucha operation. The brewery is located three blocks from her house, "which is great for me because I'm over here sometimes three times a day, depending on delivery schedules and everything else, brewing schedules."
The close-by location offset the fact that the former HVAC supply store, which was a tool and die shop prior, needed a lot of work to become a food-grade facility. "We had to kind of start from scratch and even remove whatever existing structure was here," Fink said. "We tore out the offices, tore out the bathrooms, which were so bad, and basically gutted it and started all over again."
Starting over also included new heaters, HVAC, lighting, paint, loading dock doors and, according to Fink, "We had to dig through 50-year-old concrete to put in a sanitary sewer line." While her brewing and fermenting equipment is all custom-made, she saved money by McGyvering a lot of used items. The chain link locked chemical storage area, which meets government regulatory standards, was once a dog run. The product storage cooler was once a meat locker. The product laboratory has tables formerly used in a school science lab.
The kombucha brewing process starts out with something very basic: brewing tea, with different types of tea used to achieve the desired flavors. What gives kombucha its unique sweet-tart profile, and its probiotic qualities, is the SCOBY, an acronym for "symbiotic colony of bacteria and yeast." Though a SCOBY can take on a bit of a science-fiction appearance, its contribution to fermentation is similar to that of a sourdough starter or the "mother" used in producing vinegar.
Consumer Information is Key
The increasing chilled-shelf space that kombucha is gaining in natural and even some conventional food stores has reduced the number of shoppers who are completely unclear on the concept. "Even now, we're still introducing people to it," Fink said. "But now at least we're not getting blank deer-in-the-headlights stares. We're getting more like, 'Yeah, I've heard about it but, what can it do for me again?' People know it's something that they should probably be drinking, and just are more curious about it, and more open to it."
One question Fink said she often gets is how kombucha can be a health food if it contains added sugar. She has a ready answer: "We start at a very very low level and half of it is fermented off. So ounce for ounce, we've got about as much as a cup of skim milk. So there's not a lot in there to begin with."
She understands that there are strong opinions on both sides of the kombucha spectrum — "We see a lot of people who either love it or hate it" — and is careful not to overhype how much the product can do by itself to promote digestive health. "Kombucha isn't the end-all," she said. "If you're taking probiotic supplements, take 'em. If you're eating kimchi, sauerkraut, kefir, yogurt, keep doing that. It's one big happy party in your gut."
Having established a growing market for Karma Kombucha, Fink's one-woman show needs some help managing that growth. "It's getting to the point where I'm working seven days a week," Fink said, adding that she cannot do more "unless God starts creating more than seven days and I start getting younger."
Having launched her entrepreneurial journey at mid-life, Fink also recognizes that she has to look to the future of Karma Kombucha. She is seeking the financial resources to hire a younger person "who is much more focused on entrepreneurial development than working for a big company and sees the benefit of it," and has "the same amount of passion and concern for the product as I do."
"It's also the big karma thing I have," Fink concluded, a suggestion that there is much more to the name of the product than catchy alliteration. "Wouldn't it be awesome to show somebody the ropes and take over the business, and I will still be there as a mentor throughout the whole process?"