By Bob Benenson, FamilyFarmed
Detroit is receiving positive attention for the first time in many years. A combination of corporate reinvestment and entrepreneurial energy is reviving and diversifying the economy in a place that suffered severe financial and population declines, tied largely to its over-dependence on a single industry: automobiles.
The Good Food movement is playing a major role in Detroit's rising reputation as a "comeback city." New restaurants, food processors, bakeries, urban farms, and other food businesses are helping to stabilize the city and reverse decades of decay and abandonment. The establishment of a Whole Foods Market store in the Midtown area two years ago drew national notice.
Yet it is Eastern Market, one of Detroit's oldest and most historic institutions, that is at the core of these efforts to build a thriving local food system.
A terminal and distribution center with its origins in the frontier days of the 1840s, Eastern Market today is the nation's largest historic public market. It encompasses five large sheds spread across a 4.5-acre district, about a mile from the city's downtown center. Its weekly, year-round farmers market has long brought tens of thousands of local residents together, across racial and economic lines, in one of the city's few major public gathering places.
Eastern Market was growing when the city was still spiraling in a deep decline. Since it took over control of the facility from the city government in 2006, the Eastern Market Corporation has obtained $16 million in investments from its private sector, public sector, and non-profit partners.
And roughly half that money has gone into its most recently completed project, engineered by Eastern Market Corporation President Dan Carmody, which will further advance its efforts to generate economic energy for Detroit. It is an overhaul of its Shed 5 that includes a community kitchen, providing facilities and resources for budding food entrepreneurs to build their own value-added food businesses.
The project was celebrated at a grand opening event in Shed 5 on May 1. The roster of Eastern Market supporters who spoke included U.S. Sen. Debbie Stabenow of Michigan, who has advocated for the interests of farmers markets, farm and food entrepreneurs, and other Good Food interests as the current ranking Democrat and former chairwoman on the Senate Agriculture Committee.
"I love Eastern Market and all that it represents in terms of economic opportunity and growth for Detroit and beyond," Stabenow said, adding, "We have a lot of things that are happening in Detroit that are terrific, a lot of different industries, a lot of opportunities around technology, we all know about the importance of the auto industry. What we don't focus on enough is the food industry, and the fact that the food industry is incredibly important to this city and our state and beyond."
"When we look back on what allowed Detroit and Michigan to grow and flourish beyond our expectations, we are sitting in one of the places that will make that happen," she concluded.
Stabenow, meanwhile, got a shoutout from Walter Robb, co-CEO of the national Whole Foods Market chain, who in turn was described by Carmody as "one of the people who picked us up, put us on his back and helped us get to the finish line."
Robb has been deeply engaged in building Detroit's food business sector since his company started exploring the idea of siting a supermarket in Detroit in 2009. The move, which was considered a gamble by the chain, has exceeded Whole Foods' own expectations since the store opened in 2013: Michael Bashaw, who as president of Whole Foods Market's Midwest region developed the project with Robb, told FamilyFarmed, "I think we hit our 10-year sales projection after 14 months. Our problem with Detroit at the moment is that the store is too small."
Robb said Stabenow's "deep and abiding love and appreciation for Eastern Market is resonant with me. She understands, what I have come to know, which is this place is unique in the United States. There is not another place that sits within a city like this that brings producers still to the terminal market, and people can gather in great community like Eastern Market. You can't go out and build this anymore. It's a jewel, and I hope you appreciate what you have here in the city."
The ceremony was marked by repeated examples of this kind of mutual admiration among those who led the efforts to bring the project to fruition. Carmody had high praise for the W.K. Kellogg Foundation, based across the state in Battle Creek, which has played a landmark role in creating and advancing the concept of a Good Food movement.
"When I started this job in 2007, we were pretty happy making this place just more economically viable and just about making the district a great commercial area," Carmody said. "We shifted a little bit to try to make this a portal for entry into food businesses and try to address some of the inequities in our food system. And I don't think we'd have been thinking those thoughts if it hadn't been for the great leadership of the Kellogg Foundation."
Linda Jo Doctor, program officer for the W.K. Kellogg Foundation, responded in kind. Speaking of Eastern Market, she said, "Kids are learning where food comes from. It is encouraging entrepreneurs, including low- and middle-income residents to grow household wealth, to be a part of this ecosystem, this emerging food economy in Detroit. And it's for the families that are coming here, in this very room, celebrating together, breaking bread together, surrounded by restaurant pop-ups, enjoying this incredible food culture that we have here in Detroit."
These remarks were echoed by participants such as Wendy Lewis Jackson of the Kresge Foundation (who said, "Eastern Market is about vibrancy. It's a place where we can all come together. And after tonight, there should be no doubt about the power and the purpose of this place."), and David O. Egner, executive director of The New Economy Initiative (who said, "This place provides tremendous opportunities, so it was a no-brainer for us to do this.')
Peter Scher, head of corporate responsibility for JPMorgan Chase, said that the company had invested $100 million in economic development projects in Detroit. He noted "how important Eastern Market is to Detroit's history, but really how important Eastern Market is to Detroit's future," adding, "We will be here with you, with our resources, with our expertise, as you grow, as you develop."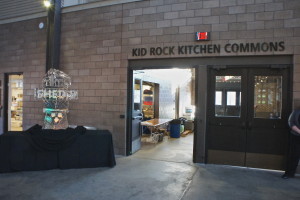 But with all of the prominent business, financial, and political power on the podium at the May 1 event, perhaps the most down-home Detroit flourish was a sign on the wall right next to the new community kitchen that reads, "Kid Rock Kitchen Commons." Kid Rock (real name: Robert James Ritchie), the gritty pop music star from Detroit, donated the money to build the space, which will be used for community events of up to 60 people.
Anika Grose, Eastern Market's community kitchen coordinator, summed it up at a the May 1 ceremony: "What we're going to do is reach out beyond and make dreams happen. And when dreams happen for a few, it does affect many."
Or, as Kid Rock has sung, "Tough times don't last, tough ṗeople do, in Detroit."
Photographs by Bob Benenson