by Christine Johnson and Ellen Kamps, Chillinois Young Farmers Coalition, guest contributors
With the average age of farmers in the United States pushing 60, growing a new generation of young farmers is a regional and national priority. FamilyFarmed is acting assertively to address that: Our new Direct Market Success manual and training workshop series, launched at the beginning of this year, is aimed largely at instructing young and other beginning farmers in how to succeed in farmers markets, Community Supported Agriculture (CSA) and other direct-selling platforms.
One of the most encouraging recent developments is the creation of Chillinois Young Farmers — the northern Illinois chapter of the National Young Farmers Coalition — which is providing a much-needed voice to this important constituency.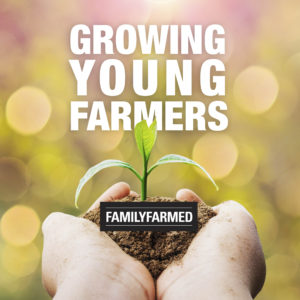 So FamilyFarmed is pleased that "Chillinois," representing the national organization, will be participating in our Good Food Festival on Saturday, March 18 at Chicago's UIC Forum in the exhibit hall.
The Chillinois group also will be staging an after party that evening at Begyle, one of the city's leading craft breweries and a longtime friend of FamilyFarmed. To learn more about this event in Chicago's Ravenswood neighborhood, click here.
The Good Food Festival — which this year, for the first time, has free admission — is the grand finale of FamilyFarmed's three-day Good Food Festival & Conference, which also includes the Good Food Financing & Innovation Conference on Thursday, March 16 and the Good Food Trade Show & Policy Conference on Friday, March 17. For more information, to purchase tickets for the Thursday and Friday programming, and to register for the Festival, please visit the event website by clicking here.
Enjoy this insightful article about what is driving the uptick in young farmers, by Christine Johnson and Ellen Kamps, co-founders of the Chillinois Young Farmers Coalition.
Northern Illinois has experienced some unseasonably warm weather, most notably this past January and February went without snow for the first time in 146 years.
Along with the plants and animals, this early "spring" kick shook farmers out of hibernation much earlier than usual, which can lead to some anxiety. And excitement. And anticipation. We are left daydreaming of successful experimentations with new crops, second-guessing the field plans we crafted just months ago, all while fighting the urge to prep our beds with the possibility of a hard frost still looming for 2-½ months.
During these uncertain warm-ups, some Chillinois farmers scroll through social media, yearning for a climate like our neighbors to the south who have already begun sowing, and wondering if our farmer friends in zones 4 and 5 are jumping the gun or playing it safe.
And then our seeding reveries are interrupted as we shut off the phone, close the laptop, and head to our part-time or full-time job. Or we scramble to a coffee shop to power-up on more caffeine and grab a few more minutes of wifi to catch up on paperwork.
Or we rush over to volunteer and sit in on a board meeting, and try our best to fit in some exercise in between it all to restore the strength we lost during our holiday break. We again find ourselves daydreaming, looking forward towards eating the root vegetables we stored from last season, and thanking ourselves for all those hours spent canning when we were up to our ears in tomatoes.
We recognize that if we are to turn farming into a viable career, this is the juggling act we will gladly perform. With student debt rising along with the cost of health care, and the challenges of accessing land and capital, it's hard not to feel that the odds are stacked against us. We know that more consumers than ever want sustainable agriculture, and even with the growing number of farmers across the country, we're still struggling.
But we remain resilient, as nature has taught us over the last few seasons, in the pursuit of land stewardship. We understand the road is equipped with barriers and setbacks, but the opportunities for growth are so vast, we are committed to wringing out every ounce of energy for this career-life path.
The life of a beginning farmer, circa 2017.
The agrarian lifestyle in America had been pretty consistent until the past few decades, with family farms a way of life and not just a means for survival. But since the 1970s, when "Big Ag" started to become the dominant force in rural America, farming communities became ghost towns and parents sold the land off to larger farm operators. They either just couldn't succeed in the new farm economy or their kids just weren't interested in growing grains, produce and livestock when the opportunities for a good life were much bigger and farther from the farm.
It has seemed, perhaps until recently, that more and more young Americans wanted nothing to do with the struggle of working seven days a week to keep the farm alive. As young people moved off the land, the average age of farmers (according to the U.S. Department of Agriculture's 2012 Census of Agriculture) rose to 58 years. Meanwhile, the economics of the commodity agriculture system continue to challenge farmers. Costs of inputs combined with low prices for commodity crops such as field corn and soybeans have caused some farmers to lose up to $120 per acre planted this year.
Yet in recent years, things began looking up, as the new generation of farmers is improving.
One factor is the quickly expanding Good Food movement, in which consumers increasingly want food grown locally and sustainably, and want to know where their food comes from — and the farmers who produce it. And, in an ironic twist of fate, the aftermath of the Great Recession has left young Americans with uncertain job and financial prospects and prompted unconventional career options, like farming.
When our generation's employment potential is at an all time low, student debt has increased more than 500 percent (considered by many as a crisis), and our national environmental policy platform is "in uncharted waters," more increasingly, the farm life is the only life we want.
On paper, perhaps it's hard to describe what makes growing food and flowers for our community worth the hours, the labor, the limited income. But for us it goes beyond the expected path of what is "right" and what is "responsible."
Being a steward of the earth is right and responsible. Feeding our community is right and responsible. Showing our neighbors how to find joy in nature is right and responsible. Re-evaluating our work-home life ratio is right and responsible.
In fact, these are all beyond right and responsible. They are authentic and passionate ways to pursue life. So often millennials are described as Generation-ME, but talk to college students or recent graduates, or young adults changing careers and pursuing sustainable agriculture, and their goal is to leave things better than they found it for the next generation.
Chillinois was founded by three female farm owners in northern Illinois in early 2016. Now operated by two, our group is a collision of passion, integrity and grit and encourages camaraderie between farmer friends and agricultural allies. As driven as we are to succeed, we are equally as energized to empower other farmers to improve their operation and their lifestyle.
This northern Illinois chapter of the National Young Farmers Coalition (NYFC) actively supports NYFC's national mission of strengthening new sustainable farmers, good ag policy, increasing access to land and decreasing student debt. We also are creating a network of young farmers in our traditional big ag state and Midwest region, and providing them with the social and training resources to succeed, while also sharing our stories with our local representatives.
We are community cultivators. We are energetic entrepreneurs. We are dedicated stewards of the earth. Whether you actively farm, or just support beginning farmers, we'd love for you to grow with us.
Christine and Ellen are both actively farming. Christine is the co-owner of Avium Flowers, Chicago's only urban flower farm, while Ellen is co-owner of Foxtrot Organic Farm, a diversified fruit and vegetable operation in St. Charles.