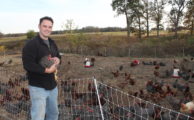 by Bob Benenson, FamilyFarmed Chase Sanert operates Sugar Grove Family Farms out of Greenview, about 25 miles north of Springfield, Illinois' capital. The 150-acre farm has been in his family for 73 years, but only for the past four years has it shifted its focus to raising livestock on pasture. Sanert's fervent commitment to producing […]
Posted in

Awards, Direct Market Success, Family Farms, Farm businesses, Food Entrepreneurs, Good Food business development, Good Food Festivals, Growing Young Farmers, Livestock farming, Meat, Young farmers
| Tagged

Angelic Organics Learning Center, B.S.S.R. Youth Center, Bryant Family Farms, Chase Sanert, CHJ Umoja Family Gardens, Direct Market Success, FamilyFarmed, Good Food Trade Show and Policy Conference, Growing Young Farmers, Illinois Stewardship Alliance, Ron Sanert, Sugar Grove Family Farms, Upper Midwest CRAFT, Wishful Acres Farm & Brewery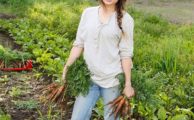 With the average age of farmers in the United States pushing 60, growing a new generation of young farmers is a regional and national priority. One of the most encouraging recent developments in the Chicago area is the creation of Chillinois Young Farmers — the northern Illinois chapter of the National Young Farmers Coalition — which is providing a much-needed voice to this important constituency. FamilyFarmed is pleased that "Chillinois," representing the national organization, will be participating in our Good Food Festival on Saturday, March 18 at Chicago's UIC Forum.
Posted in

CSAs, Direct Farm Marketing, Direct Market Success, Family Farms, Farm businesses, Food and community, Food Entrepreneurs, Good Food business development, Good Food Festivals, Growing Young Farmers, Local Food, Regional food systems, Small Farmers, Urban farming, Young farmers
| Tagged

Average age of farmers, Chi-Illinois Young Farmers Coalition, Chillinois Young Farmers Coalition, Direct Market Success, FamilyFarmed, Good Food Festival, Good Food Festival & Conference, Good Food Financing &Innovation Conference, Good Food Trade Show & Policy Conference, National Young Farmers Coalition, Young farmers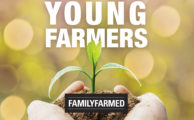 FamilyFarmed is officially launching a Growing Young Farmers series on this Good Food on Every Table site. And we are crowd-sourcing for some of the great stories that we know are out there.
Posted in

Community Supported Agriculture, CSAs, Direct Farm Marketing, Direct Market Success, Family Farms, Farm businesses, Farmer training, Food Entrepreneurs, Good Food and economic development, Good Food business development, Good Food marketing, Growing Young Farmers, Local Food, Small Farmers, Urban farming, Wholesale Success, Young farmers
| Tagged

aging farmer population, Beginning farmers, Direct Market Success, FamilyFarmed, Good Food on Every Table, Growing Young Farmers, Gunthorp Farms, new generation of farmers, Wholesale Success, Young farmers