by Bob Benenson, FamilyFarmed
Are you a young and/or beginning farmer who wants to share your story? Or do you know a young/beginning farmer whose story should be told?
FamilyFarmed is officially launching a Growing Young Farmers series on this Good Food on Every Table site. And we are crowd-sourcing for some of the great stories that we know are out there. If you are interested, reply here or contact bob@familyfarmed.org.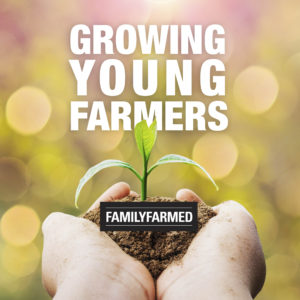 As many of you know, the U.S. needs a new generation of farmers. This has to be a crucial priority because the average age of U.S. farmers is around 60.
We also believe that young and beginning farmers will inject a new vitality and innovative spirit into our nation's agriculture — thus helping to advance FamilyFarmed's goal of a healthier, more environmentally sustainable and more economically dynamic food system that stimulates growth, creates jobs and revitalizes both rural and urban communities that have struggled financially.
The stories we are looking for can cover any part(s) of the wide range of issues facing farmers who are seeking to start up or scale up: land access, financing, production issues, product selection and mix, deciding how to market (farmers markets, CSAs, farmstands, online, direct to restaurant, wholesale, etc.), marketing strategies, etc.
And they can be about rural farming, urban farming, suburban farming, community gardening, growing food for sale in your backyard or on your rooftop — basically everything that young farmers do. And we are seeking stories from all across the United States.
The stories can focus on successes and trials, pathways and obstacles… whatever you or your favorite farmer are facing. For an example, please click here to read the series' pilot story by Kara Gunthorp of Indiana's Gunthorp Farms.
Sorry, no freelance money for contributed stories, but they will reach FamilyFarmed's network of committed food advocates and beyond. Again, if you are interested in participating in or providing story ideas for our Growing Young Farmers series, reply here or contact bob@familyfarmed.org.
The Growing Young Farmers series will coincide with the release later this month of FamilyFarmed's new Direct Market Success, a training manual aimed heavily at new and beginning farmers. "DMS" and its accompanying training program are modeled after our well-regarded Wholesale Success program, which has trained more than 11,000 farmers in 40 states.
Tell us your story!