by Bob Benenson with Jim Slama, Katie Daniel and Chelsea Callahan, FamilyFarmed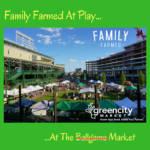 As a longtime friend of Chicago's Green City Market, we had been waiting with anticipation for its inaugural evening farmers market at famed Wrigley Field on Thursday (June 15).
We are happy to report that the market was everything we expected and more — with the new Park at Wrigley, located right next to the Chicago Cubs' home field and the team's new office building, proved a perfect setting on a bright, sunny, hot day.
Here is a photo essay of the big day. We'll definitely have more to share this season.