by Bob Benenson, FamilyFarmed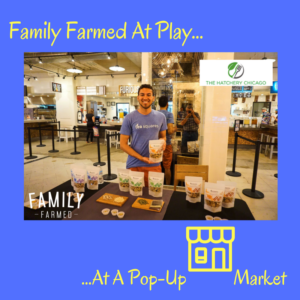 The Hatchery  —  a joint project of the Industrial Council of Nearwest Chicago (ICNC) and nonprofit lender Accion Chicago — is a Chicago food business incubator that is itself going through a growth phase. As part of its efforts to assist its small business associates, The Hatchery held a pop-up market, sponsored by Groupon, at downtown Chicago's Revival Food Hall on Saturday (June 17).
FamilyFarmed has an interactive relationship with The Hatchery. Many of its incubating businesses also have participated in our organization's programming, such as our Good Food Festival and our Good Food Accelerator program. So we dropped by to visit with a bunch of our food-making friends — and to purchase some of their delicious products, of course!
Here's a photo essay of our day at the pop-up! (If you missed it, The Hatchery's next pop-up at Revival Food Hall is on Saturday, July 8.)