by Katie Daniel and Bob Benenson, FamilyFarmed
FamilyFarmed's Annual Giving Campaign is under way, and to highlight the work we do to build a better food system, we are running a series of profiles of great businesses that have participated in our programs.
Click here to make a tax-deductible contribution to FamilyFarmed.
Today we look at FamilyFarmed's Good Food EXPO and Good Food Financing & Innovation Conference through the eyes of Luke Saunders of Farmer's Fridge, the Chicago company whose fresh salad vending machines are changing the way eaters view self-service food options. Our profile on Maya Camille Broussard of Justice of the Pies — a 2017 graduate of FamilyFarmed's Good Food Accelerator — was published Nov. 14 and can be found by clicking here.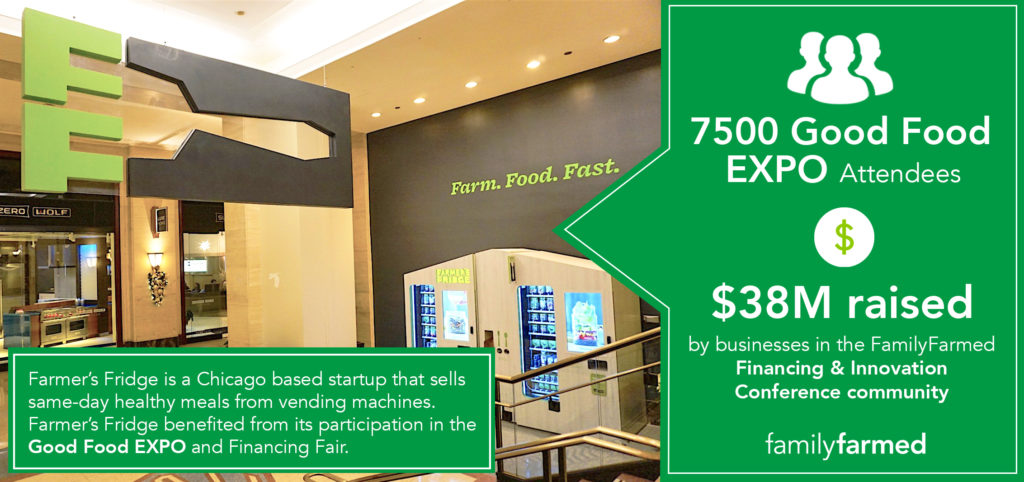 For many years, when you thought of food vending machines, you thought candy… gum… soda. But now, in Chicago and possibly soon in other markets, when you think vending machines, you can think of salad — thanks to Farmer's Fridge, a growing company that got a start-up boost from participating in FamilyFarmed's annual EXPO.
Luke Saunders, the founder and CEO of Farmer's Fridge, first spelled out the impact of this major annual Good Food networking event for a February 2016 article on FamilyFarmed's Good Food On Every Table website. Referring to 2014 — his company's first year as an exhibitor at our Good Food Trade Show and Good Food Festival — Saunders said, "That was really the first time we got plugged in locally to a group of people who were very like-minded. From that moment, we are doing all this stuff and now we have other people who understand it and we can talk to them and get advice and network. It was invaluable."
That was capped by Saunders' participation in the Financing Fair at the 2015 Good Food Financing & Innovation Conference, which then made up the first day of the annual Good Food Festival & Conference (now the Good Food EXPO).
"We knew we needed institutional investors or professional angel investors to come and help us scale up because we also needed the expertise," Saunders said. "We were actually able to find people as part of that ecosystem, so not only the first year, when we got just kind of generally plugged into the scene, but then we were able to actually get access to capital."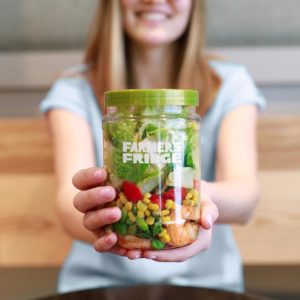 Its growth has enabled Farmer's Fridge to play a different role at the past two Financing & Innovation Conference — donating delicious salads for attendees to enjoy during the lunch break.
Saunders and the Farmer's Fridge team gambled on selling a fresh food product at a higher price point than vending machine customers were accustomed to paying. But the company hit two of the sweetest spots in the consumer market: the desire for healthier food options and the desire for convenience. Company officials describe each Farmer's Fridge location as "an unattended, 24/7 restaurant in 12 square feet," serving "wholesome and delicious food."
Their jarred salads sparkle with freshness. The vegetable and fruit ingredients are hand-prepared and composed the same day in the Farmer's Fridge central kitchen. Each salad is packed into an attractive and recyclable clear plastic jar with a container of house-made dressing. Any salads not sold in a day are removed as the machines are replenished, and are donated to food assistance providers.
Farmer's Fridge is on a sharp growth curve. The company expanded from just more than 50 machines in operation this past April to 90 in October, with a projected 125 to be in service by the end of the year, said Scott Glassman, senior vice president for sales, during a recent investor's pitch session staged by Chicago's Spiral Sun Ventures.
Farmer's Fridge also is developing new marketing concepts. It has created branded spaces, which include seating areas, adjacent to its machines in Chicago landmark locations such as Willis Tower and the Merchandise Mart. It recently signed contracts for three pilot programs for national expansion. And Farmer's Fridge even has a staffed, live-service location in the popular Revival Food Hall in Chicago's Loop.
Click here to find a Farmer's Fridge location near you.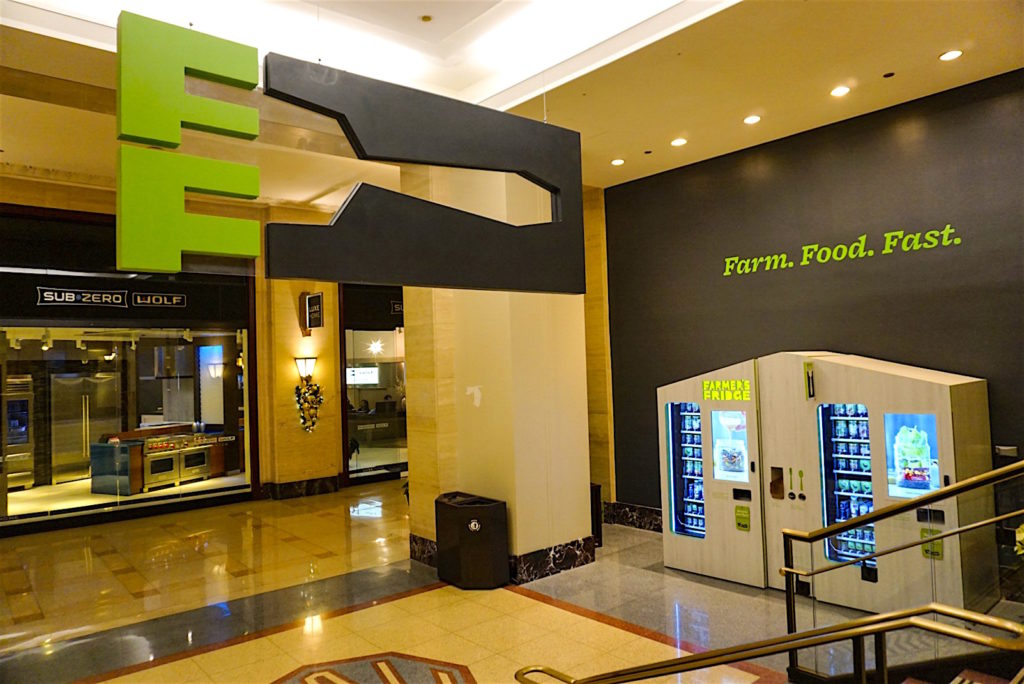 About The Expo and Financing Conference
The 14th annual Good Food EXPO next year will be a two-day event held at Chicago's UIC Forum on Friday, March 23, which features the Good Food Trade Show: Production, Policy & Industry Exchange, and Saturday, March 24, which welcomes thousands of members of the public to the Good Food Festival. The Good Food Financing and Innovation Conference, long the first day of a three-day annual EXPO, is being converted to a stand-alone event on Tuesday, June 19 at Morgan Manufacturing in Chicago's West Loop.
Farmer's Fridge is just one of many businesses that have benefited and grown thanks to their participation in FamilyFarmed's big annual events. The 2017 EXPO attracted a record of 7,500 attendees, who enjoyed informative panels on key issues affecting our food system, demos by world-class chefs, hands-on DIY activities, and other family-friendly activities. The attendees also interacted with, and bought products from, 180 farm and food exhibitors, who enjoyed unprecedented sales at the EXPO.
The Financing & Innovation Conference is well-known for its Opening Symposium featuring industry and thought leaders from across the Good Food spectrum; a Financing Fair that enables rising food businesses to introduce their products to potential investors, lenders and buyers; and a business pitch event aimed at investors. Many of the Conference participants are current or past Fellows in our Good Food Accelerator program, and businesses associated with the Financing Conference and Accelerator have generated more than $38 million in equity and debt financing over the past few years.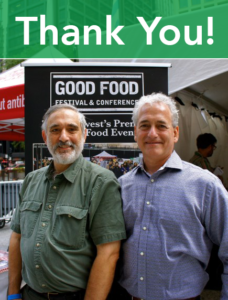 FamilyFarmed is a non-profit organization, and your generous donations will help up maintain and expand this valuable programming that has played a role in the rapid growth of the market for Good Food.
At FamilyFarmed, we believe Good Food is:
1. Delicious, healthy food, accessible to all, produced as close to home as possible by family farmers and producers who use sustainable, humane and fair practices. 2. A fast-growing movement creating vast numbers of jobs and economic development by providing people with food that matches their values.
This profile is a feature of FamilyFarmed's Annual Appeal fundraising campaign, which includes Giving Tuesday on November 28. All contributions, however large or small, help us advance our Good Food goals and support the businesses and farmers who produce the Good Food we all love.  Find out how your Giving Tuesday Contribution can have a direct impact on the Good Food ecosystem, and meet Maya-Camille Broussard of Justice of the Pies, a graduate of another of our outstanding programs: the Good Food Accelerator.
We are pleased to announce that Jim Slama, FamilyFarmed's founder and CEO, is the champion of our Annual Appeal Kickoff — The Birthday Fundraising Faceoff! Communications Director Bob Benenson, however, is the People's Choice winner with double the number of individual donors! (That's Jim on the right and Bob on the left in the photo to the left.) We topped our goal of $2,000, and enter Thanksgiving and Giving Tuesday with the tenacity of a testy Gunthorp Farms Turkey! Thanks to both of these Good Food Warriors for donating their birthdays to FamilyFarmed. Read more about the challenge on FamilyFarmed's GiveGab page.