by Bob Benenson, FamilyFarmed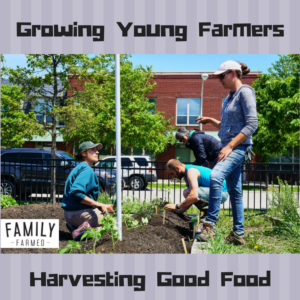 Jen Rosenthal is one of the most talented urban farmers in Chicago. After managing the pioneering rooftop organic farm atop the Uncommon Ground restaurant on the city's far North Side, she joined the Chicago Botanic Garden's Windy City Harvest incubator program in 2015 and started growing in the ground.
She currently is in her third year growing in a tiny but productive plot at Windy City Harvest's Legends Farm, located in the South Side neighborhood of Bronzeville. And she is producing exclusively there for Folkart Management, the restaurant group headed by chef Matthias Merges, after cultivating that partnership over the past couple of years.
Now if she could only find a piece of land of her own to continue and expand her Chicago urban farming career.
Although urban agriculture has made major gains in Chicago and the nation as a whole over just the past few years, it can still be a tough row to hoe for young farmers. And just as in rural farming, gaining access to land at affordable prices to grow food in a city is one of the biggest challenges.
This is underscored by the fact that Jen's beautiful produce is sought after by some of the city's top chefs — her Planted Chicago company also maintains on-site food gardens for Jason Hammel's Lula Café and Honey Butter Fried Chicken's Christine Cikowski and Josh Kulp — but at the moment, she does not know whether she will have a farm to plant next year.
"As of now, I have nothing secure. That's my number one stress," Jen said. "It honestly means whether I have a business or not from year to year."
This uncertainty has been a way of life for Jen. Although Windy City Harvest gives its beginning farmers up to two years in its incubator program, Jen notes there was no guarantee that she would be accepted for her second year. She was, and during that year she greatly expanded her working relationship with Folkart's restaurants (Yusho, Billy Sunday, A10 and Old Irving Brewing).
Jen actually cycled out of the incubator program after last year, but was one of two graduating farmers allowed to stay on at Legends Farm under a Windy City Harvest pilot program. Along with cultivating and harvesting the plot (branded Folkart Farm) there, she provides mentorship for the newer farmers-in-training.
She is working on options to ensure that she can continue to grow food in Chicago after this season. She accepted an invitation from Gardeneers — a Chicago nonprofit that creates and maintains school learning gardens and urban farming plots in underserved Chicago communities — to use part of an uncovered hoop house that came into the organization's possession on the city's West Side. Jen is using the space mainly to grow a variety of super-sweet winter squash favored by Jason Hammel at Lula Café.
But finding a larger and permanent growing space is make-or-break for the future of her business, and there is nothing easy about it. Jen said she has identified a property not far from her current location, a former industrial site owned by the city of Chicago, and has had some discussions about it. The biggest question about the land is whether it needs environmental remediation.
This would not preclude planting there, because like nearly all in-ground urban farmers, Jen uses raised beds in which the plant roots do not reach the underlying soil. But she is concerned about a long-term liability that would come attached to such a property. "If worse comes to worst and the farm fails, I don't want to own a big old dirty unsellable lot…" Jen said. "Investors will not even look at me."
Jen is dealing with these future concerns while navigating the everyday heavy lifting of managing a small farm. Tomatoes are her leading crop, and this year they have survived two near-disasters over which Jen had no control: She had to rescue her starter plants after they were put at risk by a greenhouse mishap while she was briefly out of town, and a June hailstorm at Legends Farm left the still-young tomato plants battered but not broken. Which kind of sounds like a metaphor for a young urban farmer.
"It just goes to show you how resilient plants are," Jen said. "I know this, and it's teaching the apprentices out here because they were so freaked out about transplanting my tomatoes. There comes a time when you just have to trust that you've done all you can, and nature will take its course. Even if you mess up pretty bad, chances are that things have a good chance as long as everything else is healthy."
She added, "It is truly miraculous. I think what I love most about this work is the cycle of cycles. It's a constant renewal… All of a sudden one day you look up and you're like, 'Things are growing, it's okay, we're going to make it after all.'"
Good Food On Every Table will be following Jen Rosenthal's journey with a series of stories.