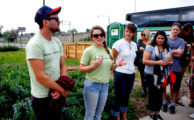 Windy City Harvest operates four training programs on 13 farm sites that, according to Director of Operations Kelly Larsen, "all aim to create a pathway of opportunity within local food" for urban farmers, including youths from economically challenging circumstances. Larsen will share her experiences and expertise in growing Good Food and Good Food jobs in urban communities tomorrow (Thursday, March 16) as a panelist at FamilyFarmed's Good Food Financing & Innovation Conference at Chicago's UIC Forum.
Posted in

Direct Farm Marketing, Family Farms, Farm businesses, Farmer training, Food access, Food and community, Food and health, Food Entrepreneurs, Good Food business development, Good Food Festivals, Growing Young Farmers, Local Food, Small Farmers, Urban farming, Young farmers
| Tagged

Anarchy Organics, Arturo Velazquez Institute, Chicago Botanic Garden, Chicago chief sustainability officer, Chicago Treasurer Kurt Summers, City Colleges of Chicago, Environmental Law & Policy Center, FamilyFarmed, Good Food Festival & Conference, Good Food Financing &Innovation Conference, Gotham Greens, MightyVine, Planted Chicago, Richard J. Daley College, USDA Beginning Farmers and Ranchers program, Windy City Harvest, Windy City Harvest Apprenticeship program, Windy City Harvest Corps, Windy City Harvest Entrepreneurship & Careers program, Windy City Harvest Youth Farm program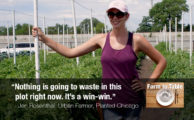 Urban agriculture in on the rise, in many cases providing jobs, opportunities and access to Good Food for residents of underserved communities. But the farm Jen Rosenthal manages on Chicago's South Side has particular social significance: It is on a site once occupied by apartment towers of The Robert Taylor Homes, which had grown so troubled-plagued that its residents were relocated and the buildings torn down.
Posted in

Chef advocacy, Community Supported Agriculture, CSAs, Direct Farm Marketing, Farm businesses, Farm to table dining, Farm to Table: Keeping It Real, Farmer training, Food access, Food and community, Food Entrepreneurs, Food waste, Good Food and economic development, Good Food Business Accelerator, Good Food Dining, Good Food Financing Fair, Good Food restaurant trends, Local Food, Logistics, Organic farming, Restaurants and Good Food, Rooftop growing, Small Farmers, Sustainable dining, Urban farming
| Tagged

A10, Billy Sunday, Chef Jason Hammel, Chicago Botanic Garden, FamilyFarmed, Folkart Restaurant group Chicago, Good Food Business Accelerator, Good Food Financing and Innovation Conference, Jen Rosenthal, Lula Cafe, Planted Chicago, Robert Taylor Homes, rooftop growing, The Finch Kitchen, Uncommon Ground, Urban agriculture, Urban farms, White Oak Gourmet, Windy City Harvest, Yusho
Sourcing locally is a commitment that is both rewarding and frustrating for a chef. But metro Chicago's White Oak Gourmet
is committed, even if it means chasing chickens (okay, chicken delivery trucks) around the city. Read Chef Tom Leavitt's reflections on building relationships with farmers in this contributed column.
Posted in

Direct Farm Marketing, Family Farms, Farm businesses, Farm to table dining, Farm to Table: Keeping It Real, Food and community, Food Entrepreneurs, Good Food Catering and Home Delivery, Good Food Dining, Good Food marketing, Good Food restaurant trends, Healthy eating, Local Food, Logistics, Organic farming, Regional food systems, Restaurants and Good Food, Sustainable food cooking, Urban farming
| Tagged

Chef Tom Leavitt, Frillman Farms, Good Food catering, Good Food home delivery, GroundUp Chicago, Gunthorp Farms, Planted Chicago, Small farming, Spence Farm Foundation, The Spence Farm, Tom and Lori Leavitt, Urban farming, White Oak Gourmet