By Bob Benenson, FamilyFarmed
Jen Rosenthal runs a quarter-acre incubator urban organic farm on the South Side of Chicago. It is within the two-acre Legends Farm, part of the Chicago Botanic Garden's Windy City Harvest training program for beginning farmers, and is dedicated to Rosenthal's business, Planted Chicago, which grows for some of the city's best-loved farm to table restaurants.
Urban agriculture in on the rise, in many cases providing jobs, opportunities and access to Good Food for residents of underserved communities. But the farm where Rosenthal grows, at 45th and Federal, has particular social significance: It is on a site once occupied by apartment towers of The Robert Taylor Homes, once the world's largest public housing project, which had grown so troubled-plagued that its residents were relocated and the buildings torn down, the last of them in 2005.
Looking at the lush rows of vegetables and flowers maintained by Rosenthal, you might have a hard time believing that she has only been growing food as a career for about five years. An artist, Rosenthal designed slot machines for a gaming industry company in Chicago for five years after college, then did freelance art work over the subsequent four years.
There have been several overlaps in her career so far. Her journey began with a 2009 visit to the organic rooftop farm atop one of Uncommon Ground's Chicago restaurants (click here to read more Uncommon Ground's contributions to the Chicago Good Food movement and its current 25th anniversary celebration). This prompted her to sign up for a Windy City Harvest program, which ultimately led in 2012 to her being hired to run Uncommon Ground's rooftop farm.
In the meantime, she launched Planted Chicago by growing food on-site for Chef Jason Hammel of Chicago's Lula Café, which she expanded to work with other restaurants. Windy City Harvest came back into the picture when it included Rosenthal in the South Side farm beginning in 2015. (Windy City Harvest employee Chris Prochot, who like Rosenthal is a 2010 Windy City Harvest apprenticeship graduate, manages the two-acre property.)
And with what first was a 1/8-acre plot for Planted Chicago (she added a second this year), Rosenthal entered a contract to grow for the Folkart restaurant group, headed by Chef Matthias Merges, which includes the Yusho restaurants in the Logan Square and Hyde Park neighborhoods, A10 in Hyde Park, Billy Sunday in Logan Square, and a pair of beer-centric locations on the North Side, the recently opened Finch Kitchen and the soon-to-open Old Irving Brewing Company.
To learn about what Rosenthal calls "a CSA for restaurants," her zero-waste practices and the challenges of making an urban farm financially viable, please read the following excerpted interview. A September 2013 story about Rosenthal's experiences at Uncommon Ground can be found by clicking here.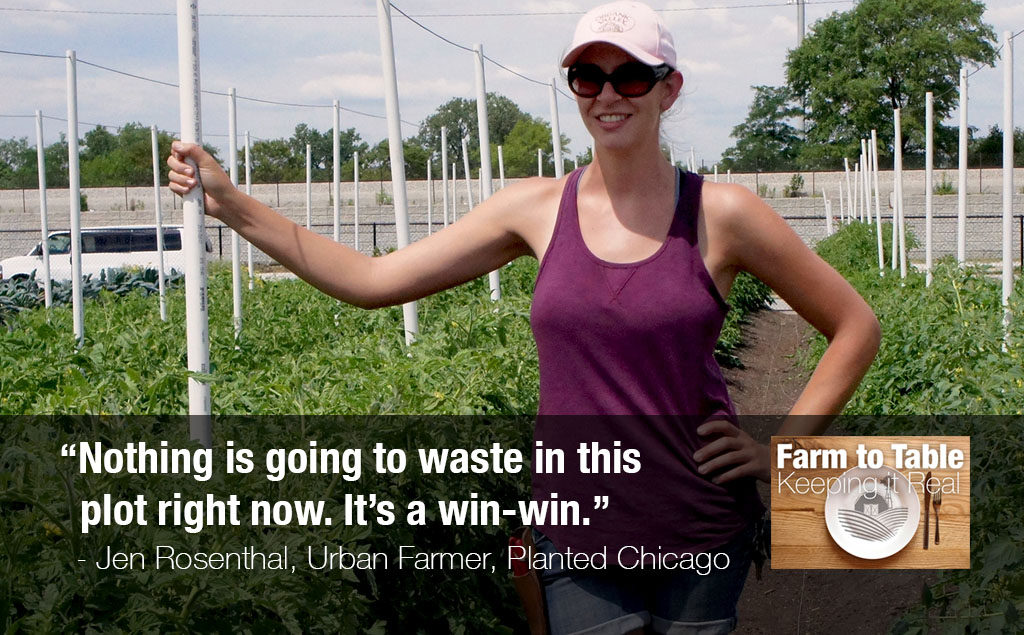 FamilyFarmed: Please tell us about how Planted Chicago's partnerships with chefs work.
Jen Rosenthal: I did the on-site growings for restaurants, but it's kind of a hard sell to get those on locations, their budgets are not always meant for extraneous gardens. It became a way for me to build upon the relationships I already had and still provide growing options. So, we can't do it on-site, but let me grow it for you out here on this plot. Alex Bachman, he used to be the bartender at Billy Sunday, he's a partner. He obsesses about tomatoes as much as I do. I found my tomato soulmate. The inspiration was, "You grow me all these tomatoes, we will buy all those tomatoes from you." It was brilliant. As a grower, to have an outlet consistently for your product, I knew if I had a ripe tomato, I could pick it and send it to Billy Sunday.
That is sort of what inspired this expansion, working with both Yushos, A10, Billy, last year they accounted for basically half of all my sales, from the one plot. So I said, "Let me give you your own plot, and let's work out a weekly fee for everything in the plot. You get full control over everything I grow, and I harvest, pack, deliver to whoever wants that week's share and then you pay me a weekly fee." So it's kind of like a CSA for restaurants.
FF: It's kind of amortizing your tomatoes?
Rosenthal: Yes, it gives me the safety net of having a weekly income and knowing what that is, and being able to budget to that… This I love for another reason. You're in the field and you're pulling turnips, and you pull out a couple that aren't picture perfect for the restaurant, a few nicks, maybe a little misshapen. For most of everyone else, I won't sell them that because that's either going to go in the trash or the compost bin. If there's enough of that, we'll donate, but that's a lot of logistics and time and labor… Here when I pull a misshapen turnip, I'll take it, it's theirs. So they'll puree it or they'll pickle it. Nothing is going to waste in this plot right now. That is satisfying so many of the challenges. It's a win-win.
FF: This idea of seconds, perfectly useful, delicious, healthy food that we can't sell because it doesn't look perfect, is craziness.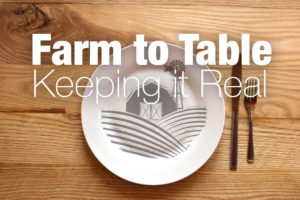 Rosenthal: Everyone is asking, "Why don't you sell seconds?" That's always the option, but very few people order seconds. Tom Leavitt [of Chicagoland's White Oak Gourmet] is fantastic about taking, like when my carrots get too oversized, we top them and we sell them to him in bulk… It's built into our subconscious, I think. We've just gotten used to this is how tomatoes look. When they're all bumpy and cracked, the likelihood that the average buyer is going to want that is low, and they're going to go for the tomato that actually has no taste, but it looks better.
FF: The folks at Folkart have really engaged with their farm plot.
Rosenthal: Basically all of the staff came down on Tuesday. They had a field day! They're so excited, front of the house, back of the house, chefs, servers, bartenders, everyone got to see their farm. There's something about taking ownership and sharing the benefits and the challenges together… It's those relationships, those partnerships where they have a need and I try to solve that need…
It I really a hard sell to sell beet greens… But here, we sent all the beet greens, and Yusho pickled them with the little tiny baby root. I never would have thought to pickle beet greens, but they're delicious… That's what makes doing it in the city, being here, keeping those relationships strong based on that good communication, and me being able to go in and see how they're using everything… That coordination, going back and forth, is what makes this successful…
FF: Is the size and volume the biggest transition you had to make going from smaller rooftop plots to this, or were there other?
Rosenthal: The tougher challenge has been the logistics. I know how to grow. It's getting everything harvested, washed, packed, delivered in the same day. Because we don't have any electricity out here, so we don't have any refrigeration… The cold chain is very difficult for us. What was a challenge became kind of a selling point, because the chefs go nuts, they're getting it an hour or two after we pulled it. It doesn't get any fresher than that. But that's challenging. The challenging part is getting everything to all of the locations… I love my relationships with my chefs. You just lose something in not being able to have those face to face conversations and there's something that happens when you can take something to a chef and they say, "No, we want this a little bigger or smaller, this quality isn't good." That happens, and that feedback is so important to me and makes me a better grower.
FF: Johnny Anderes of The Kitchen said that when he was starting out, it was kind of a scavenger hunt and there was some adventure in that. Now there are so many distributors delivering to them. But he says he misses it.
Rosenthal: I get it. Matt Holmes used to be the chef at Uncommon Ground. He's at Café Ba-Ba-Reeba! now. He's ordered a couple of times. But I can't get him enough product. It's so enormous. It would be a special. It is nice to work with a smaller location where you really see your stuff on the menu…
It's communication, communication, communication. Sometimes I have to text a chef and say, "Do you need anything this week?" and they're, "Oh, I completely forgot." I don't mind doing that. Even with Folkart sometimes I've got to be like, "Hey, give me your order for this week," and they send it right off. I know a lot of farmers aren't going to do that. I never stop working. I'll get orders via text at like midnight, and I'm asleep. Those are their hours…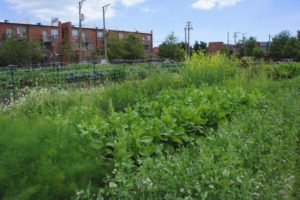 FF: The social consequences of places like this…. In terms of the economic development potential and social potential… How much bigger can this be and how much bigger should this be now?
Rosenthal: I'm a huge proponent of seeing this expand. There's a lot of potential… One thing about those organizations is they are all non-profits. That's great, but I want to see what I'm doing and what The Urban Canopy [a graduate of FamilyFarmed's Good Food Business Accelerator program] is doing, which is empowering people who are coming out of these programs. This is supposed to be a stepping stone for growing your own business. To date, there are not many examples of for-profit urban farm enterprises that are succeeding… That's why this partnership, I hope, is a good model.
I think it's a really interesting time. There's so much demand and we definitely can work on that supply. But there are a lot of challenges… It takes a lot of ingenuity and I think it's going to take a lot of creative collaboration, partnerships are really important… [This past March] I attended [FamilyFarmed's] Good Food Financing conference. One person who raised their hand asked those investment thinkers, "Would you ever invest in a farm," and they said, "No."… But that's where all of the Good Food we're promoting, that's Ground Zero. And when they don't see the value, it's such a hard go of it.