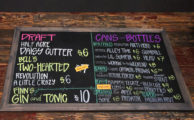 Honey Butter Fried Chicken's combination of delicious food and elevated social values merit FamilyFarmed's 2017 Good Food Chef of the Year Award. Chef-owners Christine Cikowski and Josh Kulp will receive the award at our Good Food Festival at 10:15 a.m. on Saturday, March 18.
Posted in
Uncategorized
| Tagged

Big Jones restaurant, chef activism, chef advocacy, Chicago restaurants, FamilyFarmed, fast casual restaurants, Fried chicken, Frontera restaurant group, Good Food Business Accelerator, Good Food Chef of the Year Award, Good Food fast casual restaurants, Good Food Festival, Good Food Festival & Conference, Honey Butter Fried Chicken, Kendall College, Miller Poultry, One Off Hospitality Group, Paul Fehribach, Paul Kahan, Phoenix Bean tofu, RAISE, restaurant open book management, Restaurant Opportunities Center, restaurant worker pay and benefits, Rick Bayless, ROC United, Sanctuary Restaurants, Sunday Dinner Club, Zingerman's, ZingTrain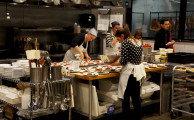 FamilyFarmed's Trade Show & Industry Conference on March 25 — the middle day of its three-day Good Food Festival & Conference — has an exciting new feature: "Recipe for Change: How the Culinary Community is Creating a Sustainable Food System" is a panel moderated by James Beard Foundation Vice President Kris Moon and featuring four of Chicago's top chefs and Good Food champions. In this contributed column, Moon details the rising tide of chef activism and how the James Beard Foundation has responded with its Chefs Boot Camp for Policy & Change.
Posted in

Awards, Chef activism, Chef advocacy, Farm to table dining, Food activism, Food education, Good Food and economic development, Good Food Dining, Good Food Festivals, Good Food movement, Good Food restaurant trends, James Beard Foundation Awards, Restaurants and Good Food, Sustainable dining, Sustainable food education
| Tagged

2016 James Beard Awards, Abra Berens, Big Jones, Bruce Sherman, Chef Action Network, chef activism, chef advocacy, Chefs Boot Camp for Policy & Change, FamilyFarmed, Frontera restaurants, Good Food and restaurants, Good Food chef activism, Good Food Festival & Conference, Good Food Trade Show & Industry Conference, James Beard Foundation, Kris Moon, Local Foods Chicago, North Pond, Paul Fehribach, Rick Bayless, Stock Cafe