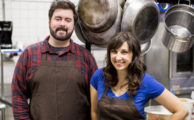 Christine Cikowski and Josh Kulp of Chicago's Honey Butter Fried Chicken will jointly receive FamilyFarmed's 2017 Good Food Chef of the Year Award on March 18 at the Good Food Festival — not only for their delicious food, but because of their sustainable and local sourcing and their social conscience.
Posted in

Awards, Chef activism, Chef advocacy, Farm to table dining, Fast/casual restaurants, Food activism, Food and community, Food Entrepreneurs, Frontera Farmer Foundation, Good Food Dining, Good Food Festivals, Good Food restaurant trends, Good Food Success Stories, Local Food, Poultry, Restaurants and Good Food
| Tagged

Artisan Grain Collaborative, Christine Cikowski, FamilyFarmed, Frontera 30th Anniversary Celebration, Frontera Farmer Foundation, Frontera restaurant group, Good Food Chef of the Year, Good Food Festival, Good Food Festival & Conference, Good Food Financing &Innovation Conference, Good Food Trade Show & Policy Conference, Green River Chicago, Honey Butter Fried Chicken, Hoosier Mama Pie Company, Josh Kulp, Kendall College, Local Foods Chicago, Paul Kahan, Pilot Light, Purple Asparagus, Restaurant Opportunities Center, Rick Bayless, ROC United, Sanctuary Restaurants, Sunday Dinner Club, The Butcher & Larder, The Winchester restaurant Chicago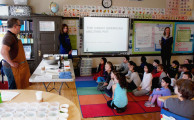 There are few more important avenues for ensuring continued progress toward a better U.S. food system than teaching children about healthy food produced sustainably, humanely and fairly. Pilot Light, a chef-driven nonprofit in Chicago, is one of the most promising and innovative programs addressing this priority. Paul Kahan, a co-founder of Pilot Light and FamilyFarmed's 2016 Good Food Chef of the Year, discusses the program in this Q-and-A.
Posted in

Awards, Chef activism, Chef advocacy, Child nutrition and health, Farm to school movement, Food activism, Food and community, Food education, Healthy eating for children, Restaurants and Good Food, School food, Sustainable food education
| Tagged

Chicago chefs, Christine Cikowski, FamilyFarmed, Food education, Good food and children, Good Food Festival, Good Food Festival & Conference, Honey Butter Fried Chicken, Josh Kulp, One Off Hospitality, Paul Kahan, Pilot Light Chefs program