Good Food Chef of the Year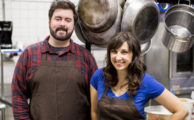 Christine Cikowski and Josh Kulp of Chicago's Honey Butter Fried Chicken will jointly receive FamilyFarmed's 2017 Good Food Chef of the Year Award on March 18 at the Good Food Festival — not only for their delicious food, but because of their sustainable and local sourcing and their social conscience.
Posted in

Awards, Chef activism, Chef advocacy, Farm to table dining, Fast/casual restaurants, Food activism, Food and community, Food Entrepreneurs, Frontera Farmer Foundation, Good Food Dining, Good Food Festivals, Good Food restaurant trends, Good Food Success Stories, Local Food, Poultry, Restaurants and Good Food
| Tagged

Artisan Grain Collaborative, Christine Cikowski, FamilyFarmed, Frontera 30th Anniversary Celebration, Frontera Farmer Foundation, Frontera restaurant group, Good Food Chef of the Year, Good Food Festival, Good Food Festival & Conference, Good Food Financing &Innovation Conference, Good Food Trade Show & Policy Conference, Green River Chicago, Honey Butter Fried Chicken, Hoosier Mama Pie Company, Josh Kulp, Kendall College, Local Foods Chicago, Paul Kahan, Pilot Light, Purple Asparagus, Restaurant Opportunities Center, Rick Bayless, ROC United, Sanctuary Restaurants, Sunday Dinner Club, The Butcher & Larder, The Winchester restaurant Chicago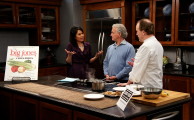 Paul Fehribach of Big Jones restaurant in Chicago's Andersonville neighborhood will receive FamilyFarmed's Good Food Chef of the Year award during the Good Food Festival, Saturday, March 21 at Chicago's UIC Forum. He earned the award because of his culinary skills — steeped in the traditions of Southern cooking — and also because of the strong values that prompt him to seek out locally and sustainably produced ingredients, including many rare or heirloom varieties.
Posted in

Bourbon, Farm to table dining, Fast/casual restaurants, Food Artisans, Food Entrepreneurs, Good Food business development, Good Food Dining, Good Food Festivals, Good Food Financing Fair, Good Food restaurant trends, Good Food tasting events, Heirloom foods, Sustainable dining, Sustainable seafood
| Tagged

Big Jones restaurant, FamilyFarmed, Good Food Chef of the Year, Good Food Festival, Good Food Festival & Conference, Good Food movement, Localicious, Paul Fehribach, Southern cuisine, The Big Jones Cookbook, Traditional Southern cuisine