by Bob Benenson, FamilyFarmed
The Good Food movement has gained major ground in recent years, driven by fast-rising consumer demand for better and healthier products. One tangible proof of that is in the growing community of investors who are helping Good Food companies start up and grow.
One such company is Chicago's Spiral Sun Ventures, whose tag line is "Investing In Healthy." Spiral Sun works mainly with small, early-stage companies.
The firm also is a friend of FamilyFarmed, and they exhibited at our 2017 Good Food EXPO. More than that, there are Spiral Sun portfolio companies who also are FamilyFarmed Good Food Accelerator Fellows or regular exhibitors at our Good Food Expo.
Spiral Sun holds events for its investors and advisors so they can engage directly with the portfolio companies and hear about their progress. We sat in on one of these events to get a better sense about how this works and the companies with whom Spiral Sun is working.
The principals in the venture capital firm led off by explaining their mission. Co-founder Michael Kaplan asked rhetorically, "Why are we doing this? Why are we passionate about this space?" He answered, "Our health care costs are the highest in the world and our population is the sickest among modern societies. The standard American diet is SAD." [Note: SAD is an acronym for Standard American Diet.]
Change is afoot, though. "Everybody is becoming more aware of health and wellness," Michael said. "As a result, you're starting to see the food industry behemoths slowly moving in that direction, expanding into more organic and non-GMO, for example."
This is not just a measure of public-spiritedness on the part of Big Food companies. It is a matter of financial necessity, as conventional food companies scramble to adjust to a fast-changing food scene in which healthy and delicious food products — produced as locally and sustainably as possible — are eroding the purchasing base of the conventional consumer packaged goods (CPG) industry.
"The large CPG companies are losing market share and they're losing a lot of money," Michael said, adding, "And equally importantly, they're not set up to innovate… Large CPG companies spend just 2 percent on R&D and 15 percent on advertising; those numbers are flipped in the technology industry."
Spiral Sun co-founder Mark Thomann — like many of those involved in the Good Food industry — had his consciousness raised by personal issues. "For me, I decided to invest in the health and wellness sector after dealing with a health issue. Natural and clean food became part of my daily ritual and helped me recover and regain my health,"" Mark said, adding,  "I came to the realization that our food system was broken and I believed that I could help early-stage companies and entrepreneurs succeed by providing them the necessary tools."
The following is a photo essay of the entrepreneurs and businesses that participated in the Spiral Sun investors event, leading with those who also have a close connection to FamilyFarmed.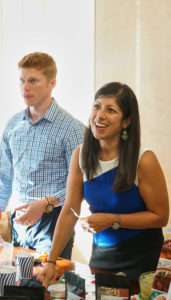 Shibani Baluja of Lil' Gourmets (right) and Ryan Crane of Tempo Sparkling Tea are Fellows in the current fourth cohort of FamilyFarmed's Good Food Accelerator. This program annually provides competitively selected entrepreneurs with an intensive-six month curriculum, technical assistance, polished business plans and pitches, and opportunities to network with our extensive networks of food producers, buyers, retailers and investors.
Shibani, who started her own company after working for CPG giant Kraft Foods, is producing Lil' Gourmets brand of fresh, organic, refrigerated baby foods. These products are designed to help expand babies' palates and accustom them to eating vegetables.
Shabani said that after her first child was born, she was appalled by the shelf-stable baby foods that dominate the market: "I tried it, first I smelled it and then I tried it, and I was horrified." She started making her own baby food, using natural ingredients with spices and flavors that the commercial companies omitted. "It really was helping expand his palate," Shabani said. "He loved everything he was eating and he was becoming an adventurous eater. I really started thinking about this as a business idea."
Ryan's first career was as an investment banker in the food and beverage space, where he experienced "20-hour days, filling myself with sugary sodas, high-octane coffee, and had digestive, GI issues." His search for better options led him to co-found Tempo, unsweetened and organic bottled sparkling teas. "Keep it zero calories, keep it vibrant and uplifting," Ryan said. "What we have is a product that will give you a nice perk of energy from the tea… but it's not going to bring you down with calories, sugars."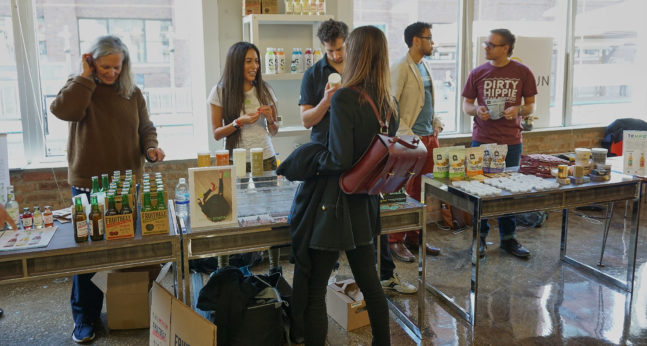 The photo above captures three Spiral Sun portfolio companies who also are 2017 graduates of the Good Food Accelerator.
Michele Gazzolo (left) co-founder Fruitbelt with business partner Beth Denton. The Michigan-based company produces sparkling fruit tonics, made with local ingredients when available, that are alternatives to sugary sodas and also serve as delicious drink mixers. "So now you can have fruit juice, bitters and honey, everything that lives in the orchard…," Michele said. "We use real fruit, pressed, orchard bitters such as dandelion and chicory. We use propolis from the beehives. We use honey from the bees next door to the orchard if we can."
Alison Velasquez (second left) is a chef, Pilates instructor and author whose company, Skinny Souping, creates tasty, healthful and sippable soups that can be eaten hot or cold. Alison describes Skinny Souping as "a line of soups that is vegan, gluten-free and preservative-free, conveniently packaged in BPA-free jars that can be eaten on the go. The flavor profiles were created from conception to be delicious hot or chilled."
Jordan Buckner (second right) is a co-founder and partner in Skyline Kitchen, better known for the Tea Squares energy snack food it produces. Tea Squares contain tea for a mild caffeine boost and come in three flavors: Acai Blueberry, Citrus Green Tea Matcha and Vanilla Chai. The company, based in the economically challenged South Side Chicago neighborhood of Englewood, also has a social mission: "We designed a fellowship program where we can bring in young adults into our company as part-time employees, and then we actually teach them business, marketing, operations, give them hands-on experience and learn how a business works from the inside," Jordan said. "We also work with a lot of community groups in Englewood and beyond to really support economic development."
Also pictured are Alex French (between Alison and Jordan), co-founder of Bizzy Coffee, which produces handy Organic Cold Brew Double Shots, and Andrew Vrbas of Pacha Soap Co., a company based in Hastings, Nebraska that sells much of its hand-crafted soap products through Whole Foods Market stores.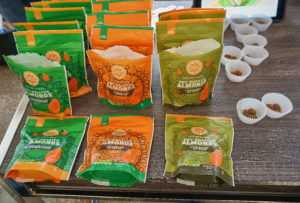 Spice Foods, which packages California almonds with a variety of international seasoning blends, is enrolled in the current cohort of FamilyFarmed's Good Food Accelerator. Spice Foods is not currently in the Spiral Sun portfolio, but was invited to participate in the product tasting event that followed the pitches to investors.
Farmer's Fridge was a start-up in 2014 when founder Luke Saunders first exhibited at FamilyFarmed's Good Food EXPO with a bold concept: that on-the-go consumers would buy fresh salads packaged in recyclable plastic jars from its high-tech vending machines. The delicious, chef-driven recipes and the amazing freshness of the salads quickly made the concept a hit, and Farmer's Fridge is now in a rapid growth mode.
The company had about 125 of its refrigerated units in operation around Chicagoland at the end of 2017 — more than double the number just last April — and has three pilot national programs ongoing. Consumers' growing health consciousness is helping fuel the rise of Farmer's Fridge. "Food as medicine is very big, and we feel we can incrementally change people's lives by having this great offering in a very convenient manner," said Scott Glassman, the company's senior vice president for sales, at the Spiral Sun event.
To read more about Farmer's Fridge and the boost it received from exhibiting at the Good Food EXPO, please read previous Good Food On Every Table articles here and here.
COCO5 produces tasty flavored coconut water beverages aimed at athletes and others with active lives. The original product was created by Mike Gapski, head trainer of the Chicago Blackhawks pro hockey team, as an alternative to the popular sports drinks that were heavily sweetened and contained artificial ingredients and dyes. He joined forces with entrepreneur Scott Sandler to create COCO5, which is now the hydrating beverage of choice in numerous professional and college sports locker rooms. COCO5 is currently available in six flavors: cherry, orange, limon, natural coconut, pineapple and passion fruit.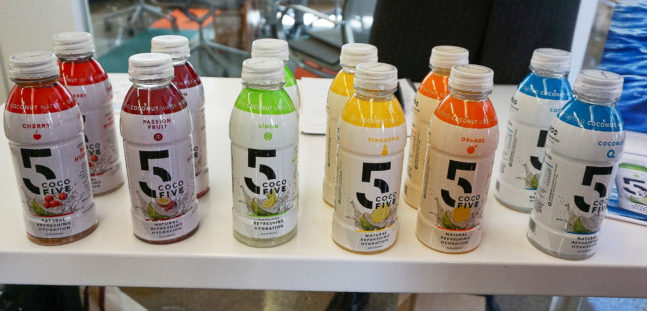 Element [Shrubs] is a growing company in a sector that just a few years ago had a tiny niche: vinegar-based drinks. Shrubs, like other fermented foods, are touted for their benefits to gut and general health. And they are finding a growing audience among those who like their beverages (and drink mixers) more tart than sweet.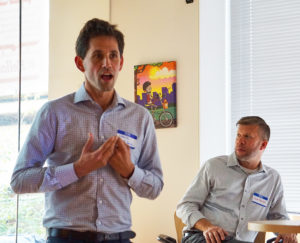 Charlie Berkinshaw, founder of Element, explained at the Spiral Sun event that he and his wife, when they lived in Cambridge, Massachusetts, were members of a group that foraged fruit from people's backyards. He continued that when his wife was pregnant and could not drink alcohol, she wanted something with the complexity of a cocktail that also was not overly sweet. Out of this emerged first a line of shrub concentrates, which evolved into the bottled beverages, in a variety of flavors, that Element now features from its home base in Arlington, Virginia.
"One thing I like about our shrubs is they are super-refreshing, they're really good cold, they're really good on a hot day, so the South is a real opportunity weather-wise," Charlie said. "One of our biggest challenges is education, not everybody knows what a shrub is," something the company is addressing by "demoing aggressively."
This event at Spiral Sun's offices, in downtown Chicago's River North community, was certainly not the only time its band of enterpreneurs has done a group presentation. There was a silent auction last April at the Frontera 30th Anniversary Celebration fundraiser, co-produced by FamilyFarmed and the Frontera Farmer Foundation founded by Chef Rick Bayless. Spiral Sun put down the winning bid for an intensive marketing immersion donated by Presence Marketing, a leader in the Good Food space, and used it to provide the opportunity for its clients to have a learning experience and pitch their products.
This event last August, held at Presence Marketing's estate in suburban Barrington, Illinois, produced the following group photo. Below that is a photo of Presence CEO Bill Weiland sampling a bottle of Fruitbelt tonic.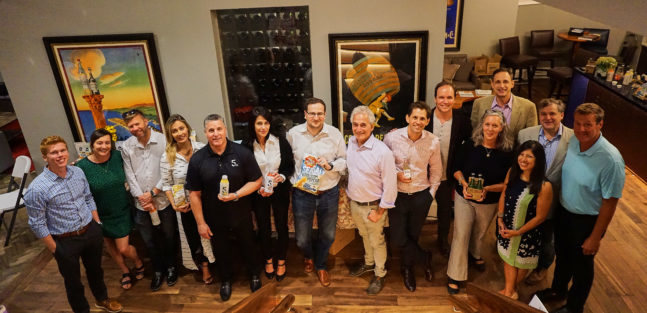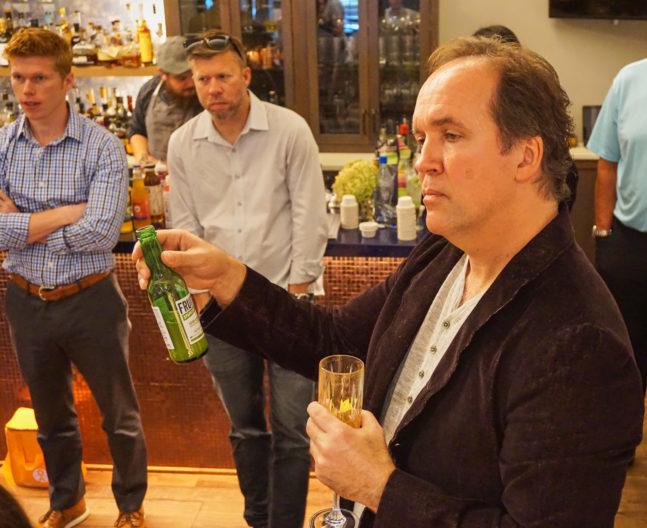 All photographs by Bob Benenson/FamilyFarmed.
Correction: Andrew Vrbas is the owner-founder of Pacha Soap Co. His surname was incorrectly reported in the original post of this article.