By Bob Benenson, FamilyFarmed
FamilyFarmed's 8th annual Good Food Financing & Innovation Conference — to be held next Tuesday (June 19) in Chicago — is the Midwest's premier business and investment event focused on local and sustainable food. It provides a unique opportunity for investors, lenders, business executives and corporate innovators to connect with some of the Midwest's most promising entrepreneurial companies.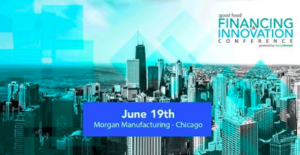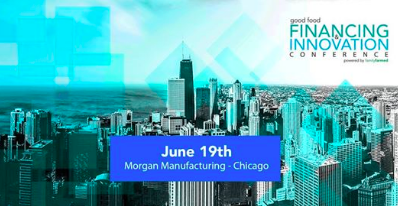 And as usual, the Financing Fair is the heart of the Conference's entrepreneurial programming. A total of 39 companies, listed below, will participate in this year's Financing Fair. Of them, 27 are start-up and early stage food businesses; 12 are providers of services helpful to small businesses.
The Financing Fair will follow other entrepreneur-focused programming at the Conference, including the juried business Pitch Slam, the Audience Choice Video Pitch competition, and the Good Food Accelerator (GFA) Showcase (featuring alumni of Family Farmed's entrepreneur development program). Financing Fair participants who also are part of these other segments are noted parenthetically below.
The Good Food Financing & Innovation Conference will begin at 9 a.m. and will take place at the Morgan Manufacturing event space in Chicago's West Loop. For more information and buy tickets, visit www.goodfoodfinancing.org.
FINANCING FAIR ENTREPRENEURS 
Almondaire: Dairy-free, almond-based cream liqueur that is also gluten free, vegan and rich in flavor and texture. (Pitch Slam participant)
BareItAll Petfoods: Environmentally friendly pet products made with Asian carp, an invasive species.
Beanstalk LLC: Plant-based protein and snacking platform that creates next-stage innovative brands in hot categories. (Pitch Slam participant)
Chutney Devis: Women-owned, Chicago-based business that specializes in homestyle South Indian one-pot meals that are vegan and gluten free. (Video Pitch Participant)
Cocoa Corp: Organically enriched compost-fertilizer products that restore organic matter and valuable nutrients back into the earth to build healthier soil.
Cultured Love: Unique, internationally inspired flavors of probiotic-rich, nutrient-dense, organic sauerkrauts. (GFA Showcase participant)
Departure Snacks: Globally inspired snacks that nourish your daily grind. (Pitch Slam participant and GFA graduate)
Farinata Project: Italian-style chickpea flatbread for the modern American market that is both naturally grain free and high in protein. (GFA Showcase participant)
Finger Lakes Fish: Building one of the largest land-based platforms to grow Coho salmon meeting the high demand for clean, sustainable, traceable fish. (Pitch Slam participant)
Flùr: Gluten-free bakery providing people dealing with celiac disease or gluten intolerance with the same high-quality baked goods as those not affected by gluten. (GFA Showcase participant)
Frönen: Non-dairy "nice cream" made with a banana base and only a handful of quality ingredients you know and understand. (Pitch Slam participant)
Grani's Farm: Small, sustainable, seasonal, chemical-free family farm located in Fairbury in east-central Illinois.
Here: Great-tasting products such as dips, juices and salad dressings that incorporate local and organic produce and are made by members of the Chicago community. (GFA Showcase participant)
KitcheNet: Delivers fresh and cheap produce to community hubs on Chicago's South Side from its flagship hub at Kennedy-King College.
Kombuchade: Organic, continuously brewed kombucha designed as an alternative to sugary sports drinks.
LaGrow Beer Co.: Organic farm-to-bottle craft beer produced using Midwestern hops.
'Laine's Bake Shop: Family-operated artisan baking company focused on connecting people through Good Food as a way to revitalize urban communities. (GFA Showcase participant)
Lil' Gourmets: Startup company producing refrigerated baby food that creates flavorful, nutritious, organic meals design to expand a child's palate. (Pitch Slam participant and GFA graduate)
Moon Meals: Tasty plant-based meals using only the finest vegan ingredients to people on the go. (Pitch Slam participant)
No Denial Foods: Decadent, sweet tooth-satisfying treats and snacks made with simple, nutritious ingredients that are gluten free, grain free and low in sugar and carbs. (GFA Showcase participant)
Ready To BRANDS: Innovative "closer to nature" solutions to everyday ailments such as nausea and morning sickness. (Pitch Slam participant)
Sacred Serve: Conscious creamery proudly manufacturing the Midwest's first and only nutrient-dense raw vegan gelato. (Video Pitch Participant)
TeaSquares: South Side Chicago company with a mission to fuel urban economic development through caffeinated energy snacks made with organic tea. (Pitch Slam participant and GFA graduate)
Tempo: Vibrant line of sugar-free sparkling teas crafted to deliver a guilt-free boost of natural energy. (GFA Showcase participant)
Unicreamer: On-the-go vegan coffee creamer infused with five grams of plant-based protein and coconut oil. (Video Pitch Participant)
Verzênay Patisserie: chef-crafted breakfast and dessert items with clean, locally sourced ingredients that also support economic development for women. (GFA Showcase participant)
Within/Without: Company committed to mindfulness, whose snacks are crafted without processed ingredients and the junk that clouds the voice within.
Flùr and Here — in addition to their participation in the Financing Fair and GFA Showcase — will be providing delicious breakfast treats. Here will be providing goodies for the end-of-conference Networking Reception, where LaGrow will be the craft beer sponsor.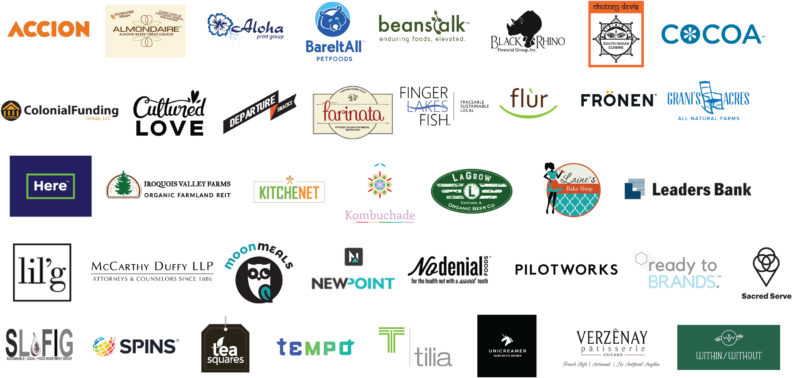 FINANCING FAIR SERVICE PROVIDERS 
Accion: Helps communities grow by investing in people who build businesses and generate jobs, providing customized capital solutions and one-on-one coaching to underserved entrepreneurs in Illinois and Northwest Indiana.
Aloha Print Group: Handles complex printing projects and last-minute requests with ease, banishing stress and impressing clients for more than 15 years. (Aloha Print Group is also donating a prize for the Pitch Slam competition.)
Black Rhino Investment Group: Provides professional excellence in executive, financial and operational support for all of clients through a holistic approach, experienced team and dedication to providing you with a customized plan.
Colonial Funding Group: Brings pools of performing and non-performing assets to market and offers single assets for sale through its proprietary trading platform.
Iroquois Valley Farms: A restorative farmland finance company providing land access to organic family farmers, with a focus on the next generation.
Leaders Bank: Provides financial services you need to run your business effectively by offering customized solutions for business owners.
McCarthy Duffy LLC: Law firm serving businesses and individuals in a variety of transactional and litigation matters.
NewPoint Marketing: Full-service marketing agency growing food and beverage business via insight-driven brand strategy and creative advertising. (NewPoint Marketing is also donating a prize for the Pitch Slam competition and is delivering the Conference's lunchtime breakout session for entrepreneurs, a discussion of the differences between telling a brand story to investors and to buyers.)
Pilotworks: Provides affordable state-of-the-art kitchen space, community and resources to startup food businesses.
SLoFIG (Sustainable Local Food Investment Group): Network of accredited independent investors who share the mission of using private investment to re-establish a robust and sustainable food system across the Chicago foodshed.
SPINS: Leading provider of retail consumer insights, analytics reporting and consulting services for the Natural, Organic and Specialty Products Industry.
Tilia Holdings: Mission-driven private investment firm focused exclusively on building distinctive middle-market companies that provide outsourced technical services across the global food supply chain.
Many early-stage businesses have prospered from the Financing Fair connections they made at earlier Good Food Financing & Innovation Conference events. One of them was Farmer's Fridge, a Chicago-based company that is disrupting the vending machine industry with its custom-made fridges delivering delicious fresh salads and other items to consumers on the go. Farmer's Fridge will be providing lunch at this year's Financing & Innovation Conference.
All this plus expert speakers and panelists across the Good Food business and investment sector. Don't miss out on this once-a-year opportunity to engage with the fast-growing Good Food industry — buy your tickets now!