by Bob Benenson, FamilyFarmed
FamilyFarmed's Good Food Business Accelerator (GFBA) is now accepting applications from food and farm entrepreneurs who want to participate in the program's second year.
Information about the program and application, including eligibility criteria, can be accessed by clicking here. The application period runs until Sept. 18, with the program beginning late fall.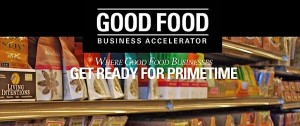 A Good Food Business Accelerator Application Celebration will held Sept. 8 at its home base of 1871, the high-impact business incubator located in Chicago's famous Merchandise Mart (click here for tickets). But applicants are urged to not wait to file to be considered for the program.
FamilyFarmed is also providing an opportunity for potential applicants to discuss the program and their businesses with GFBA staff. Please sign up for one of our limited slots by clicking here.
GFBA is the nation's first business accelerator focused on building supply chains of Good Food, which FamilyFarmed defines as local, sustainable, humane, and fair. Businesses eligible to compete for the Accelerator program fellowships include food artisans, consumer packaged goods companies, farmers, technology firms, food hubs, restaurants, retailers, and foodservice providers. Businesses, to apply, must be located in and serve the Chicago foodshed, which extends through much of Illinois and parts of Indiana, Michigan, and Wisconsin.
The application period for Year Two follows a successful first year, in which nine entrepreneurial companies (listed below) were provided an in-depth curriculum covering business fundamentals, strategies, and best practices; guidance from industry leaders acting as mentors and super-mentors; technical assistance; investment preparation and introductions to investors; and networking opportunities with FamilyFarmed's Good Food community.
"We are excited to offer Good Food entrepreneurs access to a world-class program and network of mentors and investors to help them grow their businesses," said Jim Slama, president of FamilyFarmed. "In recent years, businesses associated with our network have raised more than $17 million in debt and equity financing, and built relationships with many of the leading trade buyers in America."
Fellows benefited from platforms — such as the annual Good Food Financing & Innovation Conference and GFBA's Demo Day — from which they pitched their business plans to audiences that included a number of interested Good Food sector investors.
The Accelerator is based at 1871, the leading center for innovation and entrepreneurship in Chicago and home to nearly 400 businesses. GFBA was the first tenant at 1871 that focused on broad-based food entrepreneurship, and Accelerator Fellows have access to 1871's rapidly growing community of creative business thinkers.
The importance and potential of the Good Food Business Accelerator is underscored by the list of partners and supporters that it drew during the first year. Whole Foods Market, the nation's leading natural foods supermarket chain and a buyer from a number of local food producers, remains a lead partner in the GFBA program, along with UNFI, the largest distributor of natural and organic foods in the United States. The program is supported by grants from the Searle Funds at The Chicago Community Trust, the U.S. Department of Agriculture, the U.S. Small Business Administration, and 1st Farm Credit Services.
In addition, Fellows have access to a growing group of more than 100 debt and equity investors. Angel investors, such as SLoFIG (Sustainable Local Food Investment Group), are now actively engaged in this community, as are venture capitalists and private equity investors. On the debt side, the U.S. Small Business Administration and 1st Farm Credit Services are both funders of the Accelerator and actively engage in supporting entrepreneurs in their efforts to obtain loans.
The Fellows who graduated from Year One of the Good Food Business Accelerator are listed here, with links to their businesses' websites. Below this list are links to previous Good Food on Every Table stories about the GFBA program.
The 2014-15 Good Food Business Accelerator Fellows (alphabetical by last name):
• Rowida Assalimy, Kishr
• Harry and Raya Carr, Mint Creek Farm
• Shane Christensen, dailyServing
• Thomas Frierson and Cynthia Zeki, Spark of the Heart
• Nik Jakobs, Jakobs Bros. Farms
• Riana Lynn, FoodTrace
• Alex Poltorak and AlbertoRincón, The Urban Canopy
• Mark Schneider, Living Water Farms
• Jenny Yang, Phoenix Tofu
Selected Good Food on Every Table stories on GFBA:
Acceleration, Graduation, Conversation: On Good Food Fellows and Fellowship
U.S. Small Business Administration Partners with Good Food Business Accelerator at 1871 Incubator
Good Food Business Accelerator Fellows to Show Their Skills at April 27 Demo Day
Good Food Festival & Conference Starts Fast with Accelerator Discussion