The Good Food Trade Show & Policy Conference is coming up at Chicago's UIC Forum on Friday, the middle day of FamilyFarmed's three-day Good Food Festival & Conference. Here's a quick tour of the top 5 reasons to attend on Friday.
Posted in

Awards, Beer, Chef activism, Chef advocacy, Farm Bill, Farm businesses, Food activism, Food Artisans, Food Entrepreneurs, Food policy, Food Policy Conference, Frontera Farmer Foundation, Good Food Festivals, Local Food, Sustainable conferences, Young farmers
| Tagged

Angelic Organics Learning Center, FamilyFarmed, Frontera 30th Anniversary Celebration, Frontera restaurant group, Good Food Festival & Conference, Good Food Trade Show and Policy Conference, Illinois Stewardship Alliance, James Beard Foundation, MightyVine, National Sustainable Agriculture Coalition, PechaKucha, PRE Brands, Rick Bayless, Routes to Farm, US Foods, Whole Foods Market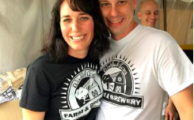 "Growing Young Farmers" is one of the most important themes for our work at FamilyFarmed. That is why FamilyFarmed is so pleased that the 2017 Beginning Farmer of the Year Award ceremony, presented by the Routes to Farm alliance, will kick off our Good Food Trade Show and Policy Conference on Friday, March 17 at the UIC Forum, located on the University of Illinois at Chicago campus. Meet the five finalist farms.
Posted in

Family Farms, Farm businesses, Food Entrepreneurs, Good Food Festivals, Growing Young Farmers, Livestock farming, Small Farmers, Young farmers
| Tagged

Angelic Organics Learning Center, average age of farmers in U.S., B.S.S.R. Youth Center, Beginning Farmer of the Year Award, Bryant Family Farms, CHJ Umoja Family Gardens, FamilyFarmed, Fooditor, Good Food Festival, Good Food Festival & Conference, Good Food Financing &Innovation Conference, Good Food Trade Show & Policy Conference, Growing Young Farmers, need for young farmers, Pembroke Farming Family, Routes to Farm, Sugar Grove Farms, Upper Midwest CRAFT, Wishful Acres Farm & Brewery